The State Committee for Overseas Vietnamese Affairs under the Ministry of Foreign Affairs collaborated with the Da Nang municipal Department of Foreign Affairs on August 2 to present certificates of merit from the Minister of Foreign Affairs to two overseas Vietnamese individuals in recognition of their positive contributions to the growth of the city.


They are Cecile Le Pham, a Vietnamese expatriate in France, and Bao Hoa, a Vietnamese expatriate in the US.


Attending the ceremony were Deputy Minister of Foreign Affairs and Chairman of the State Committee on Overseas Vietnamese Affairs, Le Thi Thu Hang, representatives of the Department of Foreign Affairs, overseas Vietnamese individuals, and their relatives. This ceremony served as an encouragement for overseas Vietnamese individuals to continue to remember their homeland, contribute to the development of Da Nang, and support Vietnam as a whole.


Speaking at the ceremony, Hang highly praised the two Vietnamese expatriates for their remarkable dedication and contribution to the city.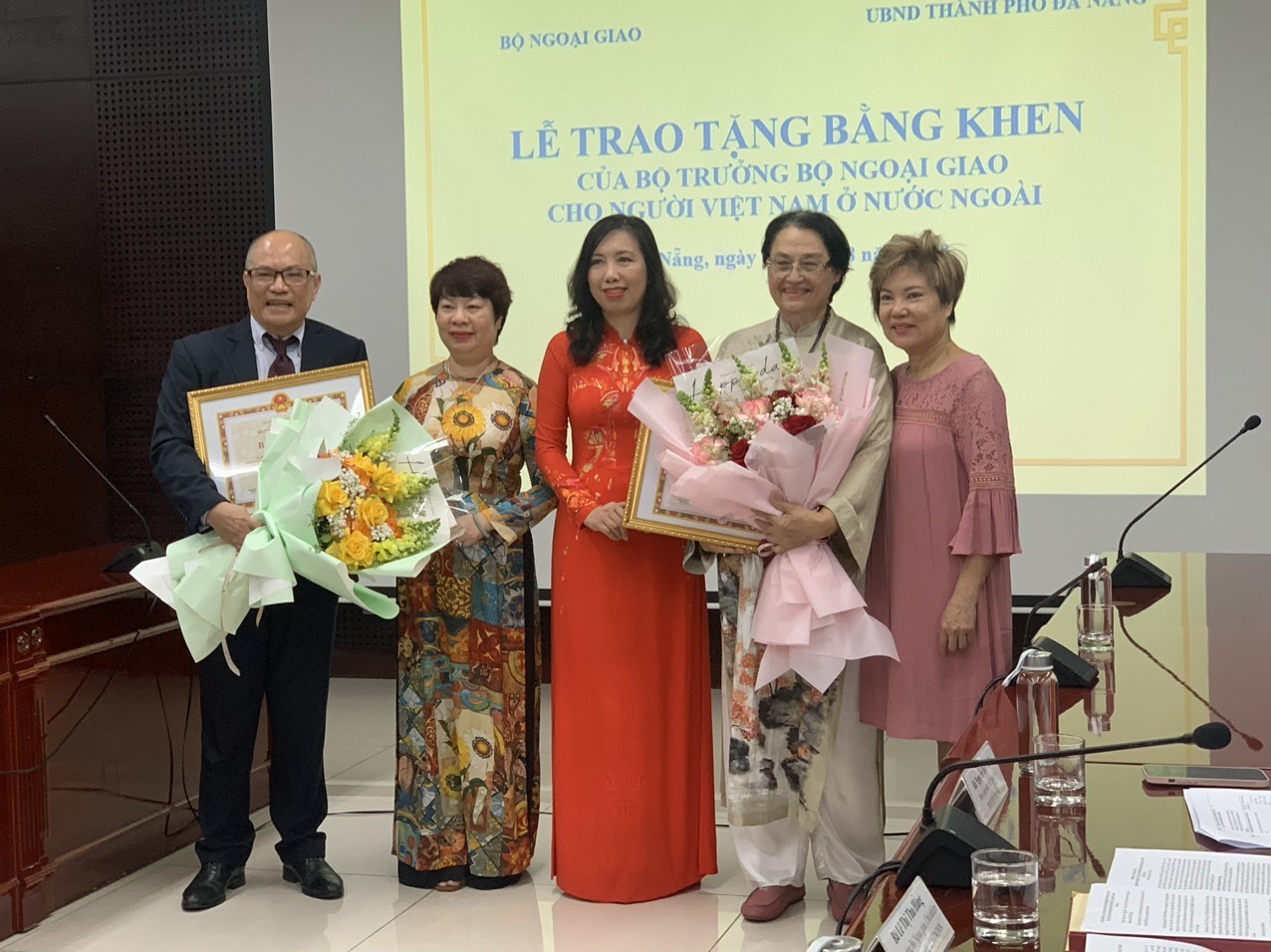 Presenting certificates of merit to Ms. Cecile Le Pham (French expatriate) and Mr. Bao Hoa (American expatriate).

Hang took the opportunity to ask the honorees to continue their efforts in contributing to their hometown and their home country in all areas, supporting the development of Da Nang and Vietnam, and spreading the values of love and concern of the Party and State to other expatriates.


Over the past years, Cecile Le Pham, CEO of Dacotex Da Nang Co., Ltd., has generously sponsored funding for nurturing, managing, and caring for orphans at the Hoa Mai Orphanage Center. She also provides Tet gifts to children affected by Agent Orange through the city's Association of Victims of Agent Orange/Dioxin.


Additionally, she has donated masks and other necessities to people facing difficulties during the Covid-19 outbreak and sponsored clothes for people in the Lien Chieu district affected by the flood on October 14, 2022.


Bao Hoa, CEO of Vinatech Connect Da Nang Co., Ltd., has actively promoted the image of the city among the overseas Vietnamese community through participation in large-scale sports events like Ironman 70.3 in 2017 and 2018, and Da Nang International Marathon 2018. He has also played a crucial role in connecting and introducing the Intex Industries Company and the Unitex Wan Guan Technology Co., Ltd. to invest in the Hoa Khanh Industrial Park.


On behalf of Vietnamese expatriates, Bao Hoa emotionally expressed his responsibility to contribute a small part of his efforts to the construction and development of Vietnam. Receiving a certificate of merit from the Minister of Foreign Affairs is an honor for him and all Vietnamese expatriates worldwide.


Despite living far away, most overseas Vietnamese individuals share a special bond with the country and always aspire to contribute to its development.