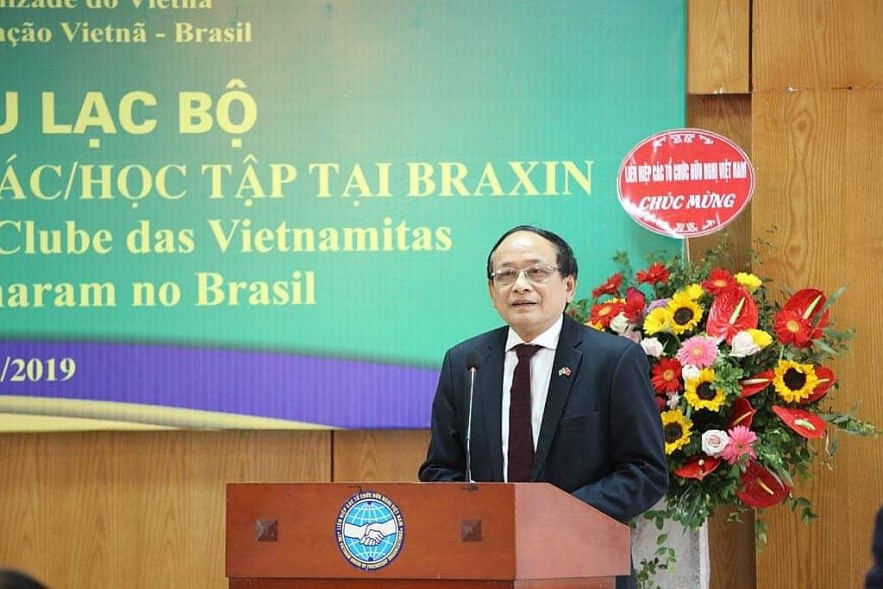 Nguyen Van Kien, Standing Vice Chairman of the Vietnam-Brazil Friendship and Cooperation Association, former Ambassador of Vietnam to Brazil.
– As the former Ambassador of Vietnam to Brazil, what strengths and areas do you think can help develop bilateral relations?
Over the past 33 years since Vietnam and Brazil established diplomatic relations in 1989, and especially since the establishment of a comprehensive partnership framework in May 2007, the relationship between the two countries has continuously developed positively and effectively. One significant aspect of this relationship is trade, which has grown rapidly in recent times.
In 1989, the two countries' trade turnover was only USD 16 million. In 2021, it rose to USD 6.35 billion, an increase of nearly 400 times. Brazil has become Vietnam's largest trading partner in South America, and Vietnam is Brazil's largest trading partner in Southeast Asia.
Trade Office – Vietnamese Embassy to Brazil and São Paulo Trade Association held Vietnam – Brazil Business Conference 2021.
In addition to trade, the two countries can also strengthen cooperation in various fields such as agriculture, forestry, culture, sports, and tourism. Brazil has advanced techniques for growing, harvesting, preserving, and processing coffee. Brazilian techniques for breeding and growing coffee contribute significantly to increasing the production and quality of coffee.
Brazil's football background and training institutes can be opportunities for Vietnam to develop training centers, football academies, and seek coaches and players. Brazilian Carnivals can inspire beach festivals in Vietnamese beach provinces. The two countries have signed a cooperation agreement on tourism and can attract more tourists by organizing tours between Vietnam, Brazil, and other South American and Southeast Asian countries.
– In which areas and regions should Vietnamese businesses and organizations focus on cooperating and investing in Brazil? How can they do that?
Brazil, with a population of 215 million, is the largest market in Latin America. It imports about USD 236 billion of goods each year, providing a great opportunity for Vietnamese products such as textiles, footwear, electronics, iron, and steel. On the other hand, Vietnam has a demand for Brazilian products such as corn, soybeans, animal feed, cotton, beef, and chicken. Vietnamese goods can also enter the South American market through Brazil in the long term.
Enterprises can exchange delegations to learn from Brazilian models in various fields, such as coffee, sugar cane, corn, soybean, and agricultural machinery production. Cultural exchanges, sports, and tourism activities can deepen relations and cooperation between the people of the two countries.
– What do you consider as the barriers in the development of trade relations between the two countries?
Geographical distance is one barrier often mentioned by businesses, as there is currently no direct flight between the two countries. The language barrier is another challenge, as Portuguese (the official language of Brazil) is not widely spoken in Vietnam. Additionally, the absence of an agreement to avoid double taxation and limited understanding of each other's businesses and markets contribute to the obstacles.
– What is your perspective on the role and contribution of the Association in promoting people-to-people friendship between the two countries?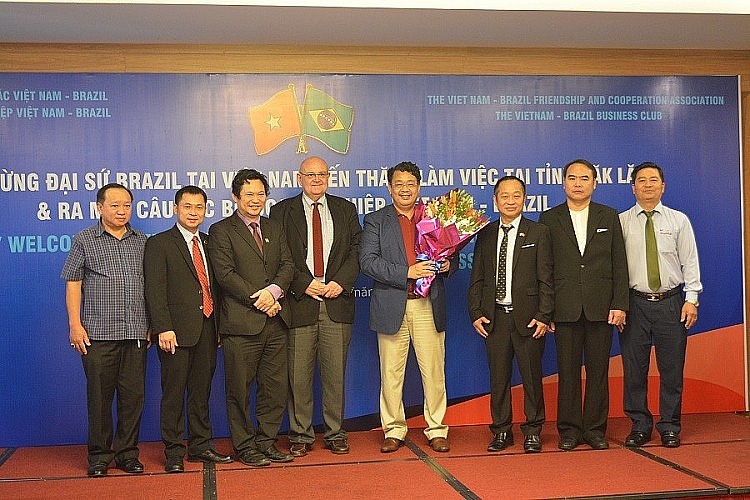 The Board of Directors of the Vietnam – Brazil Business Club was launched in 2017.
The Vietnam-Brazil Friendship and Cooperation Association, established on June 4, 2010, has been actively involved in consolidating and enhancing the friendship, understanding, and cooperation between the two peoples. The Association organizes various activities such as friendship exchanges, exhibitions, and seminars to promote trade and cultural exchanges between Vietnamese and Brazilian businesses. It also supports Vietnamese individuals, organizations, and businesses through the publication of a Portuguese-Vietnamese dictionary and the establishment of the Vietnam-Brazil Business Club.
Moving forward, the Association plans to evaluate its achievements, strengthen its leadership and activities, promote the admission of influential members, establish branches in strategic areas, launch a Portuguese-Vietnamese dictionary, organize trade promotion activities, and collaborate with the Brazil-Vietnam Friendship Association and the Embassy of Brazil in Vietnam to advance mutual interests.