Fascinated by simple things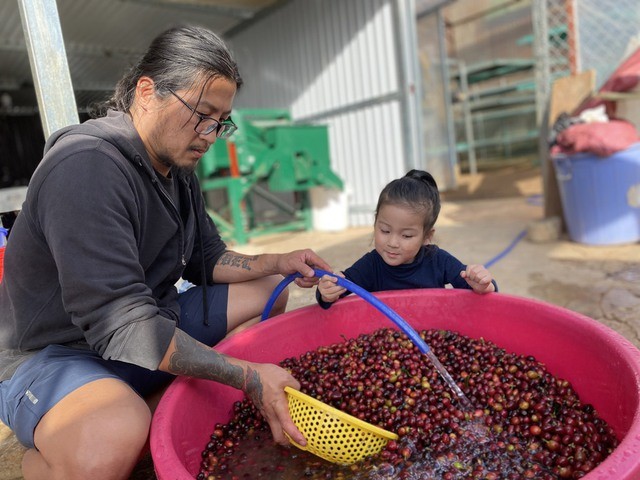 Kiyo and his daughter. Photo: Le Van
The person that connects with the K'Ho farmers to help bring Langbiang to different countries around the world is a Japanese businessman that has an immense love for Vietnam. He is Kiyokata Yamaoka, who is 43 years old and has lived for more than 10 years in Vietnam. "It all began with a trip. Kiyo never thought that after 13 years, he would choose to settle down in this country, and got married to a Vietnamese woman," 33 – year – old Tran Vu My Trinh, who is his wife, shared.
At the foot of Langbiang mountain, this season is in the pre-harvest processing of coffee. Trinh and Kiyo are busy with an order of 5 tons of coffee that is about to be exported to Japan in 2023. Trinh would spend her free time playing with her three little kids, of which the oldest is less than 10 years old, and a newborn baby. "Our children are very good–behaved, following us around to see how we make coffee. The K'Ho women love children, and they will carry the kids around while working and singing happily," she said about their life on the farm at K'Ho village, Lac Duong town.
In 2010, the Japanese young man made a trip across Vietnam on his motorbike. For Kiyo, that trip helped him make his dream of learning about the culture and beauty of this country from a very young age, come true. After it ended, Kiyo decided to close his coffee shop in Japan to move to Vietnam because he loved the friendliness of people living here. Before that, coffee was a passion and also an area that he had studied since he graduated from high school in Japan.
To carry out the plan, Kiyo took another 6 years to arrange his business. In 2016, he officially opened his coffee following the "specialty coffee" style in District 8, Ho Chi Minh City. When he was in Japan, he had an amount of experience in roasting as well as knowledge of specialty coffee. "What makes me confident is that I see the potential of promoting coffee here. Vietnamese people wake up with a cup of coffee every day. Although the taste is different, it is a good starting point," Kiyo said.
Until now, Vietnamese coffee has only exported raw products, with Robusta making up the majority and a little Arabica coffee. When Kiyo opened his shop, no one had made "specialty coffee" in Vietnam yet. He was very concerned when many international friends came to the shop and asked: "Does Vietnam have specialty coffee?"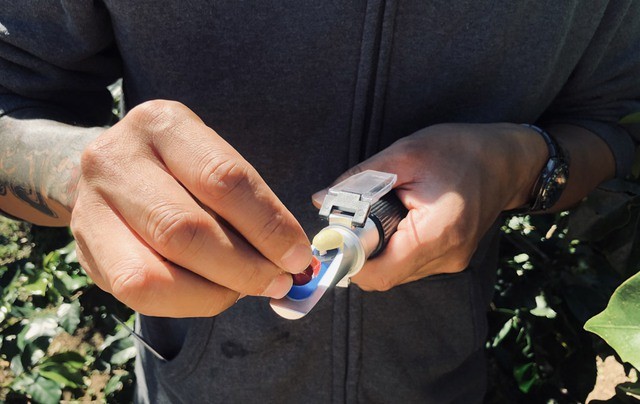 Photo: Le Van
In 2018, Kiyo was introduced to the farmers in Langbiang by a friend. He visited the coffee farm of Pat Cill and his wife, Tam Pat Lieng, both are K'Ho villagers who are making coffee here. "Fortunately, the coffee here has its own characteristics compared to the raw material areas in Vietnam, and it can be used as the specialty coffee", Kiyo shared. After learning about the coffee product and how to make it, Kiyo decided to move to Langbiang to do preliminary processing of green kernels. He aims to make specialty coffee beans himself, promoting Langbiang coffee widely to more people, since it has excellent quality but only a few people know about it.
Making specialty coffee together
Kiyo's farmer household mainly buys 100% ripe fresh coffee beans for preliminary processing and meets orders from Japan. Currently, they get fresh fruit from farmers in Langbiang and Lac Duong mountains, and a few in Da Sar. "The road to export coffee to Japan is not easy, since their standard is very high, not only in the quality of coffee beans but also in food safety factors. We have only been exporting for 2 years now. Before that, we mainly sold for specialty coffee shops in Saigon and Hanoi," Kiyo said.
The good news is that in 2016, Kiyo's Saigon coffee shop mainly sold specialty beans of foreign origin, and by the end of 2018, there was a stable source of Arabica and Robusta beans in the country. "Kiyo never stopped seeking different coffee sources from Dak Lak, Son La, Cau Dat, Bao Loc, and other places. When he found a good source, Covid – 19 pandemic broke out and heavily affected the business, so he had to close his coffee shop in Sai Gon. But he refused to give up and moved to Langbiang to buy and process green beans for himself because he believes that one-day Vietnamese coffee beans will assert their inherent value," Trinh said.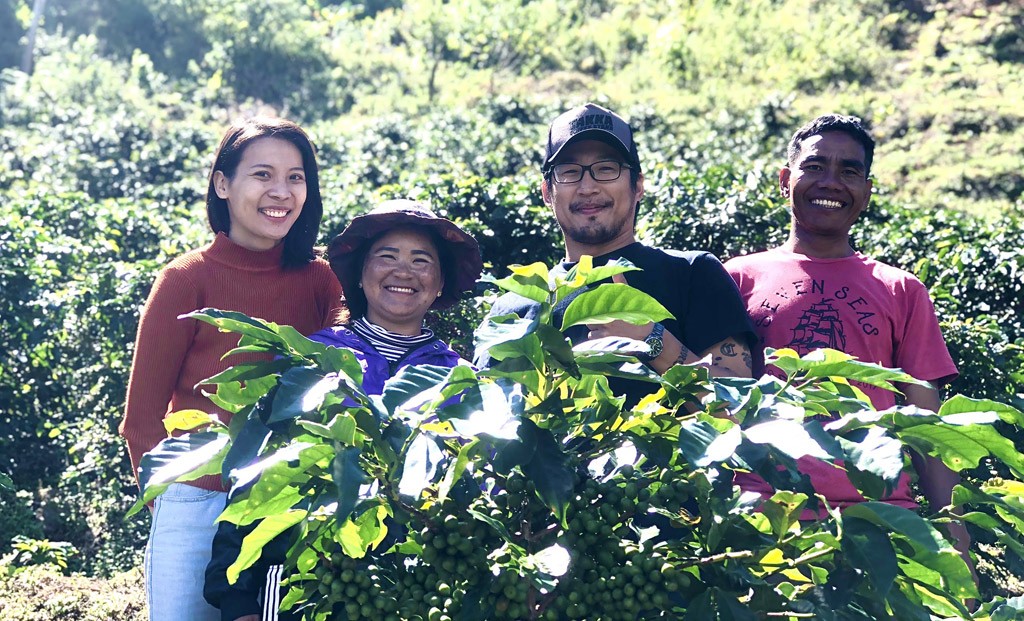 Kiyo and his wife, Pat, and Tam in the garden. Photo: Le Van
The purchase of coffee in the raw material area is also quite high when the custom of the people here is to only pick the ripe fruit about 50-60% and be forced to sell it to traders at the end of the season. "There is still interest to be paid, borrowing VND 1 million is paying VND50000 per month, so it multiplies. At the end of the crop, a lot of people do not have enough coffee to pay the merchant. Sometimes they still have debts year after year," Tam Pat Lieng shared.
Meanwhile, producing specialty coffee that requires 80-90% ripeness becomes a complex problem. But it is also because of making coffee all year round without having enough money for reinvestment, debt, low prices, and dependence on traders, Pat Cill and his wife tried to persuade their friends and families. Pat Cill and Tam are a rare K'Ho couple who paved the way to export coffee from the village.
October 2022 are a memorable day for Tam Pat Lieng when she first brought Langbiang coffee to the exhibition SCAJ World 2022 (Specialty Coffee Conference and Exhibition), taking place from the 12 – October 14, 2022, at Tokyo Big Sight Exhibition Center, Japan. "I brought 300kg of our Langbiang coffee to the exhibition, and people brought it all," Tam said happily.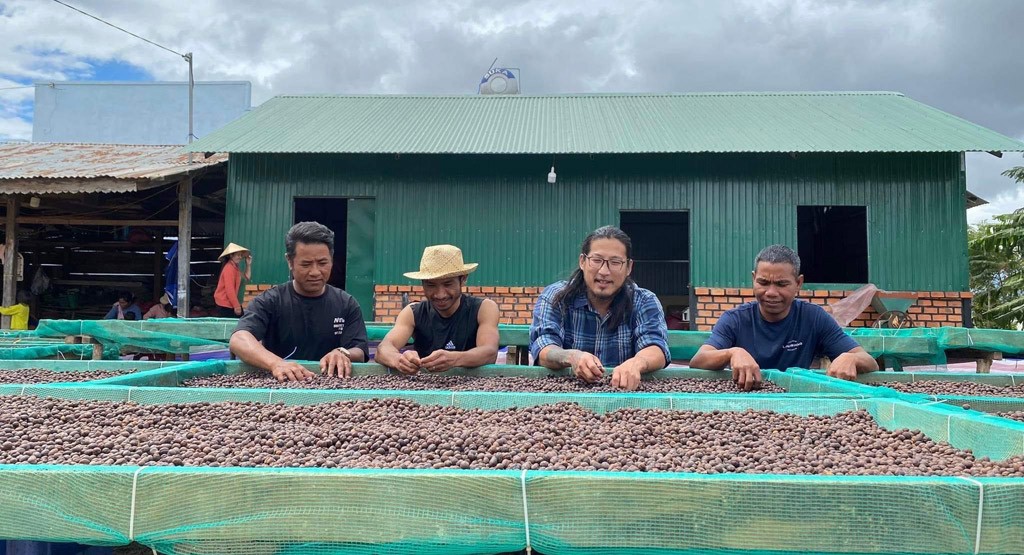 Kiyo (long hair) and farmers preliminarily process coffee. Photo: Le Van
To have that happy day is their long process of overcoming prejudices of Kiyo and specialty coffee farmers such as the Langbiang coffee village of Pat and Tam, the Langbiang coffee project of Kiyo, Radar farm, and Future coffee farm for nearly 10 years.
"In Vietnam, 5 years ago, the demand for specialty coffee was not widespread. But after 5 years, the market for specialty coffee has gradually been accepted, firstly foreign specialty coffee beans. Slowly, there are farms or manufacturers that have also focused on quality and improved processing," Trinh said. In 2022, Pat and Tam have up to 10 farmers working together to make specialty coffee. Currently, in order to have a more stable source of goods, they reduce to work with only 2 households but cooperate from the beginning to the end of the crop, with a large area.
"We have a contract to export to Japan for 3 consecutive years from 2023. Therefore, we need to focus on working together to ensure uniform quality, especially in controlling the use of chemical fertilizers. Our goal is to target Taiwan, Australia, or Europe markets if there is a stable supply of goods every year," Trinh said.