Spring is the perfect time for flowers and trees to bloom and thrive, but some flowers actually enjoy the heat of summer, with its vibrant and lovely colors. The intense sun makes the flowers even more beautiful.
In certain provinces and cities of Vietnam, Phoenix flowers are regularly planted in long rows down either side of streets, and Paper flowers are trimmed by residents to create a lush bush in front of their homes. Lotus flowers have also become a common sight in large lakes.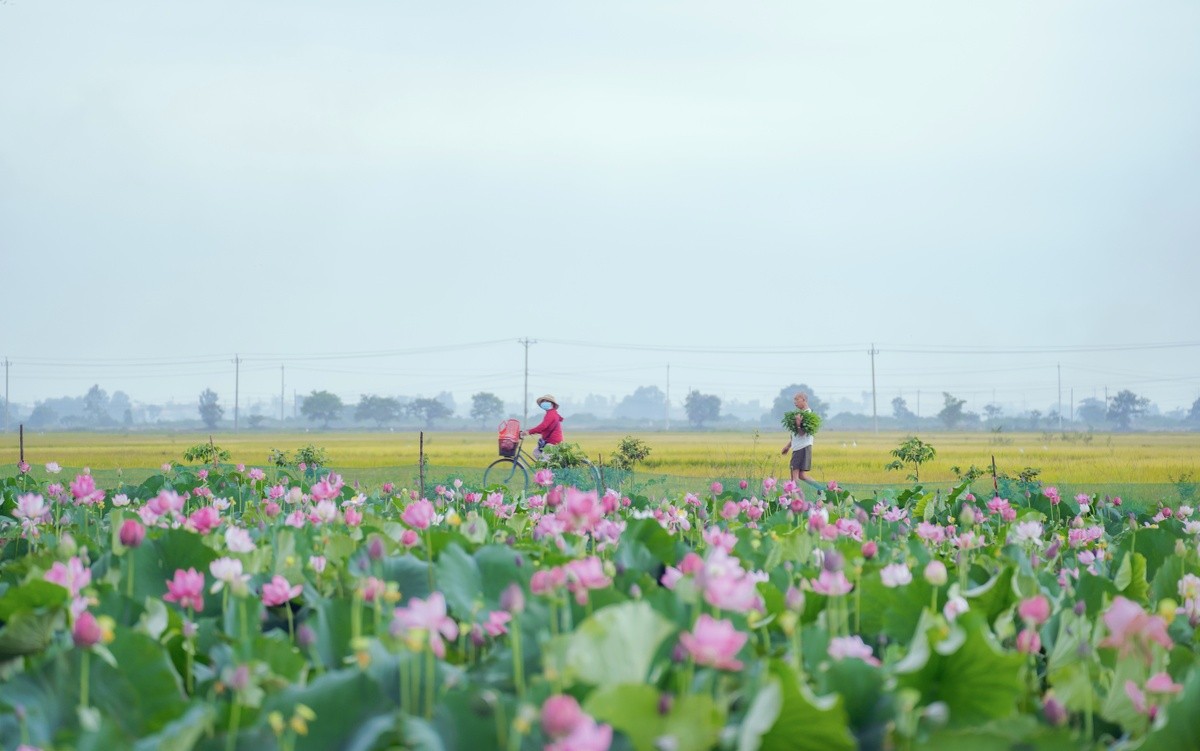 Photo: Le Dinh Hoang
In the summer, from April to June, the lotus field in La Chu village (Hue) is tinged with the lovely pink color of flowers. As an ancient village dating from the Tran Dynasty, La Chu village in Thua Thien – Hue province still retains ancient features such as banyan trees, wells, and a large lotus pond.
There are many lotus fields in the village, and most of them are free to visit and take pictures. However, there are certain spots with bridges crossing over them that may charge a fee. The lotus fields are an integral part of the local people's lives; they plant and harvest lotus seeds and flowers when the season comes.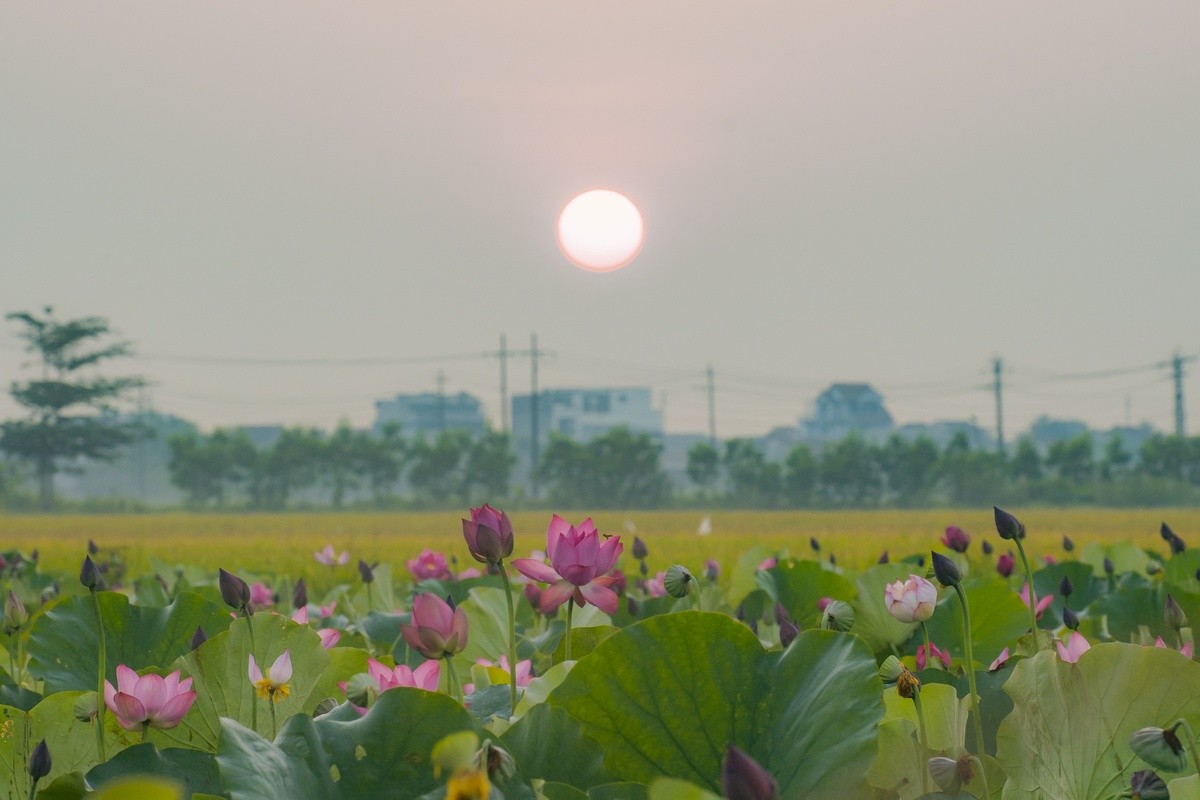 Photo: Le Dinh Hoang
In Ninh Phuoc, Ninh Thuan, the local farmers grow lotus in the same fields as their rice. From April to August, the farming area is divided into two distinct colors – a beautiful pink of the lotus flower and golden of the ripe rice, creating a poetic scenery.
Like the people in La Chu, Ninh Phuoc farmers are commercially harvesting lotus. The older lotus will be sold to make tea or jam, while the younger lotus can be packed into bags of fresh lotus seeds.
Lotus are grown and cared for in special areas that are dedicated to harvesting flowers and stalks without the use of pesticides or herbicides. This plant is incredibly beneficial for health, as it can help to reduce stress, fatigue, cholesterol, and blood fat, as well as improve blood pressure stability and prevent cancer, cardiovascular disease, and stroke. To make life easier for those visiting the area, the people who work there have created filter bags of lotus tea that can be purchased as a gift for family and friends.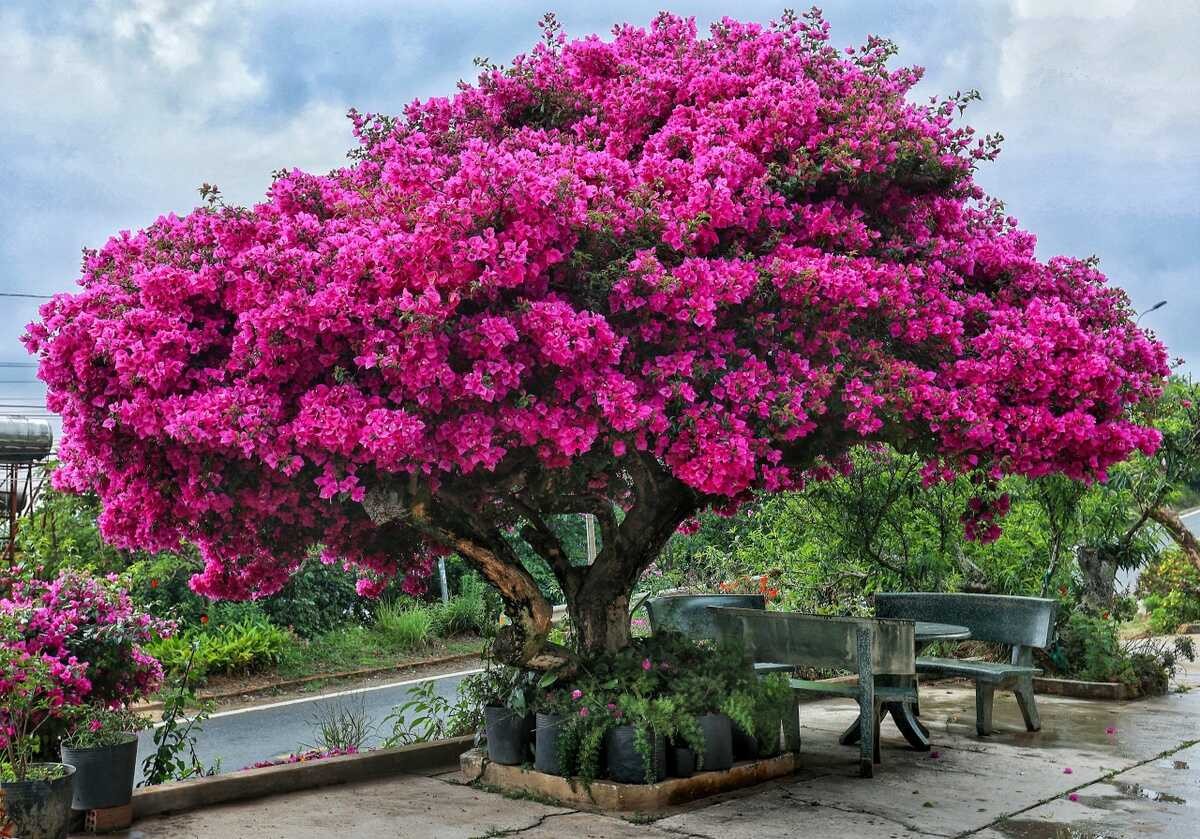 Photo: Sam Sam
Paper flowers are a common sight in many parts of Vietnam, due to their easy cultivation and hardiness. People often plant them around the entrance of their homes for decoration, or simply to add a splash of colour to their gardens. At D'ran Pass, near Cau Dat (Da Lat), there is an impressive bougainvillea tree that is 34 years old and boasts a huge canopy of pink blossoms. It's become quite the tourist attraction, with many travellers visiting to take pictures of the beautiful tree.
Photo: Sam Sam
The tree is located on the premises of a house, so if you would like to take photos of it, please be sure to ask the owner for permission first. If you are standing outside the property, remember to be mindful of passing vehicles and look both ways to avoid any accidents.
Photo: Van Thai
Aside from Hai Phong city, red phoenix flowers are also favored by people in other provinces and cities to grow on both sides of the road. The blooming of the phoenix flower is seen as a sign that summer is coming. It marks the end of the school year, welcoming long summer days with no homework, the chance to visit family and friends, and to take a vacation. Red phoenix flowers are also a reminder of young love, which can be both innocent and passionate.
If tourists are able to visit the western part of Vietnam, they are in for a treat! Along the two sides of National Highway 80, in the Lap Vo area (Dong Thap), phoenix flowers bloom by the river, making it a beautiful spot for flower lovers to take photographs.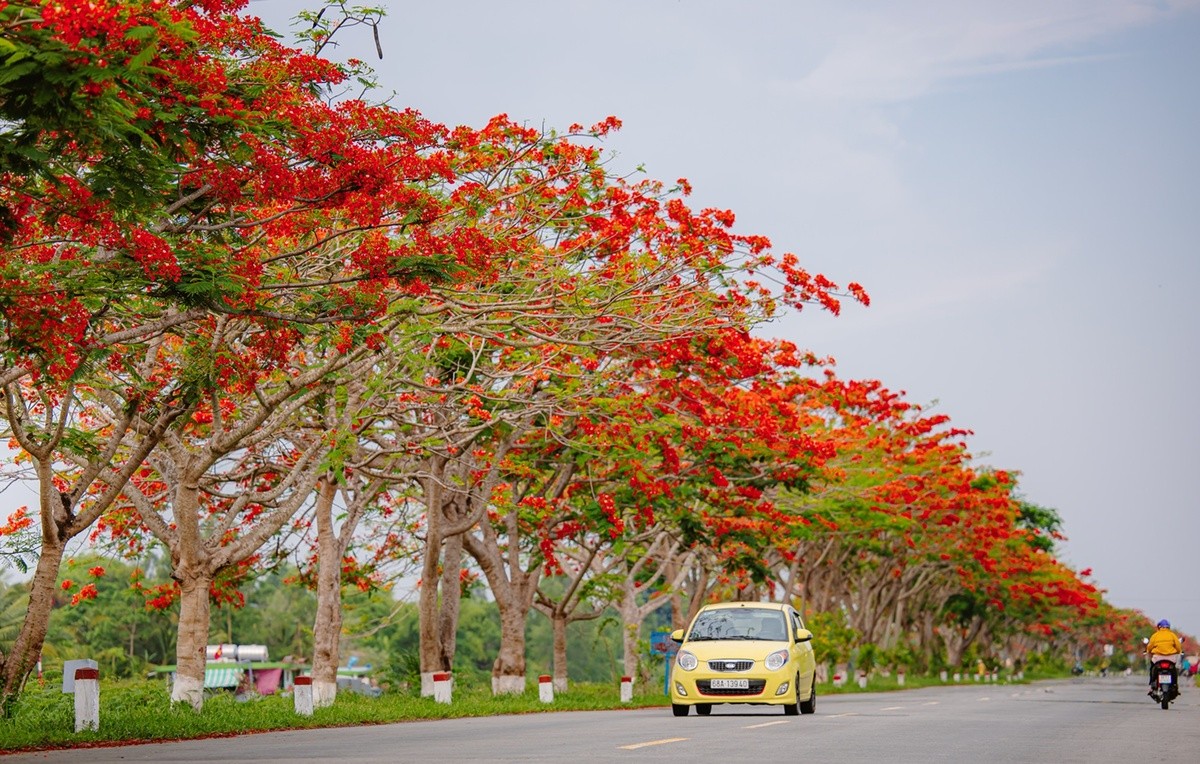 Photo: Van Thai
A Vietnamese student recently demonstrated their love for their significant other in a unique and romantic way – pressing phoenix petals into a beautiful notebook and presenting it to their beloved. This act of love has sparked a flurry of poetic and musical inspiration across the country.