Songrit Pongern is a Thai journalist and cultural researcher who has visited Vietnam many times. In his perception, Vietnam has a unique indigenous diversity reflected in the beliefs, lifestyles of the people, methods of production, especially in agriculture.
According to Songrit, the diversity in Vietnamese culture is also reflected in the richness of regional customs, traditions and art forms. It is proved by the fact that Vietnam has dozens of cultural features recognized by the United Nations Educational, Scientific and Cultural Organization (UNESCO) as an Intangible Cultural Heritage of Humanity. Some can be listed such as Hue Royal Court Music, Central Highlands Gongs, Bac Ninh quan ho folk singing, ca tru, xoan singing in Phu Tho, don ca tai tu singing in the Mekong Delta or vi dam folk singing in Nghe Tinh area.
Having been to Lac village in Mai Chau, Hoa Binh during his first visit to Vietnam more than 30 years ago, Songrit is still impressed with the beautiful scenery, fresh air, lake surrounded by mountains and especially green rice fields. During those days he had experienced the village like a local.
He recalled once learning from the villagers how to weave cloth and make bamboo baskets. He also tried the meal of grilled fish with sticky rice. He remembers the happy atmosphere when dancing together to the sound of drums, gongs and the feeling of familiarity in the countryside when sleeping in a house on stilts. According to Songrit, this is an example of the multiculturalism that Vietnam can leverage to attract more foreign visitors.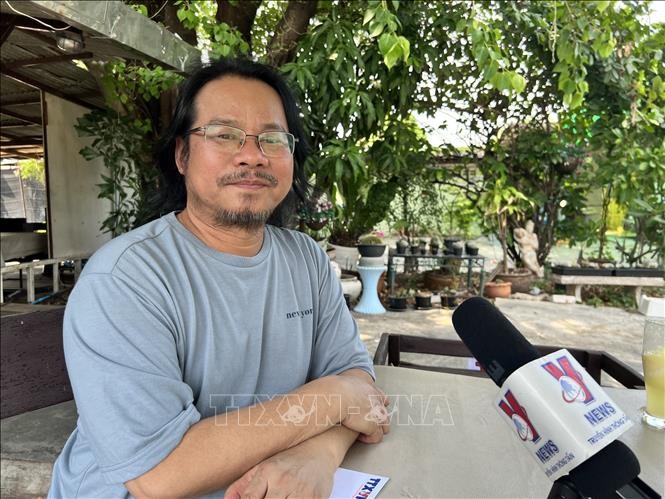 Thai scholar Songrit Pongern. (Photo: VNA)
He also referred to Thailand's experience in protecting and promoting cultural values. Thailand has long incorporated culture into tourism campaigns. Thailand is very active in promoting its festivals and encouraging foreigners to discover the cultural festivals held year-round in the country. The most familiar Thai festivals to foreigners are the Songkran Festival in April and the Loi Krathong Festival in November.
These two festivals are introduced in every Thai tourism promotion campaign both at the homeland and abroad. Especially, Songkran New Year or Thai New Year is considered a festival both to pray for a better life and to have the most joy. Therefore, Songkran New Year is loved by foreign tourists. Many want to participate in this festival not only once but many times.
With its diverse culture, Vietnam also has numerous festivals to promote to international tourists. "Vietnam can also do the same as Thailand does, by promoting festivals that are popular for foreigners to attend and have fun. In fact, the Thai ethnic community in northern Vietnam also has a similar Songkran festival. This is a festival to celebrate the new harvest. Therefore, I think Vietnam can also promote the Songkran festival in the northern region," said Songrit.
Scholar Songrit believed that cultural diversity is an important factor so that the two countries can cooperate in many ways to promote cultural understanding among ASEAN member countries. For example, Vietnam and Thailand can jointly organize festivals with similarities such as the Lantern Festival in Hoi An and the Yi Peng Lantern Festival on the occasion of the Full Moon in Chiang Mai. Besides, they can also host cultural exchange events about traditional music, or traditional Vietnamese water puppetry with Joe Luis puppet of Thailand.
He also mentioned that if there is a serious start on cultural cooperation between Vietnam and Thailand today, the two Southeast Asian countries will surely witness a good future in bilateral relations which is getting closer and closer.