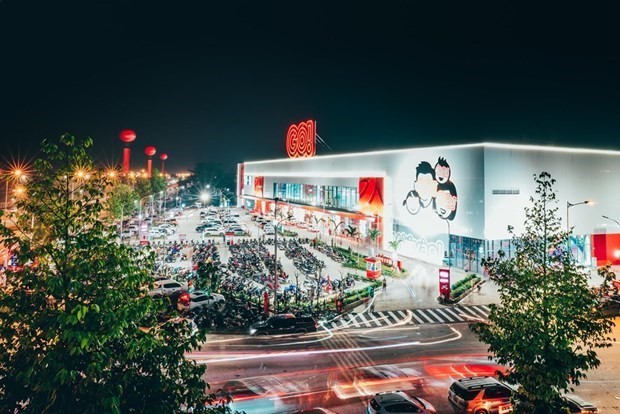 Central Retail Corporation sees Vietnam as a high-potential market that posted continuous economic growth. Photo: VNA
Central Retail Corporation (CRC), the largest retailer of Thailand, has announced its biggest investment in Vietnam at THB 50 billion (USD 1.45 billion) in the 2023-2027 period to accelerate its market presence in the country, VNA reported.
According to CEO of CRC Yol Phokasub, the firm sees Vietnam as a high-potential market that posted continuous economic growth. With CRC's strong foothold in the country, it has set a five-year roadmap to continue its expansion there, allocating THB 50 billion over a five-year period.
The Vietnamese retail market, valued USD 49.7 billion , is expanding 10-125 each year.
The CRC invested more than 10 billion baht to expand its retail business in Vietnam during 2012-2022. It has more than 340 stores with a total gross floor area exceeding 1.2 million square metres across 40 provinces.
Olivier Langlet, CEO of Central Retail Vietnam, said that the company recorded rapid sales revenue growth in the country, rising from THB 300 million (USD 8.7 million) in 2014 to 38.6 billion (USD 1.12 billion) in 2021.
He said that Vietnam's economy continues to grow despite uncertainties, with GDP growth expected to increase by 6.7% and 7.2% in 2023 and 2024, respectively, compared with 3.5% a year in Thailand over the next two years. This will make Vietnam Southeast Asia's fastest-growing market, he said.
Central Retail Vietnam wants to grow its food business nationwide to reinforce its leading position in Vietnam's hypermarket segment by rebranding and renovating 10 GO! branches and expanding the Tops market and Mini go! branches by adding 8-10 outlets to better serve the needs of local consumers, he said.
The retail conglomerate vows to strengthen its fresh food category and the non-food category to drive customer traffic via renovation, in addition to preparing for new branch launches in the future, he underlined.
He said the firm plans to renovate 10-12 branches of Nguyen Kim, an electrical appliance chain, and add 3-5 new branches, including stores in its GO! malls.
Thailand's economy could grow as much as 4% this year, the fastest rate in five years, thanks to the recovery of the tourism sector and domestic consumption, Thai Deputy Prime Minister and Energy Minister Supattanapong Punmeechaow said on February 1.
Thailand's retail industry, thanks to the recovery of tourism, is forecast to grow by 6-8% in 2023, double the rate of the country's GDP, said the Thai Retailers Association (TRA).
The scale of the domestic retail market is expected to increase from USD 142 billion at present to USD 350 billion by 2025, contributing 59% of the national GDP, according to Vietnam's Ministry of Industry and Trade (MoIT).
Experts held that the growth of retail sales is being supported by a rise in income and the strong recovery of the tourism sector as well as relevant sectors such as transport and accommodations, as well as the effectiveness of inflation control measures.
Japanese giant retailer Aeon Group also plans to build another megamall in Hanoi, raising its total trade centres in Vietnam to 20.
In 2023, four trade centres are scheduled to be launched – Central Premium Plaza, Vincom Megamall Grand Park, Sunrise City Central and Emart 2 with a total area of over 116,000 sq.m.
Many experts predicted that this year, retailers will expand their selling channels, bringing their products to different trading platforms to optimise online retail channels.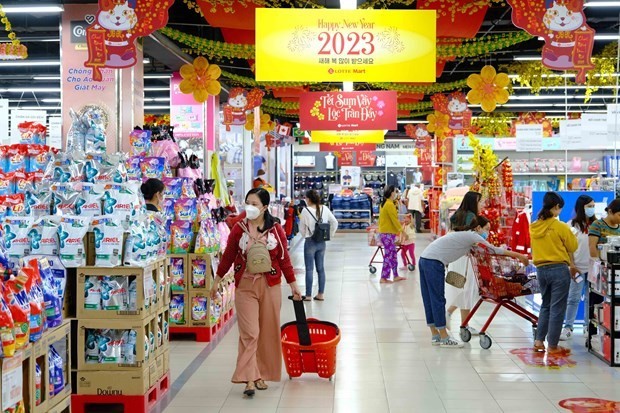 Vietnam's total retail sales of goods and services in January 2023 was estimated at VND 544.8 trillion, up 5.2% from the previous month and 20% as compared with the same period last year. Source: VNA
On the occasion of the new year 2023, Thai Ambassador to Vietnam Nikorndej Balankura has granted VNA an interview, during which he expressed optimism about the future prospects of the Vietnam-Thailand ties in 2023 when the two countries celebrate the 10th anniversary of their strategic partnership.
Noting that more Thai investors are interested in Vietnam, the ambassador hailed Vietnam's effective efforts to curb the Covid-19 pandemic effects.
Ambassador Nikorndej said that the two countries will celebrate the 10th anniversary of the bilateral strategic partnership in 2023, but the partnership has been elevated to a strengthened strategic partnership, which is very special.
He noted that politically, there has been exchanges of visits, both at the highest level. Economically, in the past 10 years, the ties have grown tremendously. Thailand has become the top 10 investors, second only to Singapore in ASEAN.
The ambassador believed bilateral cooperation is very promising in all aspects – political, economic and people-to-people aspects.