The exchange event on tea ceremony was organized by the Embassy of Japan in Vietnam on March 17th in Hanoi. "Tea enjoyment is a culture containing elements that create understanding and empathy between the people of Japan and Vietnam," said Japanese Ambassador Extraordinary and Plenipotentiary to Vietnam Yamada Takio.
He said that the tea ceremony is part of the traditional culture of Japan. In 2019, during his time as Japanese Ambassador to UNESCO in France, Houunsai Sen Gensitsu, the 15th head of the Urasenke tea sect, visited and conducted a tea ceremony at UNESCO headquarters. At the ceremony, many guests were touched by the artistic beauty of the tea ceremony and sympathized with its philosophical values. Some notable cultural and spiritual values include respect for each other, gratitude for the creatures that feed people, as well as the idea of living in harmony with nature.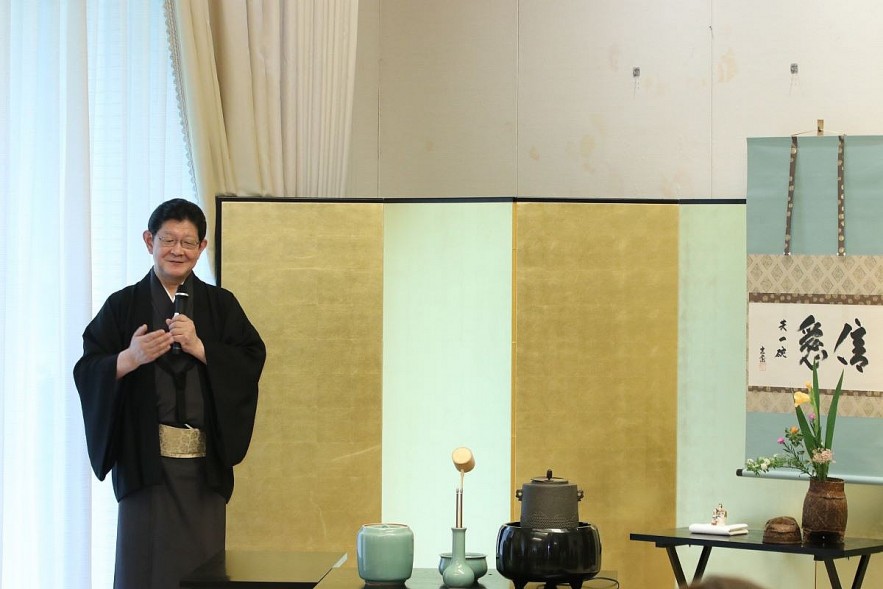 Machita Soryu talks about the tea ceremony. Photo: Vietnamtimes
Ambassador Yamada Takio said that an important foundation in Japan-Vietnam relations is understanding and sympathy between people. The art of enjoying tea contains the closeness and long-standing attachment between the people of Japan and Vietnam. It also has elements that bind the two countries.
During the era of Sen no Rikyu, who founded the art of tea in Japan in the 16th century. The long relationship between Japan and Vietnam is reflected in the fact that pottery such as An Nam teapots and bowls were used for the ceremony.
Anabuki Makoto, a diplomat working at the Japanese Embassy in Vietnam, accidentally discovered and informed Hai Duong province in 1980 about the existence of an ancient ceramic vase on display at a museum in Turkey. This vase is engraved with Chinese characters indicating the origin of the present-day Chu Dau region.
The Ambassador hoped that, through the event held on the occasion of the 50th anniversary of the establishment of diplomatic relations between Japan and Vietnam, those who are cultivating Japan-Vietnam relations can discover and feel the strong connection between the two countries.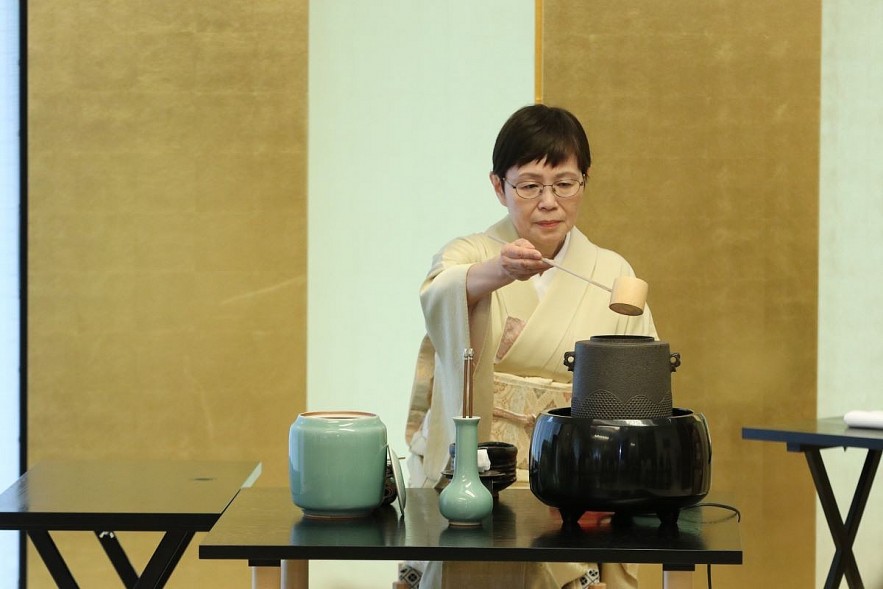 The elaborate steps of making tea in Japanese etiquette. Photo: Vietnamtimes
At the exchange, guests heard Machita Soryu, Vice Head of the Urasenke tea sect Machita Soryu, Konnichi-an tea room share about the world of the tea ceremony. They witnessed the elaborate tea-making and offering ceremony with tools and ingredients from Japan. Thereby, they can understand the philosophy of "gratitude and think for others" which is cherished and cultivated by the Japanese.
According to Machita Soryu, the spirit of the Japanese tea ceremony is expressed in the four elements of harmony, reverence, purity, and stillness. The popularization of the tea ceremony is also a way of expressing Japan's desire for peace and making the world a better place.