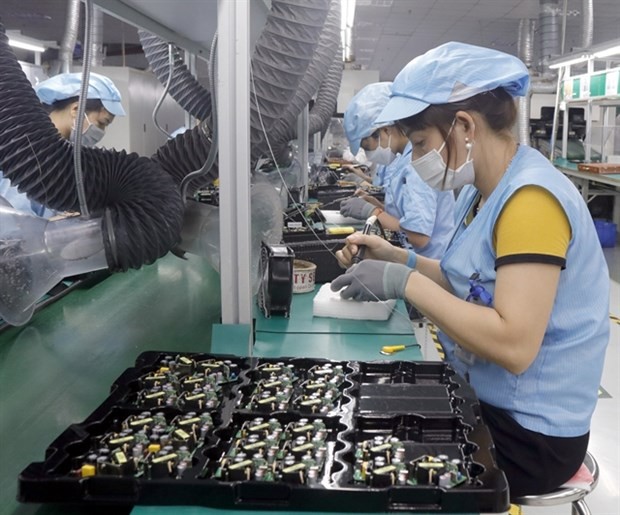 Telstar Vietnam, a UK-invested company in Bac Giang province. Photo: VNA
Swiss daily Tribune de Gèneve has recently published an article hailing Vietnam as a new destination for foreign companies, according to VNA.
The article said Vietnam recorded the strongest economic growth in Asia in 2022 following a period of closure due to the Covid-19 pandemic. Switzerland is well-positioned to leverage advantages brought about by the Vietnamese economy. Two-way trade between Switzerland and Vietnam hit about USD 3.2 billion in 2020.
Hundreds of Swiss companies have been among the most important European investors present in Vietnam. In particular, the Swiss industrial equipment sector should fully tap the growing trend of "Made in Vietnam" products.
According to the article, the industrial boom in Vietnam could be clearly felt when entering the Van Trung Industrial Park, which is an hour's drive to the north of Hanoi. Early in the morning, many people were lining up in front of the recruitment office of Foxconn – the most famous subcontractor for Apple. In front of a large dormitory for workers, there is also a large poster with a notice that Foxconn is recruiting 10,000 employees with favorable working conditions.
Foxconn is not the only factory hiring a large number of workers. Not far away, LuxShare, a competitor, is announcing that it will recruit 13,000 new employees. An automobile supplier is seeking 700 eligible positions while a solar panel manufacturer is announcing the recruitment of 6,000 positions.
Large industrial zones are being built and taken over by advanced electronics manufacturers, said the article.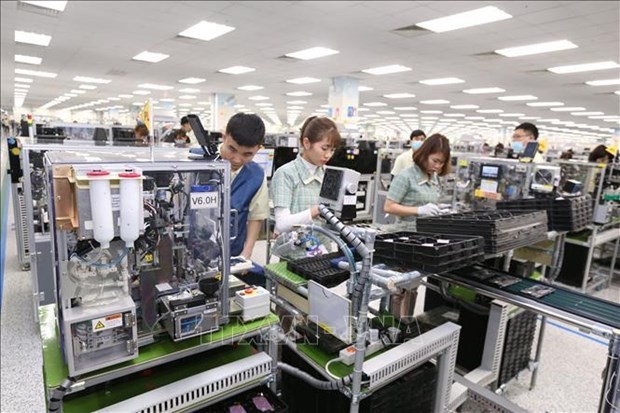 A smartphone production line of the Samsung Electronics Vietnam Co. Ltd. Photo: VNA
The Republic of Korea's electronics conglomerate Samsung inaugurated a brand new research and development centre in Hanoi in December 2022. It also plans to invest around USD 3.2 billion to produce semiconductors in a neighbouring province. The US's semiconductor equipment company Amkor Technology will soon open a factory near the airport. And Pegatron of Taiwan (China) that produces components for electric carmaker Tesla and assembles iPhones, has recently begun operations near Ha Long Bay.
The article attributed Vietnam's above-said attraction to various factors such as a stable investment environment, 15 free trade agreements, including one signed in 2020 with the European Union (EU), helping Vietnam become a hub of industrial production at affordable costs.
Vietnam is being rated by foreign investors as a top priority for investment. Therefore, the country will continue to witness the emergence of super factories in the future, it concluded.
As several foreign investors are eyeing Vietnam for opportunities, the country must make greater efforts to improve the investment climate.
Many enterprises from countries such as the UK, the Republic of Korea and Japan said Vietnam is an attractive investment destination, given the country's stable macro-economy, rapid growth and large market with a rising middle class.
The European Chamber of Commerce in Vietnam (Eurocham)'s 2022-2023 Whitebook, which was launched late last week, pointed out that Vietnam was an attractive FDI destination thanks to the country's stable macro-economic environment and controlled inflation, which consolidated investors confidence in the trade and investment environment.
The low cost of doing business, strong economic growth, rising middle class and a favourable business environment have made Vietnam an attractive destination for foreign investment, EuroCham said.
Jens Ruebbert, vice chairman of the EU-ASEAN Business Council, said while leading an EU delegation to visit Việt Nam recently that Vietnam is playing an even more important role with the EU in terms of trade and investment, especially in the context of the current volatile world.
He said that many EU companies were interested in the Vietnamese market and considered it very important.
A survey by the Japan External Trade Organisation (JETRO) published recently showed that about 60% of Japanese firms planned to expand their operations in Vietnam, the highest rate in Southeast Asia.
Nakajima Takeo, chief representative of JETRO Hanoi, said that Vietnam was becoming an indispensable part of the global supply chains of Japanese enterprises.
Japanese companies and those from Singapore, the RoK, and Taiwan (China) were also eyeing the Vietnamese market.
At the Vietnam – Singapore Business Forum taking place during Chính's visit to Singapore, Patrick Lee, chair of the Board of Members of Standard Chartered Bank Vietnam (Limited), said that Vietnam is a rising star in the region.
Vietnam's attractive investment policies and favourable demographics made it the market of choice for many Singaporean investors and businesses. With the country's burgeoning consumer market and opportunities from green energy to infrastructure development, Standard Chartered saw greater interest among Singaporean clients to expand into Vietnam, he said.