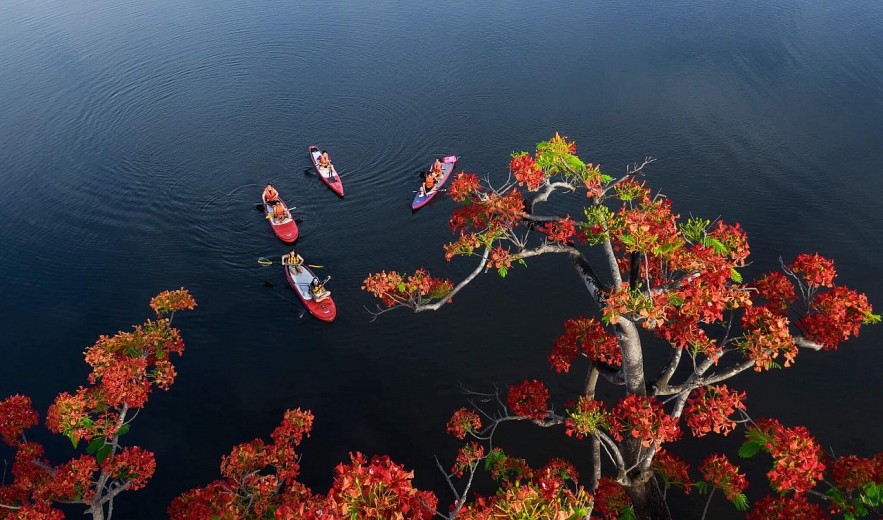 (Photo: La Que)
(Video: VN Express)
Iconic Huong river in Hue has long been famous for fancy dragon boat services. To offer a different experience in the city, local tourism companies have recently introduced SUP surfing. The service opens in early morning (5-7 am, on Bui Thi Xuan street) and at sunset hours (5-6:30 pm, in the wharf of Song Huong Floating restaurant). Tourists can hire a SUP at VND 100,000 (US$ 4,34) for a one-hour ride.
Standup paddleboarding (SUP) is a water sport born from surfing with modern roots in Hawaii. SUP boarders stand on boards that are floating on the water and use a paddle to propel themselves through the water. To play the sport, boarders must know how to swim.
(Photo: VN Express)
Unlike the traditional dragon boat services, where customers are offered a taste of a royal Hue with nhã nhạc cung đình (Hue royal refined music) and elegant traditional dishes, SUP surfing is all about sport and rustic experience.
With this new service, visitors can immerse themselves in the pure Hue at sunset or sunrise, a Hue with no noisy traffic. Hue is also known as an idle and peaceful city, yet SUP surfing even densifies the vibe. Surfing in the early morning, before the bustling market on the side of Huong river opens, visitors will see a tranquil but lively Hue, while in the sunset, they can enjoy a poetic scene of the famous Truong Tien bridge bending over a slowly flowing river.
Tourists are advised to start their surf from Da Vien Boat Station, row to Phu Xuan Bridge, Truong Tien Bridge, and then return to Da Vien Boat Station. In addition to paddle SUP, they can swim on Huong river, one of the cleanest and clearest rivers in Vietnam.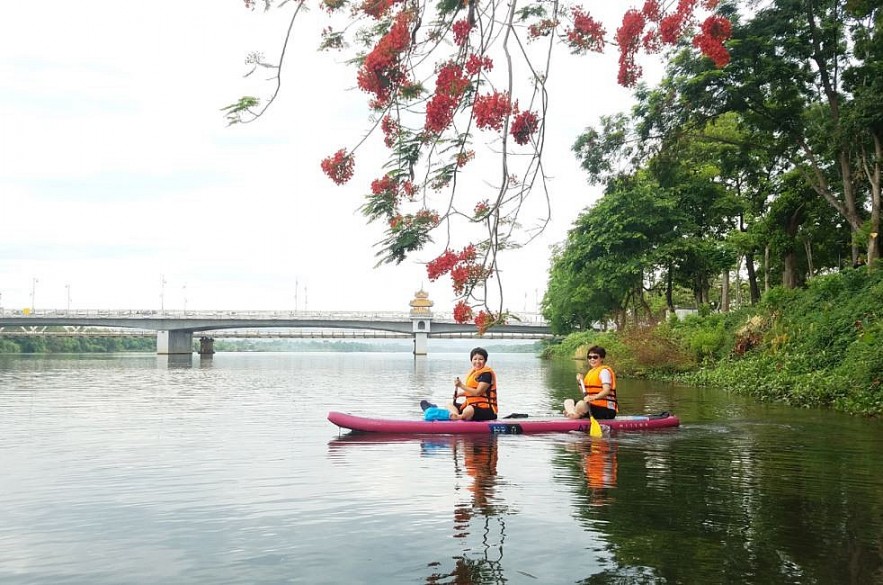 (Photo: VN Express)