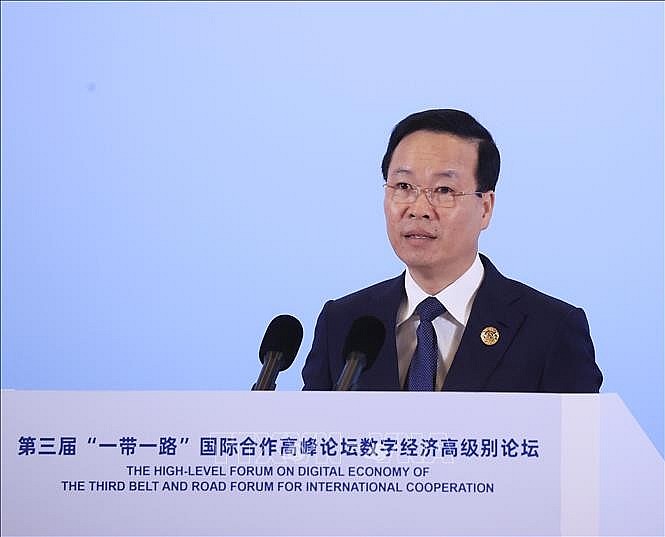 President Vo Van Thuong spoke at the high-level meeting with the topic "Digital economy – New driving force of growth." Photo: VNA
As the first multilateral foreign activity of President Vo Van Thuong in 2023, the results of the trip once again affirm that Vietnam always supports initiatives beneficial to peace, cooperation, and development in the region and around the world.
Vietnam also continues to implement the common understanding of the top leaders of the two Parties and two countries reached during the historic visit to China by General Secretary Nguyen Phu Trong in 2022.
Cooperation for development
This is the first Belt and Road Forum after a long hiatus due to the pandemic. Therefore, the event is of interest to China and other countries. The participation of President Vo Van Thuong at this forum is extremely important on both bilateral and multilateral levels.
In his speech at the forum, President Vo Van Thuong stated that with high determination and specific programs, projects and actions, the Belt and Road Forum has become a major international cooperation mechanism, contributing to infrastructure connectivity and global economic links.
It is an open, inclusive, high-quality cooperation framework that brings practical benefits to all participating parties, deepening the friendship and connection between the people of the countries.
"Vietnam always supports initiatives that are beneficial to peace, cooperation, and development in the region and the world. We appreciate, welcome and participate in many important global mechanisms and initiatives initiated by China, including the "Belt and Road" Initiative," the President said.
According to Minister of Foreign Affairs Bui Thanh Son, by participating in the forum's activities as well as sideline activities, the President affirmed the consistent foreign policy of the 13th Congress, affirming that Vietnam is a friend, a trusted partner, and a responsible member of the international community.
The results of this forum will support the implementation of the agreement on connecting Vietnam's "Two Corridors, One Belt" framework and China's "Belt and Road" initiative.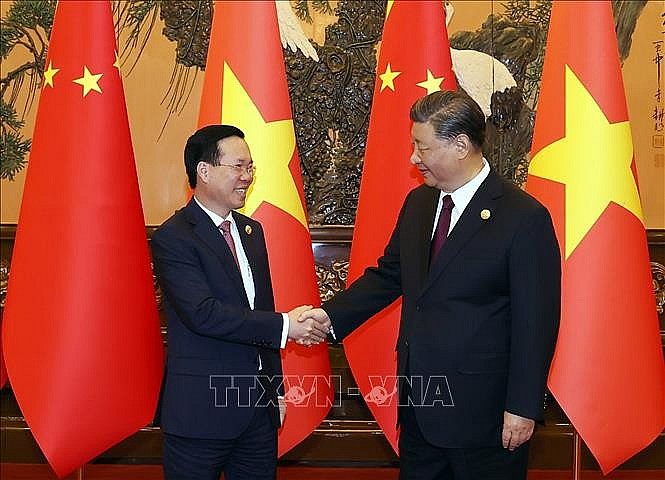 President Vo Van Thuong meets with Chinese Party General Secretary and President Xi Jinping. Photo: VNA
Choosing strategy and top priorities
In a meeting with General Secretary and President of China Xi Jinping, President Vo Van Thuong said that the Party, State and people of Vietnam always consider strengthening and developing Vietnam-China relations as a strategic choice and top priority in Vietnam's foreign policy.
President Xi Jinping said China always considers Vietnam a priority direction in China's overall neighboring foreign policy.
He welcomed and supported Vietnam's strong development and successful implementation of the goal of industrialization and modernization of the country, so that the two countries can develop together.
The leaders of both sides also agreed to make joint efforts to promote relations with higher political trust, and practical cooperation.
This business trip of President Vo Van Thuong and Vietnam's high-ranking delegation demonstrated that the political trust between the leaders of the two Parties and two countries continues to be strengthened and deepened.
President Vo Van Thuong, leaders of China and other countries exchanged and discussed contents suitable to Vietnam's development orientation, such as green growth, digital economy, innovation, small and medium enterprise development.
This will contribute to creating lessons and experiences, thereby taking advantage of resources and expanding economic cooperation.
The activities of President Vo Van Thuong leading the high-ranking Vietnamese delegation attending the 3rd Belt and Road Forum for International Cooperation demonstrated Vietnam's strong commitment to multilateralism and initiative in strengthening cooperation, and regional and global economic links.
The meetings and exchanges between President Vo Van Thuong and key Chinese leaders contributed to strengthening political trust, maintaining relations as well and creating new opportunities for cooperation.