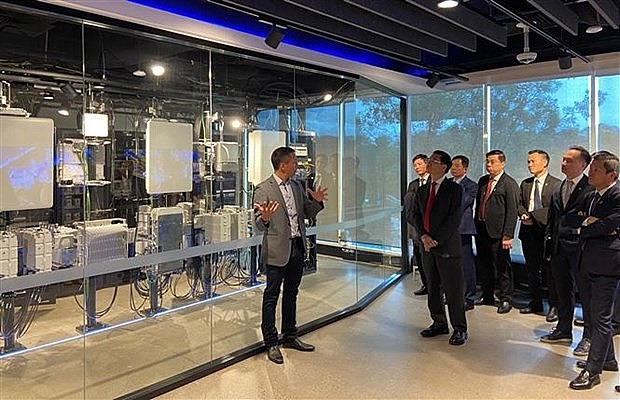 The delegation visits Nokia's Future of 5G lab (Photo: VNA)
Minister Nguyen Manh Hung and his delegation visited Techlab UTS, where they had the opportunity to explore advanced research equipment and digital technology experiment systems, such as Nokia's 5G Future Lab. This lab showcases the transformative use of 5G technology in various industries and emphasizes practical and marketable research outcomes.
During the visit, Tristan Lee, a Nokia representative at Techlab, explained the collaboration between Nokia and Techlab UTS in creating the Future of 5G lab. He highlighted the lab as a convergence of Nokia's world-class 5G technology and Techlab UTS, focusing on practical applications that can benefit multiple industries.
Iain Watt, Vice-Chancellor and Vice-President (International) of UTS, expressed the university's commitment to Vietnam as a strategic partner for technology transfer research and bringing research products to society. He emphasized Techlab UTS as a platform that offers technical infrastructure, specialized laboratories, and funding opportunities to its partners, enabling collaboration with startups, SMEs, and multinational organizations.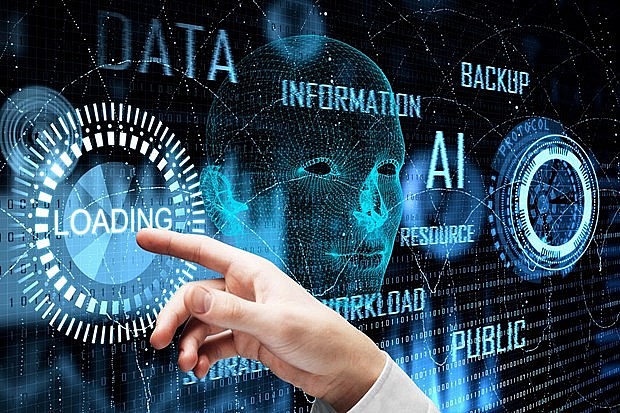 Vietnam will lack 60% of human resources in digital technology. vneconomy.vn
Iain Watt also highlighted some completed UTS projects in Vietnam, including a coastal water quality monitoring system installed at Xuan Dai Bay in Phu Yen province for real-time data collection for aquaculture farmers. UTS also collaborated with the Vietnam National Committee for Search and Rescue to develop a drone-based simulation system for assessing risks and providing effective approaches to emergency scenes.
Minister Nguyen Manh Hung acknowledged the valuable cooperation between UTS and Vietnam and suggested further activities, particularly in the field of education. He emphasized the importance of developing digital technology training to meet the growing demand for skilled professionals in Vietnam's digital sector, which is projected to face a shortage of 60% of human resources.
The Vietnamese official also mentioned the success of Vietnamese digital businesses in providing products and services to various countries. He viewed this as an opportunity for UTS to further collaborate with Vietnam.
Making Vietnamese digital enterprises go global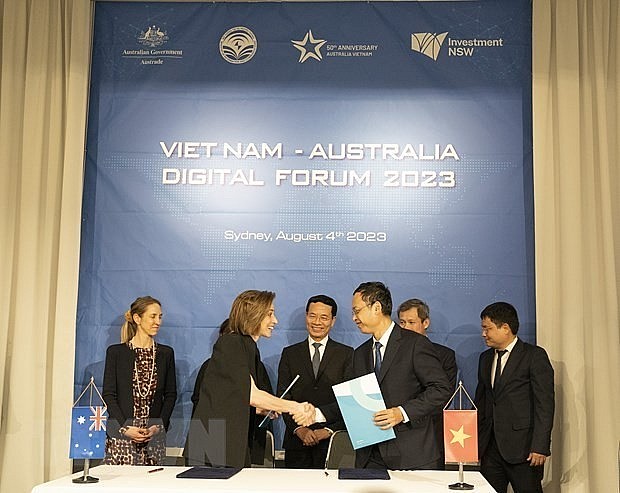 The signing of a memorandum of understanding (MoU) between Vietnam's Posts and Telecommunications Institute of Technology and its Australian partners. Photo: VNA
The Vietnam – Australia Digital Forum 2023, held in Sydney, focused on promoting cooperation in information and communication technology and digital fields between the two countries. Participants from government agencies, organizations, research institutions, and businesses discussed policy incentives and investment environments in both Vietnam and Australia. The forum culminated in the signing of a memorandum of understanding between Vietnam's Posts and Telecommunications Institute of Technology and its Australian partners, including Western Sydney University, the University of Canberra, SET Education, and the Association of Vietnamese Australian Scholars and Professionals (VASEA).