Recognition and Appreciation for SL Aesthetic Clinic
This prestigious award is presented to SL Aesthetic Clinic, one of the top providers of XEOMIN®, to acknowledge and express gratitude for their exceptional contributions. It is with great pleasure that we announce SL Aesthetic Clinic as the recipient of this award for the second consecutive year, following their previous success in 2021.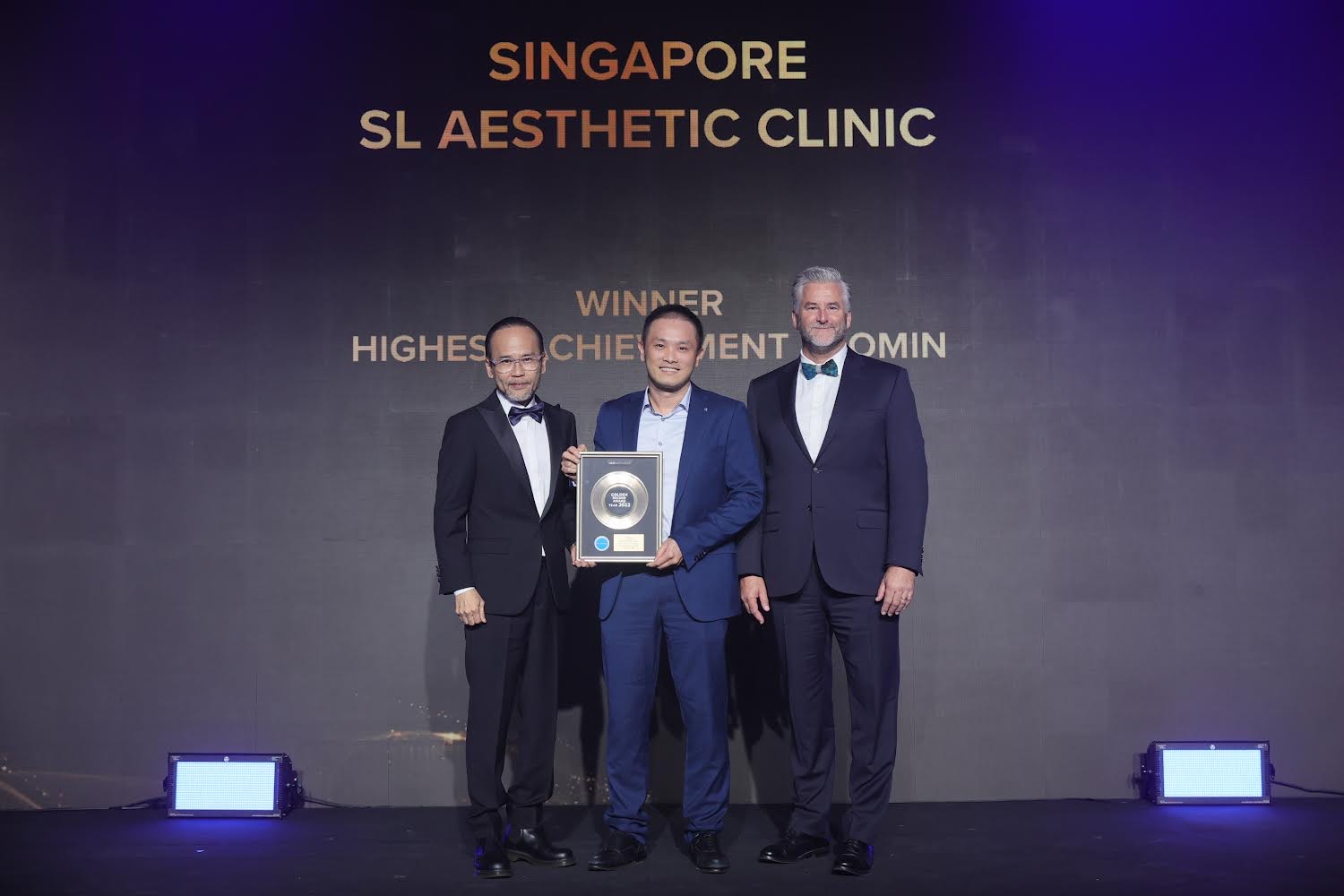 Dr. Kelvin Chua, Founder and Medical Director of SL Aesthetic Clinic, expressed his gratitude upon receiving the XEOMIN® Highest Achiever Asia Pacific Award. He is delighted to be acknowledged as the top user for South East Asia, including Vietnam and the Philippines. This award serves as a testament to their extensive experience in administering XEOMIN® treatments in Singapore. Dr. Chua would like to extend his appreciation to Merz Aesthetics, the distributor of XEOMIN®, and the GRA organizer for this recognition.
SL Aesthetic, established in the 2000s, is a Singapore-based clinic that specializes in a wide range of safe and approved minimal to non-invasive medical aesthetic treatments. Our offerings include FDA-approved, CE-marked, and HSA-approved procedures. Among our esteemed services is XEOMIN®, a highly effective and pure form of botulinum neurotoxin. It has been proven to effectively address various skin concerns, including wrinkles and frown lines. Trust SL Aesthetic for exceptional aesthetic treatments that prioritize your safety and desired results.
XEOMIN® is a purified botulinum neurotoxin type A that is uniquely free from complexing proteins. This distinction sets it apart from other options in the market, as it minimizes the development of antibodies and diminishes the likelihood of reaction or tolerance to neurotoxins. It is manufactured in Germany and specifically designed to enhance the appearance of frown lines between the eyebrows and crow's feet around the eyes. By targeting nerve endings in the muscles, XEOMIN® can effectively reduce the appearance of frown lines by preventing muscle contractions.
SL Aesthetic Clinic is honored to receive this prestigious award. This recognition further solidifies our commitment to our ultimate goal – to empower individuals seeking beauty treatments to become the best version of themselves.
SL Aesthetic Clinic offers a wide range of modern and safe medical aesthetic treatments in Singapore. Our services include minimal to non-invasive procedures that are FDA-approved, CE-marked, or HSA-approved. Our mission is to help you transform into the best version of yourself.
Our team of doctors in Singapore are highly trained and possess the necessary certifications recognized by the Aesthetic Practice Oversight Committee (APOC) of the Singapore Medical Council.
SL Aesthetic Clinic is a trusted provider of beauty-enhancing services, committed to delivering exceptional results for our clients. With over two decades of experience in the aesthetic services industry, we specialize in non-invasive facelifts and fillers to help our clients achieve their desired look. Our team of skilled doctors is dedicated to helping our clients look and feel their best. At SL Aesthetic Clinic, we value our clients as more than just customers; they are our connections and friends who have contributed to our success. We take pride in exceeding expectations and building lasting relationships with our valued patrons.
SL Aesthetic Clinic offers a range of top-quality services including our proprietary protocol, Fotona6D Pro, which provides a highly effective and painless non-invasive facelift. We also offer FUE Hair Transplant and Pico Laser treatments for rejuvenation, pigmentation and tattoo removal. Additionally, our Rosacea Laser treatment addresses the root cause of rosacea to improve symptoms. Our selection of skin boosters and dermal fillers moisturize and enhance skin quality, while also addressing deep wrinkles and scars. Lastly, we provide liposuction services. Trust SL Aesthetic Clinic for all your aesthetic needs.
SL Aesthetic Clinic is a subsidiary of the reputable SL Aesthetic Group. Our group also operates SkinLab The Medical Spa and TrichoLab, providing top-notch scalp care services supported by medical science. Learn more about our services by visiting our website.