A Strong and Long-Lasting Relationship
"Mahatma Gandhi's ideals of truth, non-violence, and human dignity and freedom inspired the anti-colonial movement in many countries in Asia and Africa, including the freedom struggle in Vietnam led by President Ho Chi Minh. Both Mahatma Gandhi and President Ho Chi Minh, with their inspirational leadership, gave our people the courage and confidence to overcome adversities and rise with fortitude against formidable colonial powers.
The shared history of struggle for independence from colonial rule and the visionary leadership of our founding fathers remain the bedrock of strong bonds of friendship and mutual affection between our two countries and our peoples, ever since the emergence of India and Vietnam as independent nations," said Indian Ambassador to Vietnam Pranay Verma in an interview.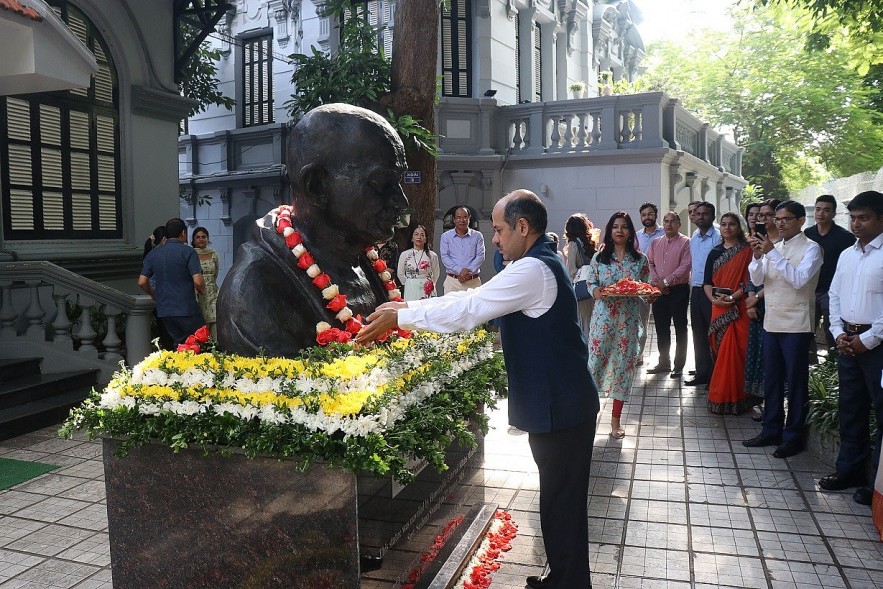 Mahatma Gandhiji's birthday celebrated at the Embassy of India in Hanoi on October 2.
According to Vietnamese Minister of Foreign Affairs, Bui Thanh Son: "Going back in history, the peoples of Vietnam and India enjoyed a longstanding friendship. India is the cradle of one of the most illustrious civilizations of mankind, and numerous are the imprints of its cultural engagement with Vietnam. Since the 16 century, Indian merchants joined European and Asian traders from different countries in the bustling commerce of the port of Hoi An.
In the first decades of the last century, the mutual sympathy between our two peoples, rooted in our common suffering under the colonial yoke, gave rise to a bond of friendship and mutual support in our respective struggles for independence and freedom. This friendship had its foundation laid by the exemplary revolutionary leaders of each country: President Ho Chi Minh, national hero Mahatma Gandhi, and Prime Minister Jawaharlal Nehru, and further cultivated by generations of leaders and peoples of both sides."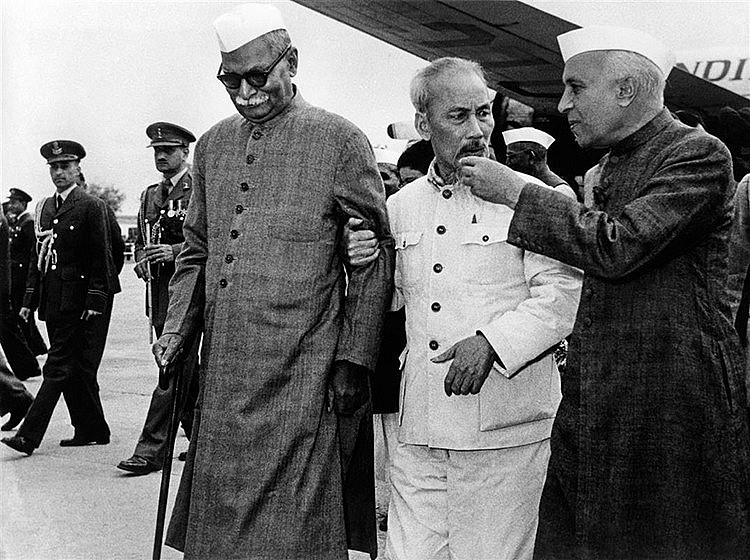 Vietnam's President Ho Chi Minh in his trip to India in 1958.
The year 2022 marks the 50th anniversary of Vietnam-India diplomatic relations. According to Ambassador Pranay Verma: "India-Vietnam relations are characterized as a Comprehensive Strategic Partnership. It covers multifaceted engagement in diverse areas – ranging from political engagement to trade and investment ties, energy cooperation, development partnership, defense and security cooperation, and people-to-people relations. This wide range of engagement itself reflects the special relationship we share and the depth of our mutual trust and understanding."
Our bilateral trade has doubled in the last three years alone and is likely to reach USD 15 billion by 2020. Our businesses and industries are looking at opportunities in each other's countries with greater expectations. We are also building new partnerships in emerging sectors such as information and communication technology, renewable energy, innovation, etc. The young demography of both our countries opens new opportunities for cooperation in diverse sectors.
India's development partnership with Vietnam over the last four and half decades has left a successful legacy and institution building and human resource development. We will do more to bring our projects and programs closer to the people. We will also promote greater capacity building through our flagship ITEC (Indian Technical and Economic Cooperation) program, in which Vietnam is one of our major partners. Our defense partnership has expanded into areas such as defense industrial and technological cooperation. This will open newer opportunities.
In the regional and global context, India and Vietnam regularly consult with each other and share similar views on many important issues. Most importantly, we have developed a long-term strategic view of our relationship based on the vision for peace and prosperity in our shared Indo-Pacific region. Vietnam is pivotal to India's Act East Policy and its Indo-Pacific vision. Vietnam is also a valuable link in India's engagement with ASEAN," he added.
Continue the Fruitful Bond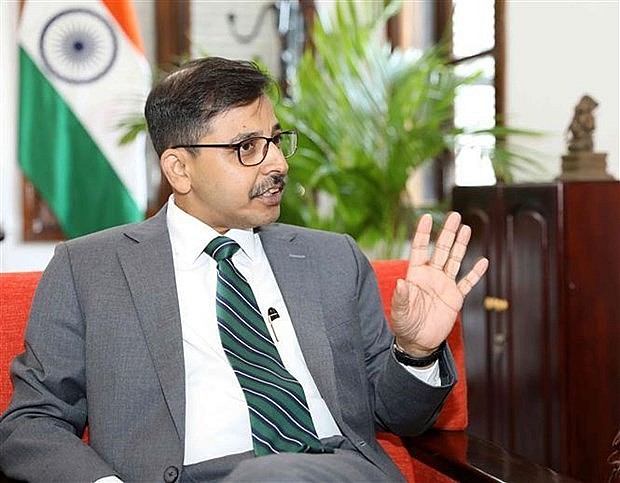 Indian Ambassador to Vietnam Pranay Verma.
"Vietnam is striving to advance industrialization and modernization by building upon science and technology, innovation, robust transformation of its growth model, holistic improvement to its market economic institutions, and proactive and comprehensive international integration. Such efforts would serve to fulfill the goal of becoming a developing country with a modern industrial base and an upper-middle income by 2030, and a developed country with a high income by 2045. On the path to realizing its aspirations and vision for development, Vietnam always considers India as a trusted, close, and loyal friend," said Vietnam's Minister of Foreign Affairs.
Given the strong foundation, the two countries need to continuously strengthen and deepen cooperation across all pillars of bilateral ties. Including improving the effectiveness of bilateral cooperation mechanisms, and enhancing collaboration in defense, security, and external affairs. Regarding economic cooperation, there is a need to improve the two countries' trade, investment, and economic linkages, particularly those pertaining to infrastructure, energy, supply chains, science and technology, innovation, and digital transformation. Both sides should continue to expand and deepen cooperation in cultural exchange, education and training, healthcare, tourism, the environment, and climate change response, in ways that can enhance the effectiveness of and add complementary advantages to both countries' socio-economic development.
"The traditional friendship and tight-knit bond between our two countries and peoples have been tempered through various hardships, growing ever-stronger in a comprehensive and extensive manner. Given the development demands of each country, and amid a world of constant changes, the faithful and trusted friendship and Comprehensive Strategic Partnership between Vietnam and India bear even greater importance for both countries. Vietnam and India remain determined to exert every effort to maintain this excellent friendship and bolster this Comprehensive Strategic Partnership in an extensive, substantive, and effective manner. Such endeavors will fulfill the aspirations and interests of our people, and contribute to peace, stability, cooperation, and development in the region and beyond," said the Vietnamese minister.