This is a significant loss for our country, particularly in the realm of diplomacy. We have suffered the loss of a highly skilled, forward-thinking leader who made substantial contributions to our nation, the foreign affairs sector, and the harmonious, amicable, and collaborative relationships between Vietnam and nations worldwide.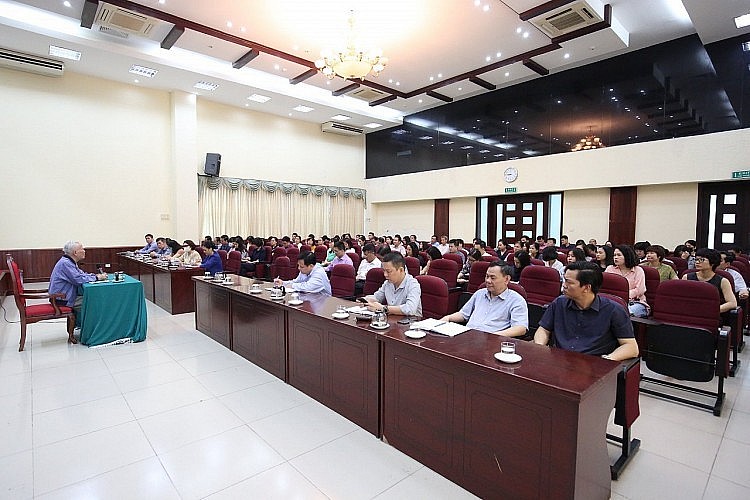 Former Deputy Prime Minister talks with officials and employees of the Viet Nam Union of Friendship Organizations on "Moral example and diplomatic style of President Ho Chi Minh" and people-to-people diplomacy in the new context.
Former Deputy Prime Minister Vu Khoan is a remarkable leader, known for his diplomatic expertise and insightful wisdom. Even in his later years, he remained resilient and possessed a sharp analytical mind. With exceptional organizational skills and a strong work ethic, he was both a strategic planner and an excellent implementer. However, his most admirable quality is his selfless dedication to his country. He consistently poured his time and energy into the betterment of his nation, constantly striving for peace and development to improve the lives of its people.
For the diplomats of our generation, he is not only a leader but also a father, uncle, brother, teacher, and great friend who is incredibly humble and approachable. We are highly engaged and eagerly anticipate hearing him speak at conferences and seminars because of his ability to provide new insights and practical solutions. He is known for his logical and systematic approach to problem-solving, as well as his concise, straightforward, and clever presentation style that leaves a lasting impact.
I remember him saying, "You must view phenomena and issues in development, which means in a changing state, not a fixed one. You must understand its laws and discover what is new and what affects us." Through his "stories," everything becomes clearer, easier to understand, remember, and act upon. When faced with difficult and complex matters, he always made it a point to clearly identify and fiercely defend the nation's interests, but he also reminded us to approach diplomacy with sincerity and a warm heart, while maintaining a rational mindset. He advised us to calmly consider all aspects of the problem, sticking to our principles and protecting our interests, while also taking into account the common interests and concerns of our partners. This approach played a crucial role in his successful negotiations in resolving border and territorial issues, sea and islands disputes, and Vietnam's international integration process.
As a leader, he demonstrates exceptional attention to detail and a meticulous approach. During my time at the Press Department, Ministry of Foreign Affairs, he held the position of Deputy Minister of Foreign Affairs and would carefully review and edit the documents submitted by our department. He approached this task with great delicacy, insight, and thoroughness, carefully scrutinizing each comma and word. In some cases, he even took it upon himself to write portions of the documents. Working under his leadership was a truly enlightening experience. We often expressed our immense satisfaction, as we not only learned a great deal, but also felt valued and respected. He was a strict leader, but always treated his subordinates with respect, actively listening and never exhibiting harshness. Furthermore, he never expected his subordinates to serve him personally, creating a supportive and collaborative work environment.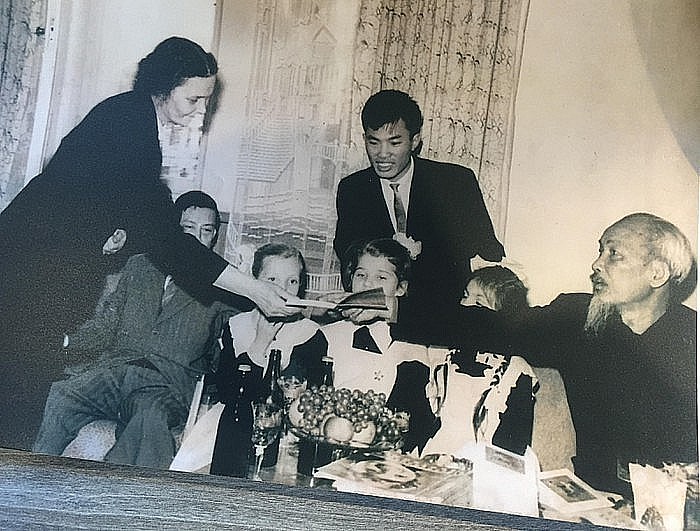 Vu Khoan (standing in the middle) during a reception that Uncle Ho hosted for the students of Ho Chi Minh primary school in the Soviet Union – Documentary photo.
He is a shining example of unwavering dedication and passion for his work, embodying the ceaseless pursuit of knowledge, even at his advanced age. To him, reading and putting in the effort is not just a job, but a way of life. I vividly remember the sight of him fully engrossed in his writing, typing away at his computer. Research is of utmost importance to him, constantly immersing himself in a wealth of knowledge. Despite already possessing a profound understanding of history, economics, and law, he continues to stay updated, never neglecting the latest publications or cutting-edge information that may be unfamiliar to us. Just a few months ago, he shared an article he had recently penned, meticulously analyzing the evolving global landscape. I recall a particular instance when he attended a meeting to evaluate the work of the Press & Information Department at the Ministry of Foreign Affairs. He posed a thought-provoking question to the staff: "Do you, members of the department, dedicate time to reading?". I took a chance and replied, "We are overwhelmed with responsibilities, constantly managing the day-to-day operations of the department, leaving little time for extensive reading and research." His response resonated deeply, "That's not acceptable. I understand and sympathize with the demanding nature of your work, but you cannot forsake reading due to busyness. No matter how occupied you are, reading is an essential aspect of your diplomatic and journalistic roles, and thus you must make time for it."
He is a treasure trove of knowledge and experience, always eager to share, guide, and instruct the next generation. Despite his busy schedule, he always finds time for the youth. When the Ministry of Foreign Affairs opened training courses for young and promising cadres, he eagerly stepped forward to become a lecturer, sharing his expertise in research methods and negotiation skills. These refresher courses were affectionately and proudly referred to by students as "Class VK". He firmly believed in building a team of diplomats with strong knowledge and skills, as he understood that "skill is the bridge that brings knowledge to life". I still vividly remember the times when we sought his articles or advice, as he always dedicatedly guided, instructed, and shared with us.
He led a humble existence, cherished genuine values, and detested flattery, ostentation, and pomposity. Specifically, he prudently managed the State budget, only spending on essential items. In 2004, Vietnam hosted the inaugural Asia-Europe Meeting (ASEM), a conference that attracted significant international media attention. As the Press Department, we were tasked with organizing the conference's press center. Concerned about the overwhelming number of registered reporters and the limited space allocated for the press center, we presented our concerns to the Deputy Prime Minister. Upon hearing our presentation, he remarked, "Our resources are limited, but we should prioritize what is necessary." He immediately instructed us to allocate additional space and provide the necessary equipment for the reporters. As a result, we successfully operated a modest yet highly functional international press center for the conference. Every time I pass Hoang Dieu Street, where the 2004 ASEM Summit Press Center was located, I am reminded of his remarkable leadership.
He possesses a strong passion for people-to-people diplomacy, which is evident in his actions and words. During my tenure at the Viet Nam Union of Friendship Organizations, he made it clear that he was willing to assist us in any way possible, showing his unwavering support for our mission. Despite battling a serious illness, he eagerly accepted our invitation to speak with our officials and staff. His dedication and enthusiasm were apparent, as he invested considerable time sharing his heartfelt and nostalgic recollections of Uncle Ho. Through these anecdotes, he offered valuable insights into Uncle Ho's character, ethics, and his views on people-to-people diplomacy. Little did we know that this would be our final opportunity to welcome him and listen to his captivating discourse.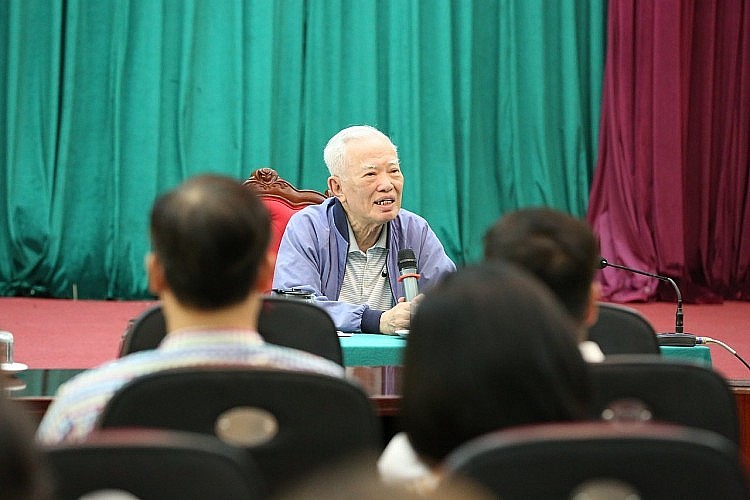 Officials and employees of the Viet Nam Union of Friendship Organizations welcomed and listened to former Deputy Prime Minister Vu Khoan talk about Uncle Ho's style and ethics and Ho Chi Minh's thoughts on people-to-people diplomacy.
He has departed to the realm of the departed, but those of us who have had the privilege of knowing him and working with him, even for a short time, cherish the memories we have of him. We still recall his words: "Strive to be a good person." He will always be remembered as a pioneer, a beloved and revered educator, and a compassionate individual. Throughout his lifetime, he enlightened us on what it truly means to be a kind-hearted individual.