Under the upgrade, AANZFTA will include additional commitments on services and investment that will benefit exporters and investors. It will also strengthen supply chain resilience and digital technology adoption. The agreement will also include key commitments on sustainable and inclusive trade, facilitating enhanced cooperation on environmental protection, green economy, labor issues, and women's economic empowerment.
According to ASEAN Secretariat News, economic ministers from the four ASEAN member states, namely Brunei, Indonesia, Malaysia, and Singapore, together with their counterparts from Australia and New Zealand, signed the 2nd Protocol, which upgrades the original AANZFTA Agreement which entered into force on January 1, 2010. The rest of the ASEAN member states will sign the 2nd Protocol in due course.
The AANZFTA is a market of around 711 million people with a combined GDP of US$ 5.9 trillion, based on data sourced from the International Monetary Fund (IMF) and the World Economic Outlook as of April 2023. Australia and New Zealand, taken together, is ASEAN's eighth largest trading partner.
The signing of the 2nd Protocol is a strong demonstration of the Parties' determination to ensure that the AANZFTA, which is the first region-to-region FTA for both ASEAN and Australia and New Zealand, remains to be the gold standard of ASEAN's free trade agreements.
The Australian Minister for Trade and Tourism, Senator the Hon Don Farrell reaffirmed that the AANZFTA upgrade will create new commercial opportunities for Australians, for our exporters and investors to work hand-in-hand with businesses in Southeast Asia and cement Australia as a partner of choice in an open and inclusive region."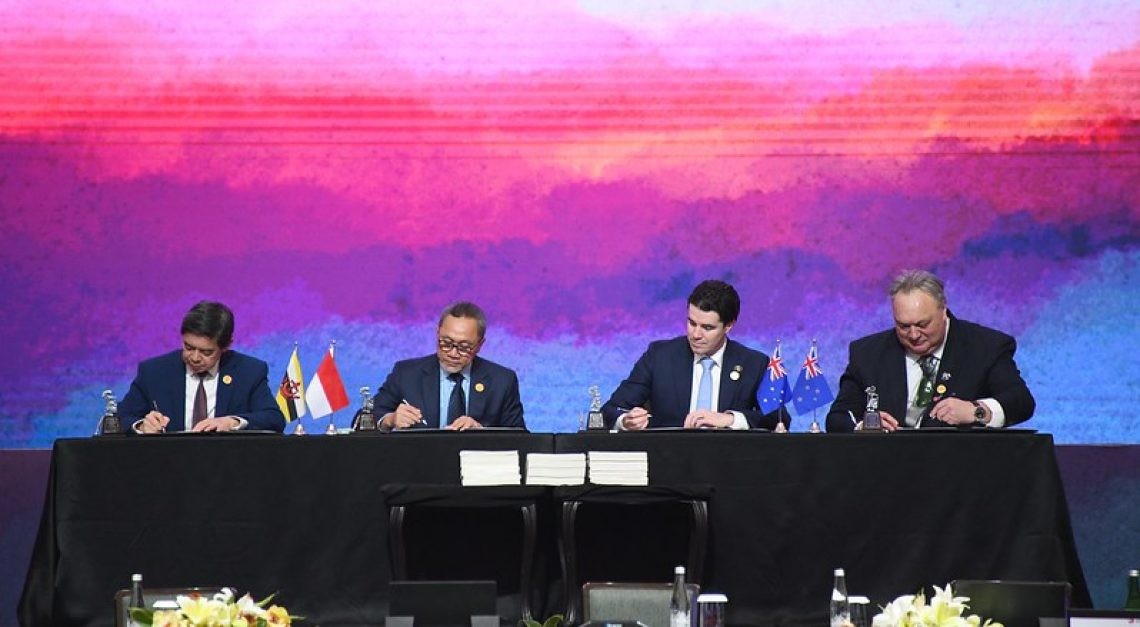 The 28th ASEAN Economic Ministers – Closer Economic Relations Consultation meeting (Semarang, Indonesia) witnessed the second time that the AANZFTA is being amended following the signing of the Agreement Establishing in ASEAN-Australia-New Zealand Free Trade Area in February 2009 (Photo: ASEAN Secretariat News).
"The Southeast Asia Economic Strategy to 2040 being developed by the Special Envoy for Southeast Asia, Mr Nicholas Moore AO, will explore opportunities to better harness the potential to significantly increase two-way trade and investment between Australia and the region," Senator the Hon Don Farrell added.
Two-way trade between ASEAN and Australia rose by 38.7% from US$ 75.6 billion from 2020-2021 to US$ 104.8 billion in 2021-2022 while bilateral trade between ASEAN and New Zealand also increased 37.34% from 12.24 billion in 2021 to US$ 16.81 billion in 2022, VNA reported. Also, FDI flows from Australia and New Zealand poured into ASEAN reached US$ 19.7 billion and US$ 51.48 million in 2022, up 4.86% and 1.84%, respectively.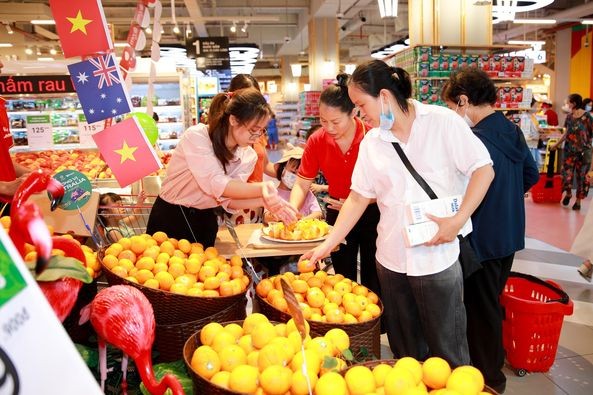 Customers from Vietnam shop for fruits and products from Australia in supermarkets (Photo: Getty).