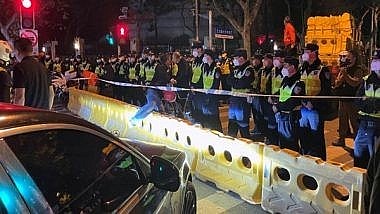 Representative Image. (Photo credit – Reuters)
Over five dozen protesters gathered outside a building housing a Chinese 'police station' accused of spying on dissidents in the Chinese community in New York, The New York Post reported.
On Saturday, the protesters gathered outside 107 East Broadway where the ChangLe Association Inc, a non-profit which operates a "service station" above the noodle shop.
One of the protesters, Toni Cai said, "It's a very serious problem in the Chinese community," adding that CCP has coerced people from China severely and has a large influence on them in the state, through American and Asian-American politicians.
Dozens of demonstrators protested outside a Chinatown building housing a foreign police station accused of harassing and spying on Chinese nationals in the city, reported The New York Post.
Cai is a pro-democracy activist imprisoned by the Chinese Communist Party twice in China for promoting free speech. He immigrated to the US in 2000, he told The Post.
"I am very worried, but I want to support the community leaders who are honest and openly against what the CCP is doing," he added.
Meanwhile, Jing Zhang, founder and executive director of Women's Rights in China, echoed the thought as she joined the protesters outside the Lower Manhattan building. "People need to support each other," she said "We all came here to be free."
Earlier, FBI counterintelligence raided this office building in New York. According to The New York Post, the Chinese police station is run with the help of a US charity that is on an IRS blacklist.
In May, the IRS yanked the group's tax-exempt status for its failure to submit tax filings for three straight years, according to public records, according to The New York Post.
The non-profit, which was incorporated in New York in 2013 and listed its charitable mission as a "social gathering place for Fujianese people," paid USD 1.3 million three years later for the suite of offices that houses the Fuzhou Police Overseas Chinese Affairs bureau, filings show.
The stations also participate in "intimidation, harassment, detention or imprisonment" to spy on dissenters and return migrants to China, according to the report.
"We Chinese are very angry at the local government for their appeasement policy," said Quiam Jiu, who was at the protest with his daughter, Zhao Yue Auiam. "They let the CCP repress freedom and human rights activities. We want local government to have a high-pressure policy on CCP agents."
"CCP agents are everywhere," said Ziyun Huang, who was also at the Saturday protest.
Last year, New York City Mayor Eric Adams was a guest of honour at a gala dinner sponsored by the charity that operates the Chinatown police station, The Post revealed.
"CCP agents are everywhere," said Ziyun Huang, who was also at the Saturday protest. "When all the human rights groups have protests and demonstrations, the CCP will come and harass people.
"The CCP affects the average Chinese American tremendously," Huang continued. "The party is always in the back of their mind. Everything they do is psychological. CCP to the Chinese is like the weather — they are always in the background," he added. (ANI)