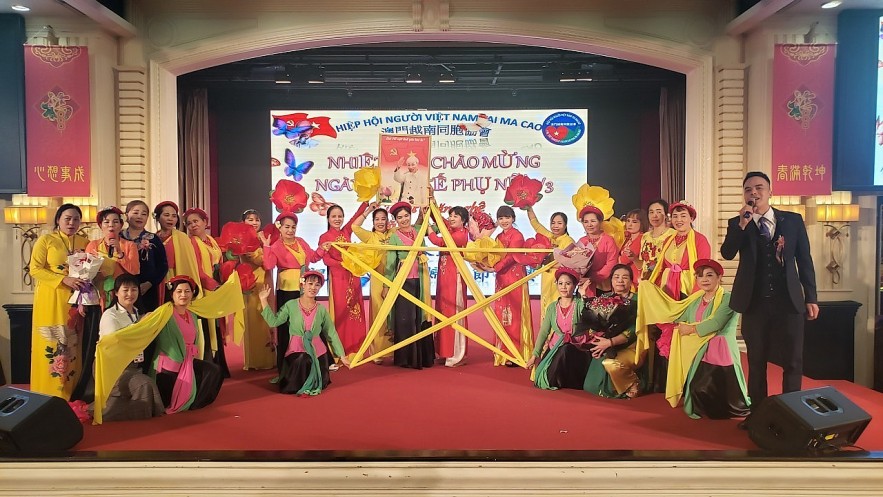 Performance by the Vietnamese community in Macau (China) to celebrate the year of the Tiger 2022.
Culture connects people
The Vietnamese community in Macau (China) currently has about 9,000 people. In foreign countries, people always preserve their national identity and introduce the unique cultural values to the people of the host country.
During the holidays, New Year, or anniversaries of the country, the Vietnamese community in Macau (China) organizes reunions and prepares for cultural performances.
Le Thi Quyen, head of the Overseas Vietnamese Association in Macau said that to have Vietnamese-style performances, the team members used costumes such as ao dai, conical hat, paper fan.
Dinh Thi Bich Ngoc, vice president of the Overseas Vietnamese Association in Macau (China), said: The team's repertoire not only serves the events of the Vietnamese community but also participates in social activities, serving the public in Macau.
"There are many expat communities living and working in Macau. Vietnam's cultural performances at Macau events attract many audience. Through the singing of the Association, Vietnamese culture becomes more familiar to the people of Macau, contributing to the understanding between the two nations," Ngoc said.
Chan Wai Shing (David), an audience who regularly watches the performances of the team, said: "In the past, I only heard Vietnamese folk songs through TV shows. Since the activities of the Vietnamese Association's team in Macau, I can enjoy the performances here. The members of the team also helped me understand the performance, make me love Vietnamese culture more."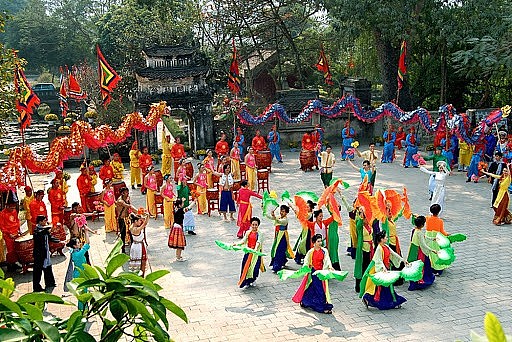 Illustration. Photo: baochinhphu
Ten years of introducing Vietnamese culture in Germany
Born ten years ago in Berlin (Germany), the October Club has created a cultural space for the Vietnamese community in Germany.
Every week, the club organizes a practice schedule, shares experiences for members, organizes exchanges with other Vietnamese and German clubs.
The October Club's activities have contributed to spreading Vietnamese culture, especially national art, to German and international friends. It arouses the passion for art in the Vietnamese community, help them in their life in Germany.
Currently, the club has members who are semi-professional and amateur artists operating in many fields of art such as dance, singing, drama, modern musical instruments such as organ, guitar, and ethnic musical instruments like bamboo flute.
According to Club President Dang Dinh Hoan, along with performing arts, the club also participates in activities to introduce the beauty of the country and people of Vietnam, love for the motherland. That contributes to enhancing understanding between the peoples and the friendship between the two countries.
The club's activities over the past ten years, especially in foreign culture, have left a good impression on German and international friends, becoming the highlight of the Vietnamese community in Germany.
Together with the Vietnamese Association in Macau, the October Club, many cultural and artistic clubs of the Vietnamese community around the world have been contributing to preserving the cultural identity of the Vietnamese to friends across five continents.