The Vallet Scholarship Fund, sponsored by the scientific and educational organization "Rencontres du Vietnam" in collaboration with Professor Odon Vallet, is dedicated to assisting talented and exceptional students in their academic pursuits. With a broad reach across the country, this fund will award over 2,000 scholarships to deserving individuals.
Established in 2001, the Vallet Scholarship Fund of our organization has been generously sponsored by Professor Odon Vallet, as reported by VNA.
In 2023, the Vallet scholarship fund will be implemented for the 23rd consecutive year, supporting high school students, university students, graduate students, and exceptional young researchers. The scholarships will be allocated throughout Vietnam, spanning from the South to the North, from August 27 to September 10. For more information about Vallet, please click here.
Vallet scholarship awarding ceremony for outstanding students throughout the South. Photo: Tran Thanh Son
The scientific and educational organization presented a total of 175 Vallet scholarships worth VND 2.59 billion (USD 107,135) on August 29. These scholarships were awarded to outstanding students in five Central Highlands and two south-central provinces. Each student scholarship is valued at VND 28 million, while each pupil scholarship is valued at VND 14 million.
One hundred and twenty-five scholarships were awarded to students from disadvantaged backgrounds in the Central Highlands provinces of Kon Tum, Gia Lai, Dak Lak, Dak Nong, and Lam Dong, as well as the south-central provinces of Khanh Hoa and Ninh Thuan.
The remaining 30 scholarships, each worth VND 28 million (USD 1,160), were awarded to needy students with exceptional academic achievements and those studying at the Universities of Da Lat, Nha Trang, and Tay Nguyen.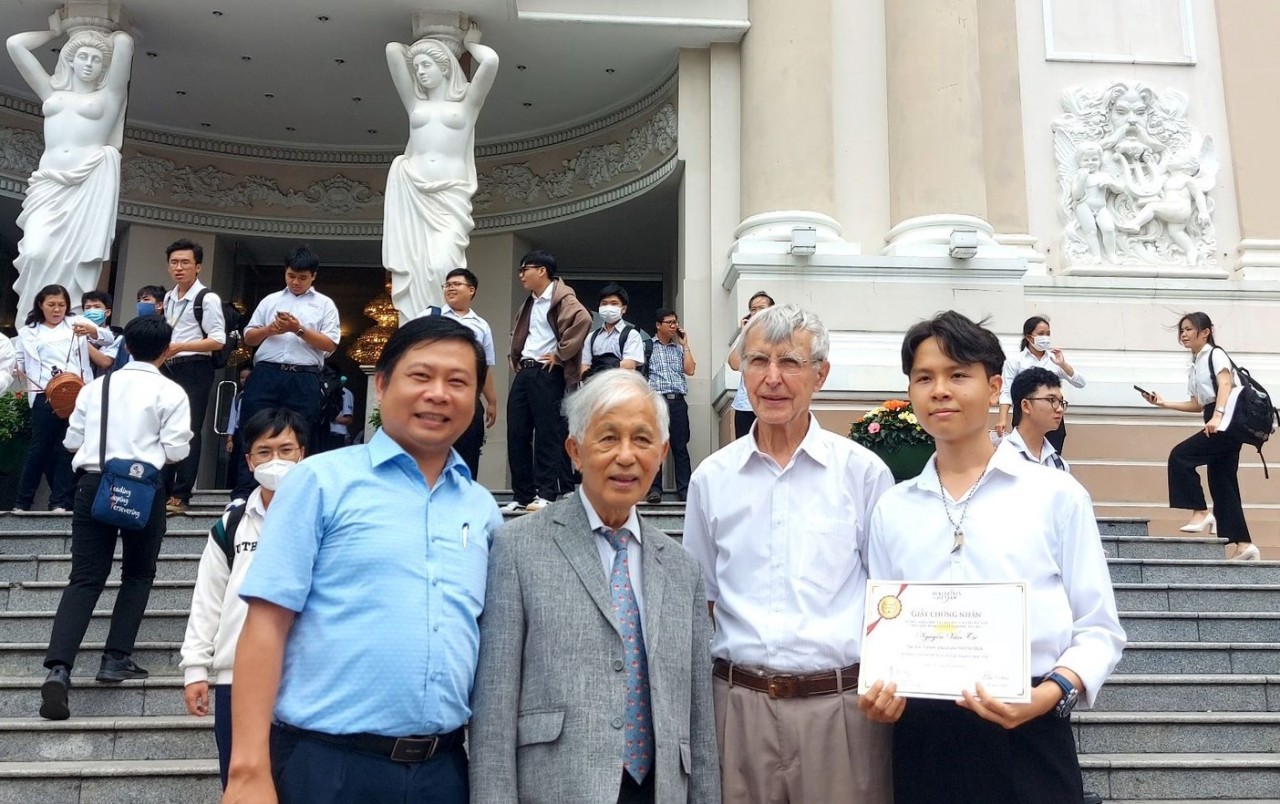 Prof. Tran Thanh Van (2nd from left) and Professor Odon Vallet (3rd from left) take a photo with scholarship recipients. Photo: Tran Thanh Son
Established in 2001, the Vallet Scholarship Fund is sponsored by Professor Odon Vallet from Sorbonne University in France. It has been the leading non-governmental scholarship fund in Vietnam for the past twenty years.
This year, a total of 2,100 Vallet scholarships worth VND 40 billion (USD 1.660) are planned for Vietnamese pupils and students in Vietnam. These scholarships will be awarded ahead of the new school year, which typically begins in early September.
Prof Odon Vallet is a doctor of science in jurisprudence, a French religious expert, and a professor of religious history at Sorbonne University. Following the passing of his father, Jean Vallet, he inherited a substantial fortune valued at EUR 100 million. The entirety of this wealth has been securely deposited in a bank, with the accrued interest being utilized annually to provide scholarships to deserving young individuals pursuing their education in France, Benin, and Vietnam.
Prof. Tran Thanh Van expressed his gratitude for his kindness by naming the scholarship the Vallet Scholarship Fund.
By the end of 2022, Professor Odon Vallet has generously sponsored Vietnam with over 40,000 scholarships, valued at more than VND 400 billion (USD 16.6 million).