Blogger Chu Duc Giang, who was born in Lang Son and is currently working in Hanoi, has a passion for Moc Chau Plateau. "I often come to Moc Chau once a month, and there are months I travel 3 or 4 times. It is like my second hometown, with each season has its own distinctive beauty. Each time I stay here, it brings new, fresh feelings."
Giang shares his list of must-visit and amazing places that tourists should see when they travel to Moc Chau.
Hang Tau – The "primitive" village
From the central of Moc Chau town, it only takes 10 kilometre to arrive to Hang Tau (Chieng Hac commune). This village is still very primitive and has not been exploited for tourism, which caused the way to enter the village is quite difficult. The road is steep slope, with many sharp rocks. The only way to move here is by motorbike, and tourists need to ride extra carefully to avoid possible accident.
Hang Tau is a small village that nestles deep inside a green valley, with nearly 20 households of Mong ethnic groups live here. There is no elictricity or Internet, even no cellphone signals. Friendly people and peaceful scenery make this place a perfect destination for adventurous tourists and nature lovers.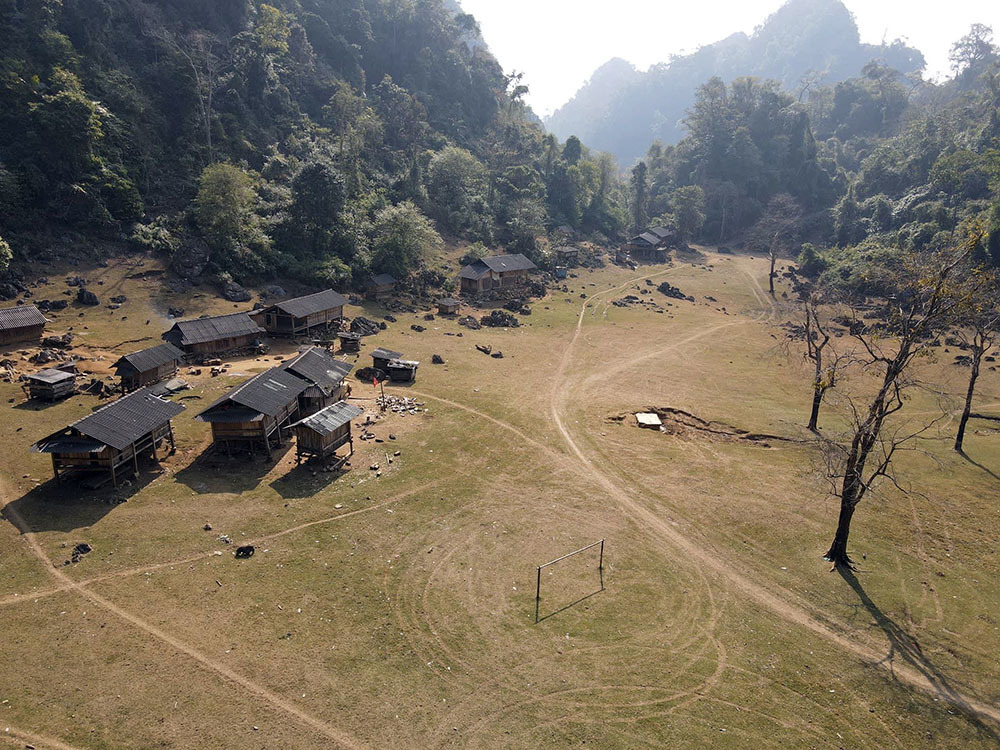 The primitive village from the above look. Photo: Duc Giang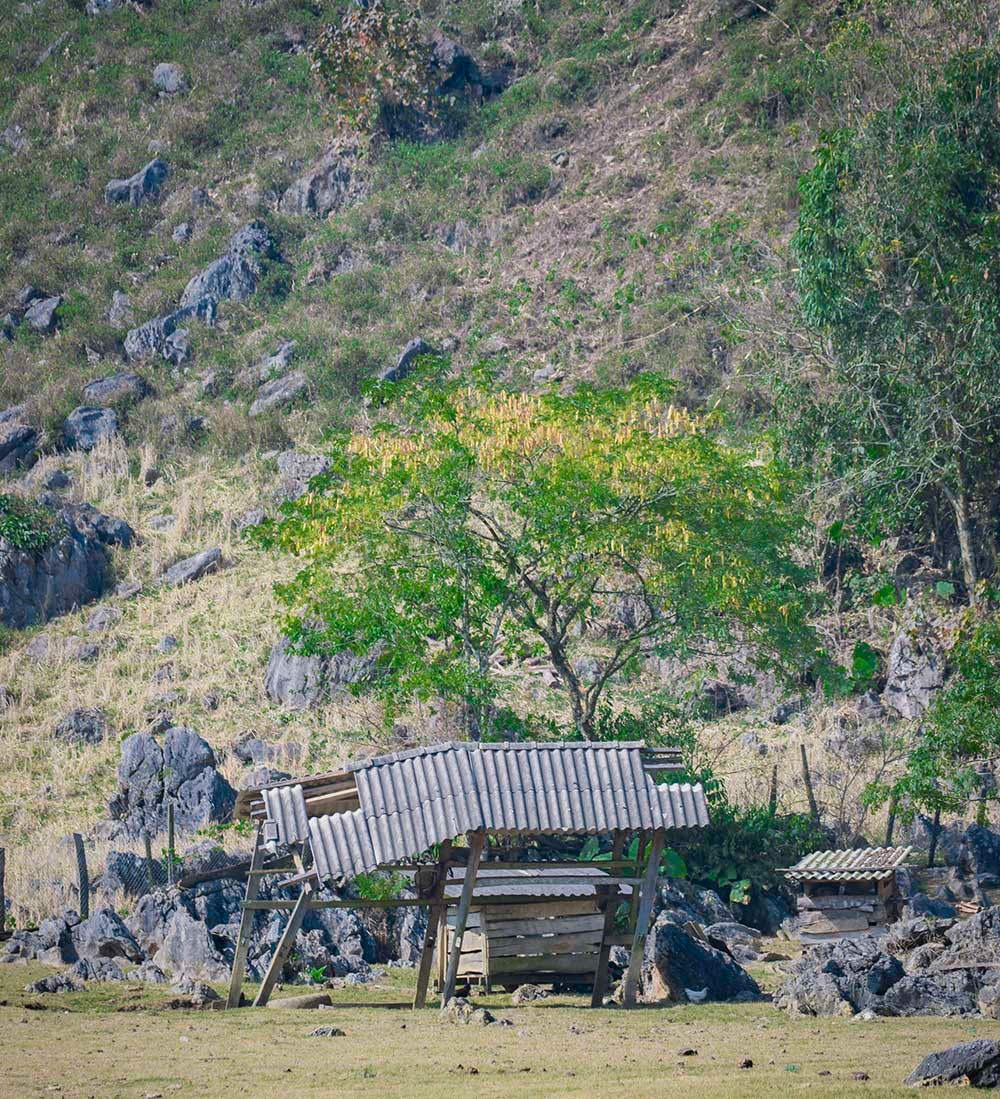 Life with nature. Photo: Duc Giang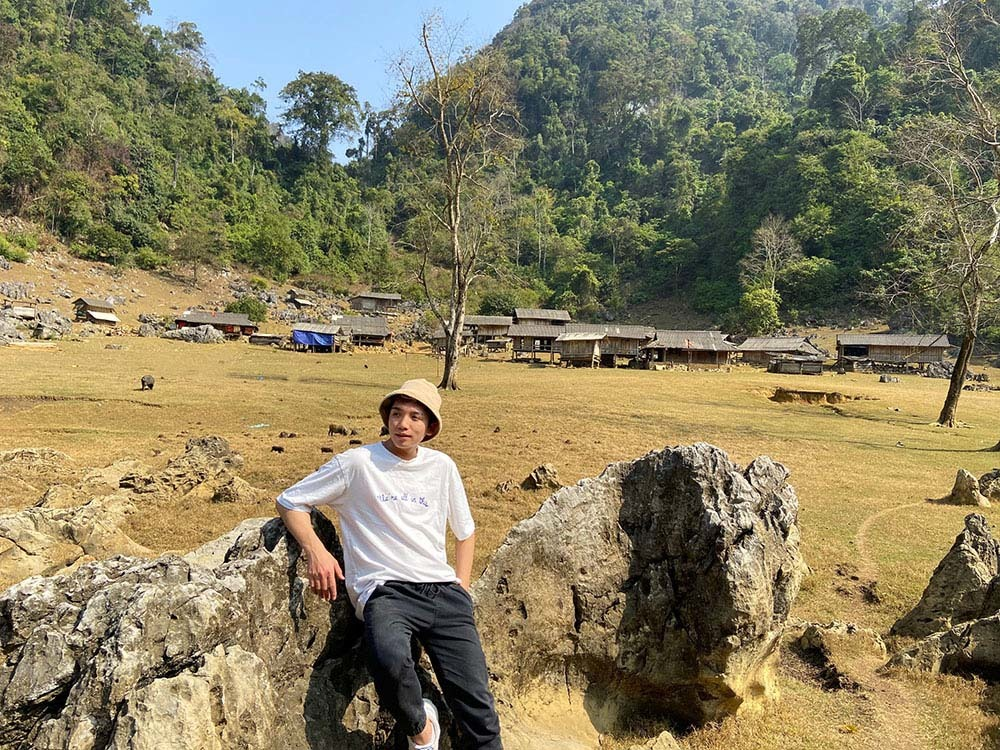 There is no elictricity or Internet, even no cellphone signals in the village. Photo: Duc Giang
Pa Phach Village – Dong Sang commune
From 6 Highway, about 5 kilometre from Moc Chau town to Pa Phach village. There are direction sign board for tourists to find the way in case they get lost, but they can always stop and ask for direction from local people.
Pa Phach is located on the mountain, surrounded by two limestone ranges and dense forests. This place is famous for being Moc Chau's "Flower paradise" because flowers bloom all year around in the village. Pa Phach is also known for its gorgeous fields of canola flowers and white plum forest.
On the way to the village, tourists also see little kids helping their parents herding the cows. They are very lovely.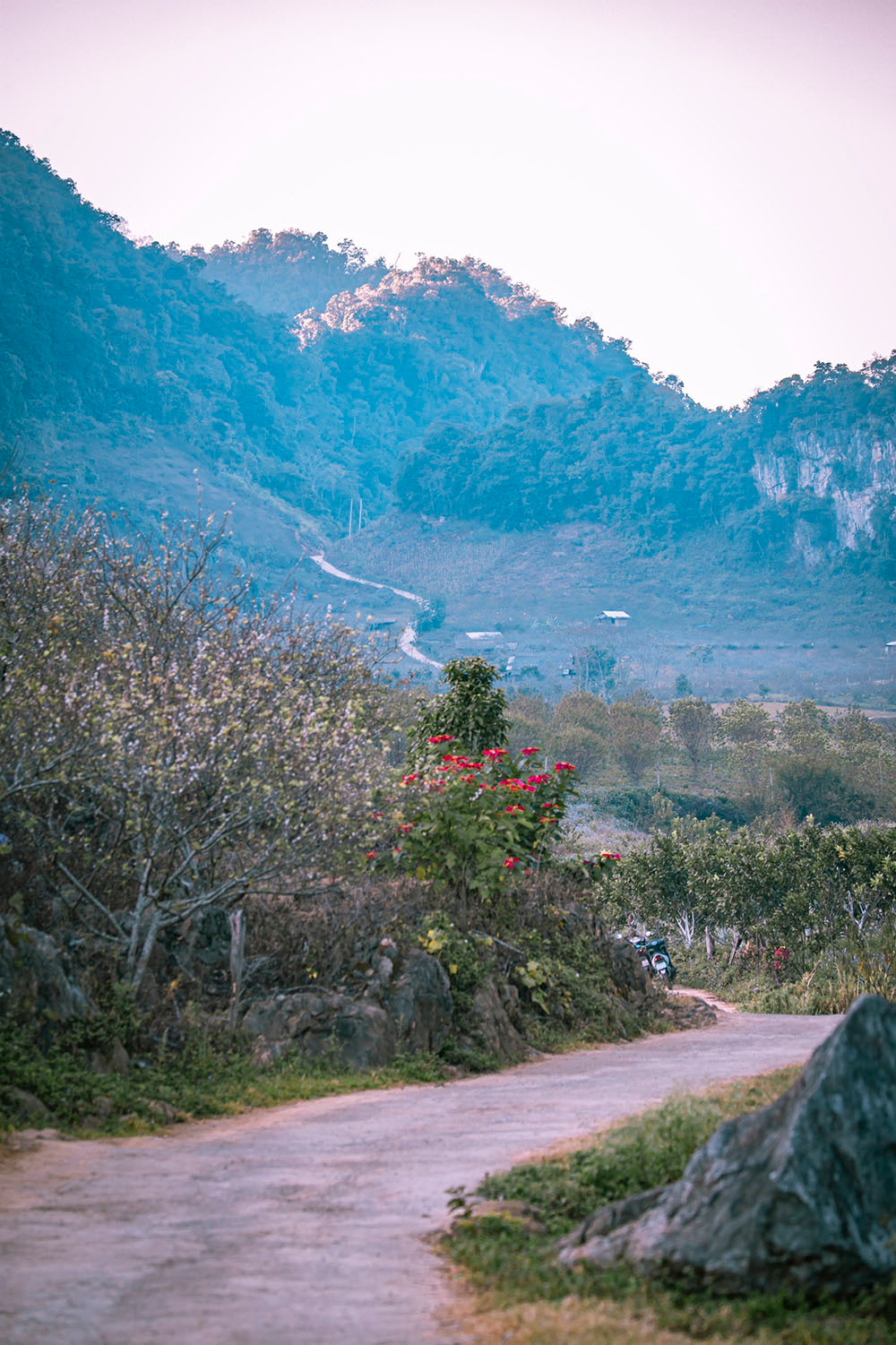 Once you come to Pa Phach, you will remember it forever. Photo: Duc Giang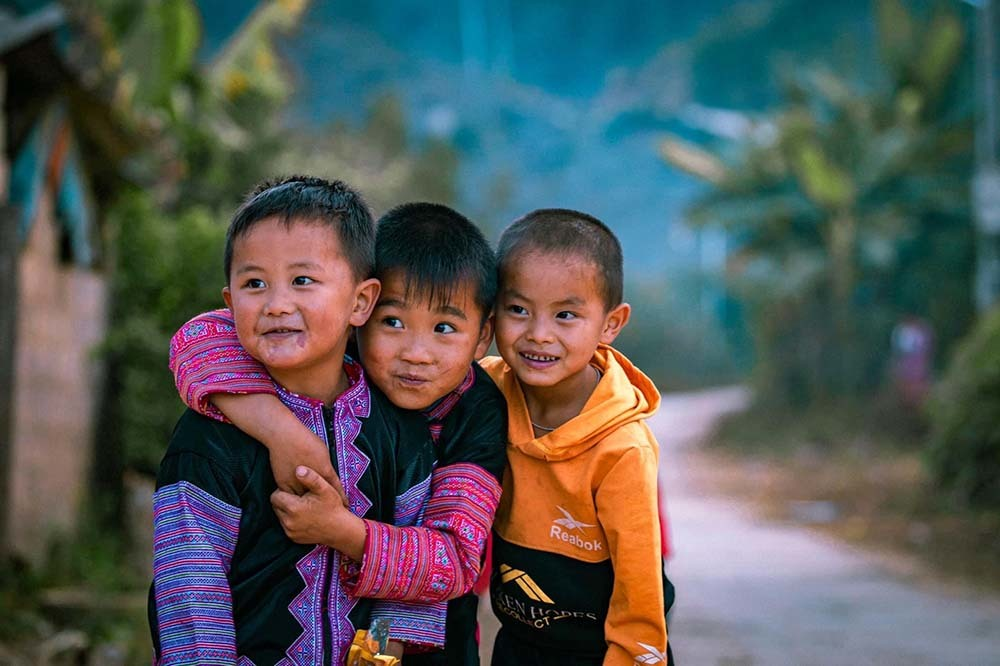 The innocent smiles of the children. Photo: Duc Giang
Fairy Waterfall
Moc Chau is famous with majestic falls such as Dai Yem Waterfall, Chieng Khoa waterfall, but only a few people have heard about Fairy Waterfall at Chieng Khoa Commune, Van Ho District. Located about 25 km from central Moc Chau, Fairy Waterfall is still wild and not yet explored for tourism.
Fairy waterfall has 3 floors, with each carries a different beauty. There is a lake that is deep enough for adults to swim in, and enjoy the fresh atmosphere. When the tourists reach to the second floor, they have to be careful with each step since the rocks are slippery. It is difficult to climb, but the result will be unique "check-in" photos with the background of the waterfall falling into the emerald green lake.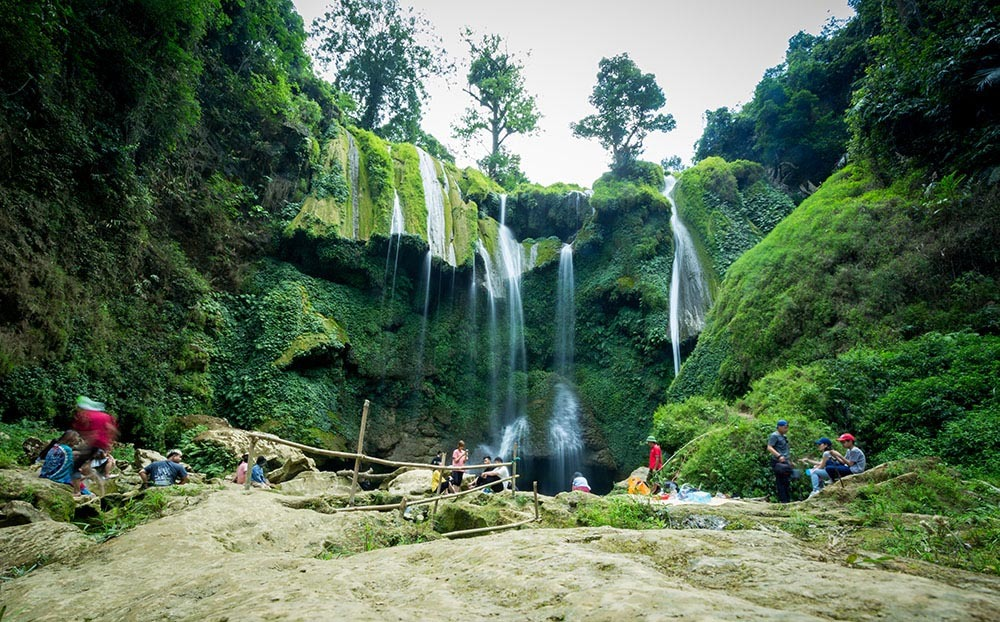 Fairy waterfall has 3 floors, with each carries a different beauty. Photo: Duc Giang
Moc Chau Tea Plantation
Located about 2km from the central of Moc Chau, the tea village is right next to the highway with the beautiful green hills.
The village is the most beautiful in morning and evening, and tourists can visit this place on their way to see Fairy Waterfall.
Moc Chau also has many more beautiful places to visit such as: Heart-shaped tea hills, Dai Yem waterfall, Chieng Khoa waterfall, Pine woods in Ang village etc. Each season in Moc Chau has its own beauty.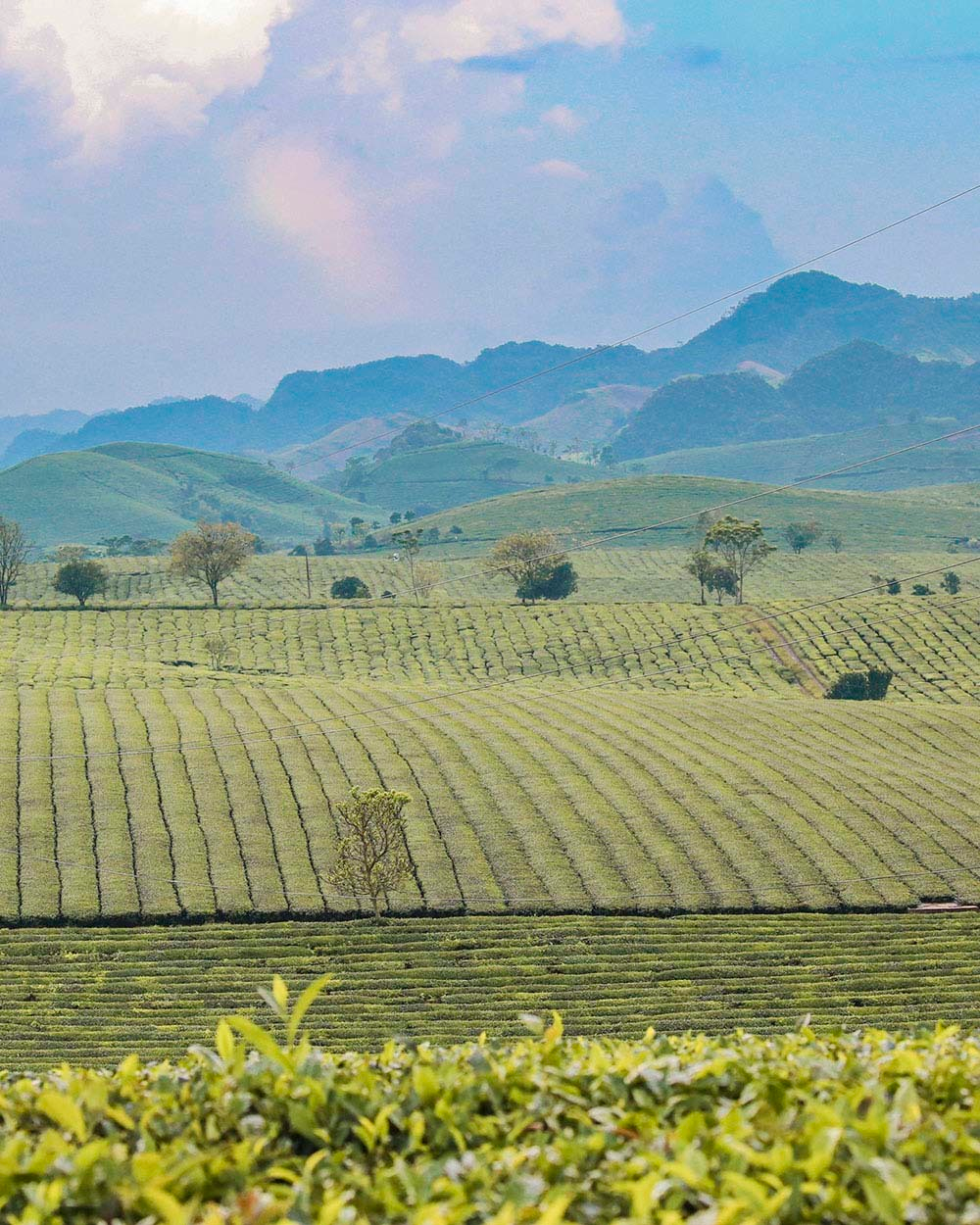 Moc Chau Tea Plantation. Photo: Duc Giang