Moc Chau, located in the mountainous province of Son La, has been awarded the prestigious titles of 'Asia's Leading Regional Nature Destination' and 'Vietnam's Leading Regional Nature Destination' for the second consecutive year. This beautiful destination is also known for being home to the world's longest glass bridge.
In the previous year, Moc Chau was also honored with the prestigious title of the World's Leading Regional Nature Destination.
The World Travel Awards (WTA) was established in 1993 to honor outstanding achievements in the travel and tourism sector. This prestigious annual event has earned the nickname "The Oscars of the global tourism industry."
The WTA, dubbed the 'Oscars' of global tourism, was launched back in 1993 to acknowledge excellence in the travel and tourism industry. The award ceremony of the 30th WTA for Asia and Oceania was held on September 6 in Ho Chi Minh City. One of the highlights of this year's award is that it accesses the attractiveness of short-term resort tourism activities such as night tourism and culinary, as well as the urban experience.
This destination serves as the prime entry point to the northwest region and is a popular stop for inter-regional tours, including Hanoi – Son La – Dien Bien Phu – Sa Pa – Lao Cai. Additionally, it is a key destination for transnational tourism routes such as Hanoi – Son La – Luang Prabang (Laos) – Thailand, as well as Son La – Lai Chau – Yunnan (China).
The average local temperature in this region is 20 degrees Celsius. During the winter season, visitors can enjoy breathtaking views of the splendid 50,000-hectare plateau from Pha Luong and Mt Van Ho, enveloped in a captivating mist.
The website showcases an array of enchanting natural attractions that captivate tourists. These include the awe-inspiring Mt Pha Luong, the picturesque Dai Yem Waterfalls, and the marvelous Doi Cave featuring its splendid natural stalactite formations.
Cuc Phuong National Park, a picturesque tourist destination situated in the northern province of Ninh Binh, has been honored as the 'Asia's Leading National Park' by the esteemed World Travel Awards, earning this prestigious recognition for the fifth consecutive year.
Cuc Phuong National Park, established on July 7, 1962, is located 120 kilometers from Hanoi. It holds the distinction of being Vietnam's first national park.
The national park covers an expansive area of 22,000 hectares, encompassing 14 communes within four districts across three provinces: Ninh Binh, Hoa Binh, and Thanh Hoa. This breathtaking park showcases captivating scenery and showcases a diverse array of wildlife.
Cuc Phuong is renowned for its diverse botanical collection, featuring a remarkable 2,234 floral species belonging to 931 genera and 231 families. Notably, this impressive assortment includes 430 species of medicinal plants and 229 species of edible plants. Of these, 57 species are listed in both the Vietnam Red Book of Endangered Species and the IUCN Red Book, further highlighting the importance of conservation efforts in this area.
Moc Chau Sees 10% Increase in Tourism in 2020
Vietnam is renowned for its vibrant red flag and lush green landscapes. From the stunning Halong Bay with its emerald waters to the picturesque rice fields of SaPa, visitors are captivated by the striking greenery that appears almost surreal. One hidden gem that may not be as well-known among tourists is Moc Chau, an enchanting mountainous region located 200 km from Hanoi. Often referred to as "the green pearl" of the Northwest, Moc Chau showcases breathtaking natural beauty that is truly awe-inspiring.
Photo: Pham Duc Anh
The Moc Chau Plateau is an exquisite destination known for its cool temperatures, breathtaking tea hills, and enchanting ethnic villages. Situated at an elevation of 1000m above sea level, Moc Chau offers delightful weather conditions with an average temperature of 20 degrees Celsius, even during the peak of summer. As the capital city of Son La, Moc Chau is conveniently located just 200km away from Hanoi, making it the ideal choice for a weekend getaway from the fast-paced and bustling city life.
Explore the serene beauty and captivating landscapes of Moc Chau. This magnificent destination attracts numerous young Vietnamese travelers seeking respite from the bustling city life. Adorned with lush green tea plantations spanning across hillsides, Moc Chau offers a picturesque backdrop for wedding photoshoots, attracting new couples to its countless flower fields. Embark on a tranquil retreat in Moc Chau and discover a world of unparalleled tranquility and natural wonders.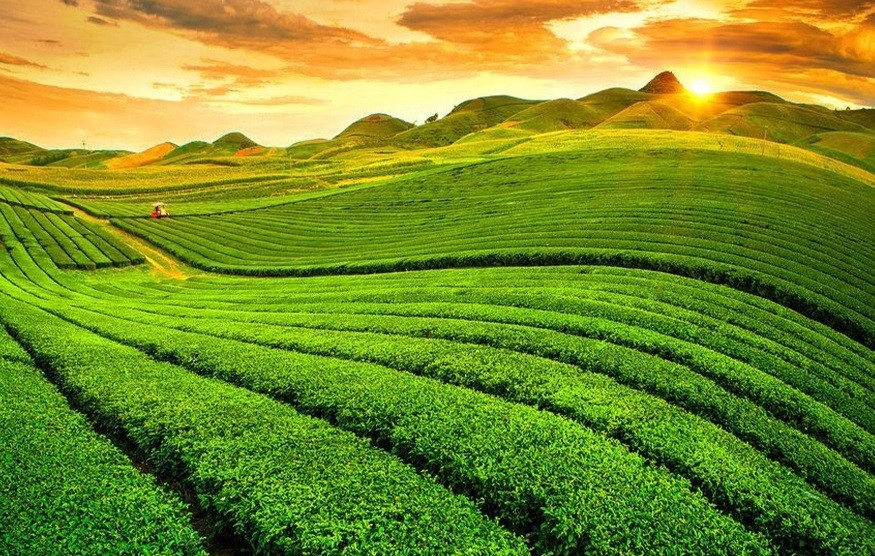 Photo: Vinpearl
One of the highlights of Moc Chau is a visit to the tea plantations. Upon arriving in the city from the east, you will immediately be greeted by the beautiful tea plantations. A must-see location is the Chi Lon Village, located about 20 km north of the town, where you can find several large tea plantations, including the famous heart-shaped tea hill. This spot is particularly popular among couples who visit to capture their wedding photos. Additionally, don't miss the tea plantations in the Dai-loan and Tan-Lap areas of Moc Chau, easily found by searching for "Doi Che Tra Tim".
Rebuilding Commences at Cuc Phuong National Park
About Cuc Phuong National Park
Founded in 1962, Cuc Phuong National Park is Vietnam's oldest national park. It is situated just 120km southwest of Hanoi and is nestled between the provinces of Ninh Binh, Hoa Binh, and Thanh Hoa. The park is known for its rich cultural and wildlife heritage and breathtaking scenery.
The park is characterized by magnificent Limestone Mountains that tower over the lush green rice terraces and traditional stilt houses of the local Muong hill tribe. This stunning combination of nature and cultural elements make Cuc Phuong a truly enchanting destination.
Filled with a luscious expanse of woodland, this mesmerizing terrain serves as the natural abode for a multitude of endangered animal and plant species native to Asia. As a result, this captivating region has become a magnet for researchers, naturalists, enthusiasts, and conservationists seeking to explore its mysteries and preserve its invaluable biodiversity.
The ancient forest is home to a diverse range of flora and fauna. It boasts a staggering 2234 vascular and non-vascular plants, including rare species such as the Clouded Leopard, Delacour's Langur, Owston's Civet, and Asian Black Bear. Additionally, the forest is a haven for reptiles and amphibians, with 122 different species, and a thriving bird population, with 336 documented species. Visitors during the months of April and May may be treated to a mesmerizing sight of countless colorful butterflies.
Nestled between two magnificent limestone mountain ranges, the terrain of Cuc Phuong boasts an exceptionally diverse ecosystem. The rocky formations of Cuc Phuong not only house significant paleontological and anthropological artifacts, such as a 200-230 million-year-old fossilized sea reptile, but also preserve the remnants of ancient civilizations that inhabited the forest over 7500 years ago within the numerous mountain caves.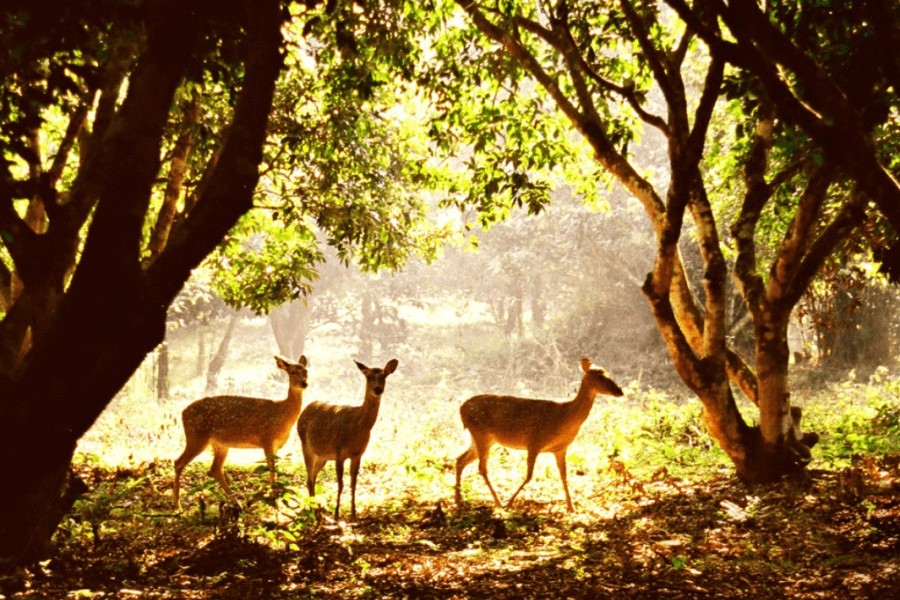 Photo: Culture Pham Travel
Cuc Phuong National Park has a rich cultural history dating back to ancient times. Originally inhabited by the Muong minority people, remnants of their unique culture can still be found in the scattered villages surrounding the park. These communities offer a fascinating glimpse into the past, with traditional stilt houses, waterwheels, bamboo rafts, and brocade looms on display. Immerse yourself in the vibrant heritage of the Muong people by exploring these villages and experiencing their rich traditions firsthand.