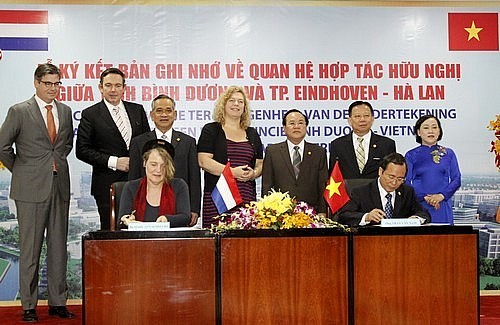 Tran Van Nam, standing vice chairman of Binh Duong Provincial People's Committee and Mary Ann Schreurs, deputy mayor of Eindhoven City (Netherlands) signed a cooperation agreement between two localities of Vietnam and the Netherlands on January 16. 2015.
Cooperation to build smart city
The collaboration between the two provinces has been based on the sister-city relationship between Eindhoven and Thu Dau Mot city. This collaboration has been long-lasting and strong with various exchanges and activities.
For many years, the city of Eindhoven, located in North Brabant province (Netherlands), has had an enduring bond with Binh Duong province in Vietnam. The two provinces have been connected through a sister city relationship between Eindhoven and Thu Dau Mot city. This partnership has been strong and long-lasting, with various exchanges and activities taking place.
On January 16, 2015, Binh Duong province and Eindhoven city in North Brabant province, Netherlands, signed a Memorandum of Understanding (MOU) to strengthen the friendship between the two areas and to expand cooperation activities in various fields, including planning, infrastructure development, urban construction, economic development, science and technology, health, and education. With this MOU, the two sides aim to bring more development opportunities to their respective areas.
Eindhoven City has dispatched experts to aid Binh Duong in the formation and execution of the Binh Duong Smart City Project through various levels, emphasizing collaboration between organizations and individuals under the collaboration model: State-Enterprise-School/Research Institute.
Since then, Binh Duong has steadily implemented its Smart City Project and achieved numerous results. These have included setting up an incubator and two tech labs – Fablab and Techlab – as well as a joint LED urban lighting project with Philips Electronics from Eindhoven.
The result of the cooperation efforts between the two localities is that, for two consecutive years (2021-2022), Binh Duong was named among the Top 7 communities with smart development strategies in the world, according to the Intelligent Community Forum (ICF). This is a remarkable achievement considering the level of competition and demonstrates Binh Duong's commitment to creating a smarter, more sustainable future. The ICF is an international network of communities and organizations dedicated to the development of intelligent communities, and its recognition of Binh Duong's success is a testament to the hard work and dedication of the people and local government.
Eindhoven has committed to investing, and has called for further investment, in Binh Duong over the 2016-2021 period. This cooperation has helped Binh Duong to achieve numerous results, including doubling the number of businesses to over 45,000.
Binh Duong New City – World Trade Center has been established, leading to great improvements in education and infrastructure in the locality. The Provincial Foreign Direct Investment (FDI) has reached an impressive US$12 billion, far surpassing the target of US$7 billion set. Consequently, the per capita income of Binh Duong is also higher than before.
According to a representative of the Binh Duong Provincial People's Committee, the cooperation between the two localities has achieved many encouraging results, changing thinking and strategies for urban construction and development planning. This has significantly enhanced the quality and effectiveness of urban planning and development initiatives.
It is evident that the socio-economic development of Binh Duong has been positively impacted by the implementation of various initiatives. From improving infrastructure to encouraging entrepreneurship, these measures have provided tangible benefits to the region. Businesses have experienced an increase in profits, while citizens have seen an improvement in their quality of life. Moreover, the government has prioritized the development of education, healthcare, and other essential services. All of these initiatives have helped to create a more vibrant and prosperous environment for the people of Binh Duong. Going forward, it is important that the authorities continue to invest in projects that will continue to drive the growth of the region.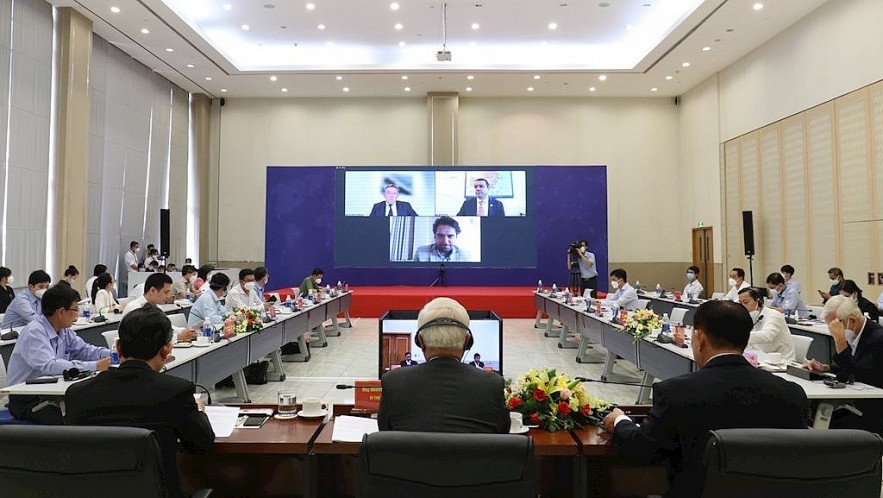 An online conference between Binh Duong province leaders, Eindhoven city leaders and experts aims to share information related to smart cities and orient the project implementation in the new normal period (Photo: Binh Duong Newspaper)
Joost Helms, the director of the Eindhoven International Project Office (EIPO), is incredibly proud of the collaborative efforts that are happening in Binh Duong. With his guidance, the office has been able to foster meaningful partnerships and create positive change in the area. He is excited to see what else can be accomplished through the hard work of the dedicated team.
Through our collaboration with Binh Duong, we have achieved tremendous success and remarkable results. But our success is merely a fraction of the story; what is even more meaningful is that our success has led to a better quality of life for the people of Binh Duong province.
During his visit to Brainport Eindhoven (Netherlands) on December 11, 2022, Prime Minister Pham Minh Chinh expressed his appreciation for the strong bond of collaboration between Eindhoven and Binh Duong, especially in the areas of science and technology, infrastructure development, and education and training. He lauded the successful efforts of both cities in fostering a mutually beneficial relationship.
It helps Binh Duong achieve important results in the orientation of building a smart city. The Prime Minister suggested North Brabant province replicate the cooperation model with other localities of Vietnam.
Cooperation on climate change adaptation
Cooperation between Ho Chi Minh City and Rotterdam has yielded positive results. In March 2015, the Ho Chi Minh City People's Committee and the Rotterdam city government signed a Memorandum of Understanding to collaborate in climate change adaptation and water management.
The city of Rotterdam has been instrumental in assisting Ho Chi Minh City in the development and implementation of a program to adapt to the effects of climate change, particularly in regards to the sea. Moreover, the two localities have been collaborating on effective programs to reduce carbon emissions as well as to provide capacity building for small and medium enterprises.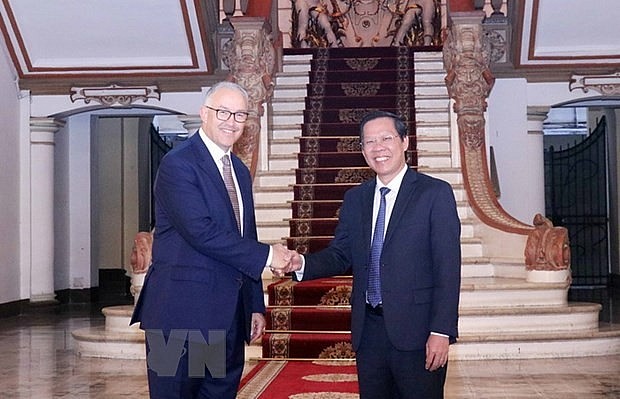 Phan Van Mai, chairman of Ho Chi Minh City People's Committee (right) receives Ahmed Aboutaleb, mayor of Rotterdam, Netherlands. (Photo: Xuan Khu/VNA)
Speaking at the meeting with Ahmed Aboutaleb, mayor of Rotterdam on July 26th, 2022, Phan Van Mai, chairman of Ho Chi Minh City People's Committee, praised the management level, experience, and technology of the city of Rotterdam in climate change adaptation, noting that it had brought useful lessons to Ho Chi Minh City. He noted that the city's strategies had the potential to be applied in his own city. Mai expressed his gratitude for Rotterdam's valuable contributions and expressed his hope for closer ties between the two cities in the future.
It is anticipated that Thu Duc, a district of Ho Chi Minh City, will be the site of specific collaborative initiatives in water resource management, flood control, and climate change adaptation. By implementing these projects, the city can benefit from increased sustainability and improved environmental protection.
In September 2013, An Giang Province, Vietnam, and Oss City, North Brabant Province, Netherlands, signed a cooperation agreement to work together on a range of initiatives. The two parties have agreed to collaborate on economic development, high-tech agriculture, water management, and climate change adaptation. By joining forces, An Giang Province and Oss City hope to foster growth and progress in their respective jurisdictions.
The establishment of twinning relations between localities in Vietnam and the Netherlands has made meaningful contributions to strengthening the bonds of friendship, deepening mutual understanding, and promoting multifaceted cooperation between the two countries. This collaboration has been of great benefit to both nations, facilitating the growth of both countries in a number of ways.
Vietnam and the Netherlands cemented diplomatic relations in 1973. After half a century of cooperation, the relationship between the two nations has grown exponentially, expanding to a wide range of areas.
In addition to economic, cultural, and touristic endeavors, localities have also been able to significantly bolster their mutual cooperation, making it more comprehensive and meaningful.
Forms of cooperation and twinning between the localities of the two countries have been continuously expanded, with exchange activities in the fields of economy, trade, investment, tourism, culture, science, technology, education, health, defense and security.