The Hanoi Tourism Ao dai Festival 2023 officially started at the pedestrian area of Hoan Kiem Lake on the evening of October 27. The event aims to promote the elegance of Ao dai (Vietnamese traditional long dress) and showcase the tourism of Hanoi, as reported by VNA.


The opening ceremony was themed "Exploring the beauty of Hanoi" and included songs, dances, and performances that represent the cultural and spiritual values of Hanoi and Vietnam. The ceremony conveyed a message of love for Ao dai, as well as the responsibility to preserve and promote the traditional cultural values of the nation.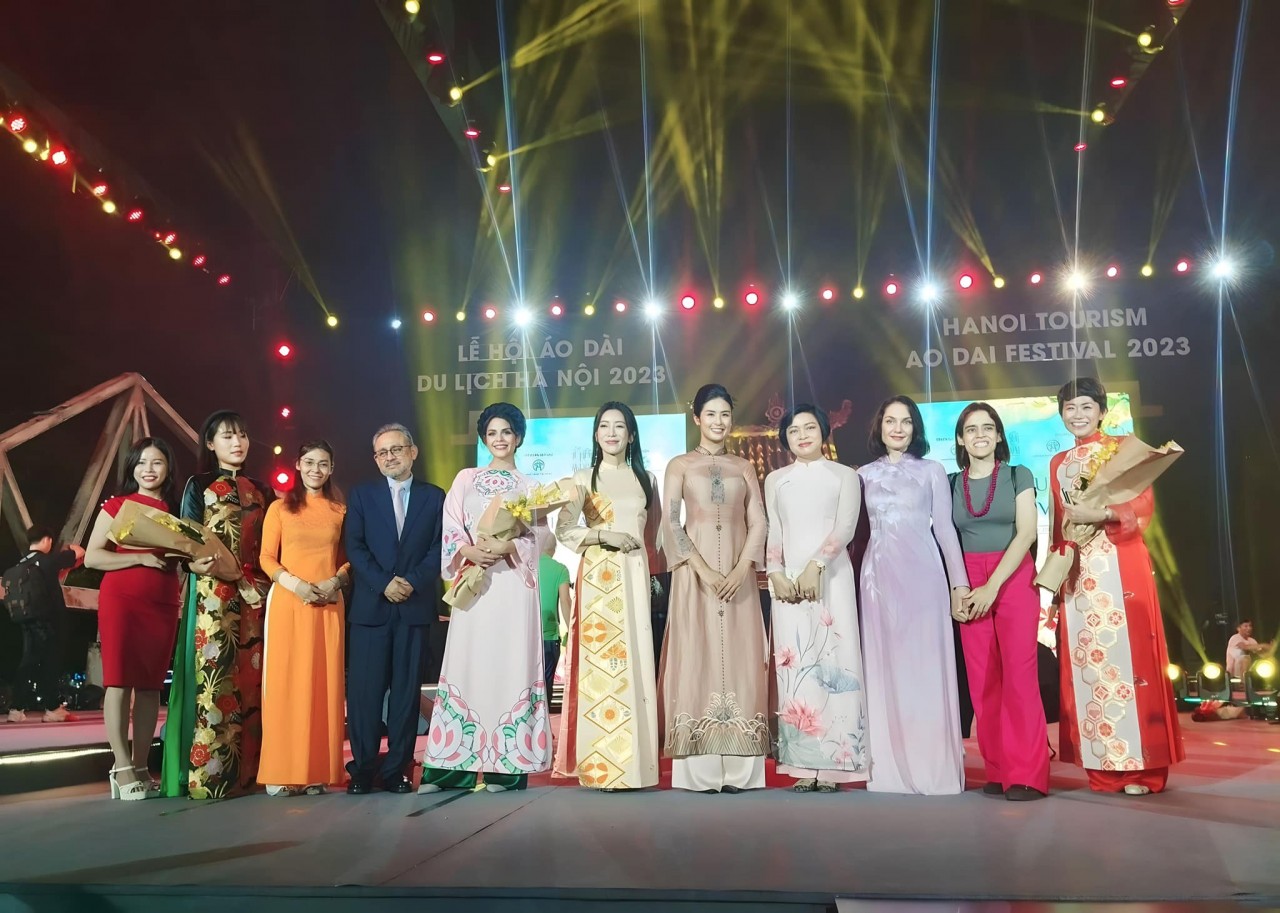 Several foreign ambassadors, their spouses, and female diplomats attended and performed Ao Dai costumes at the opening ceremony of Hanoi Tourism Ao dai Festival.

The festival-goers were treated to a feast of vibrant colors with collections of ao dai in various colors and styles tailored by renowned designers and fashion brands from around the country, such as Viet Bao, Quang Hoa, Cao Minh Tien, Ngoc Han, OZ Design House, and La Sen Vu.


Vice Chairwoman of the Hanoi People's Committee Vu Thu Ha affirmed at the opening ceremony that the Hanoi Tourism Ao dai Festival will be held annually.


"This cultural event aims to preserve and develop traditional cultural values, to explore and honor the distinct beauty of Vietnamese culture through the traditional ao dai, which is a symbol of Vietnamese women. It serves as a wellspring of creative inspiration for the younger generation, nurturing a sense of cultural heritage, ethnic pride, and love for the homeland.


"As a unique and alluring form of tourism, the Hanoi Tourism Ao dai Festival sets a new direction and contributes to positioning Vietnam's tourism, particularly Hanoi, as a beloved and top destination for domestic and international travelers, establishing itself as a 'Top World Tourism Destination City,'" she added.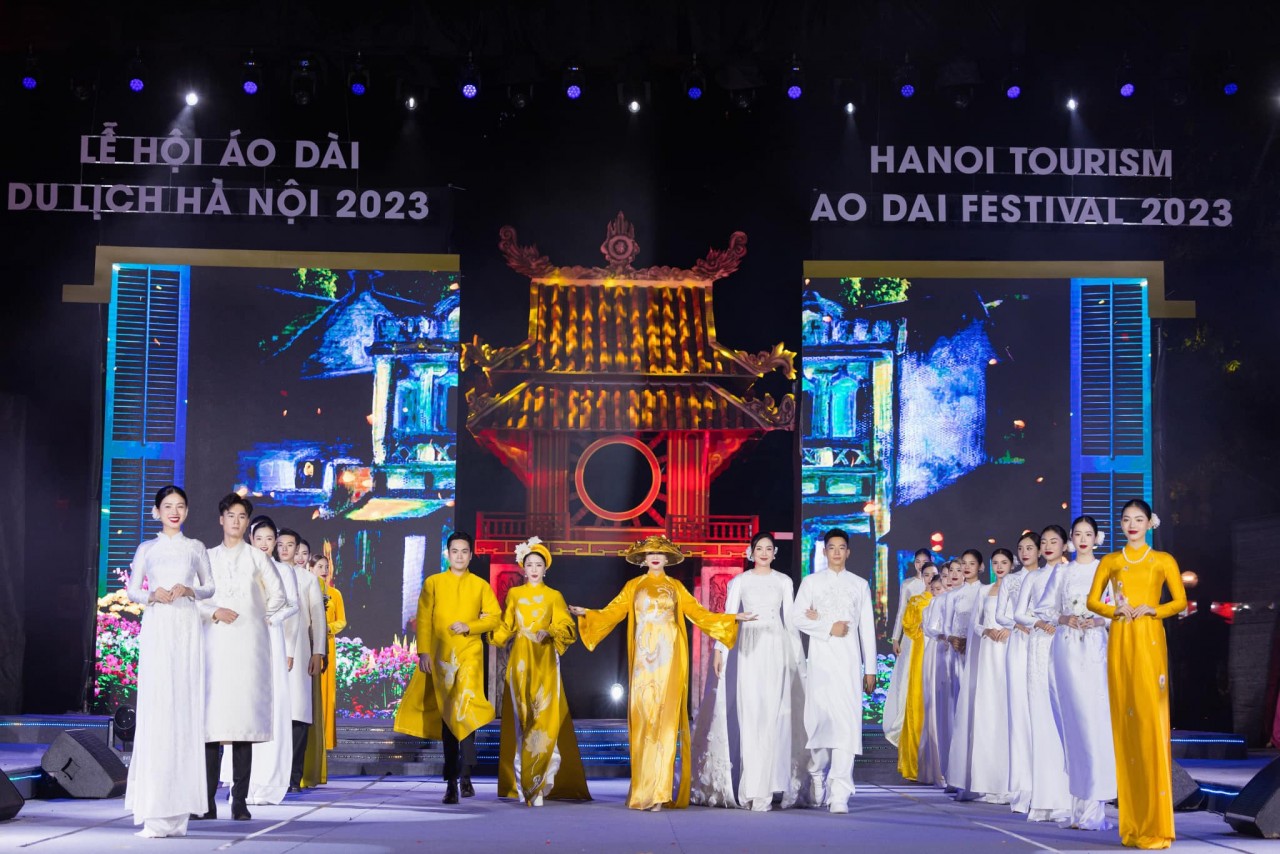 Ao dai fashion show on the night of October 27. Photo: Nguyen Hong Diem

Apart from the remarkable opening ceremony, various cultural activities are taking place during Hanoi's highly anticipated autumn festival, celebrating the significance and beauty of the traditional dress.


Today, the musical program "Sac Mau Hanoi" (Colors of Hanoi) will feature songs about Hanoi, combined with artistic lighting and performances showcasing traditional and modern Ao dai designs by various fashion designers.


The Hanoi Tourism Ao dai Festival 2023 includes exhibition spaces introducing archived photos, ao dai designs from popular brands nationwide, and tourism products.


This year's event's most distinctive feature is the "Ao dai street," named "Dao Buoc Ho Guom" (Strolling around Sword Lake), which recreates a cultural and historical space featuring symbols of the capital's thousand-year history, including models of craft villages, the West Lake lotus, the One Pillar Pagoda, Thang Long Imperial Citadel, and the Quan Chuong Gate.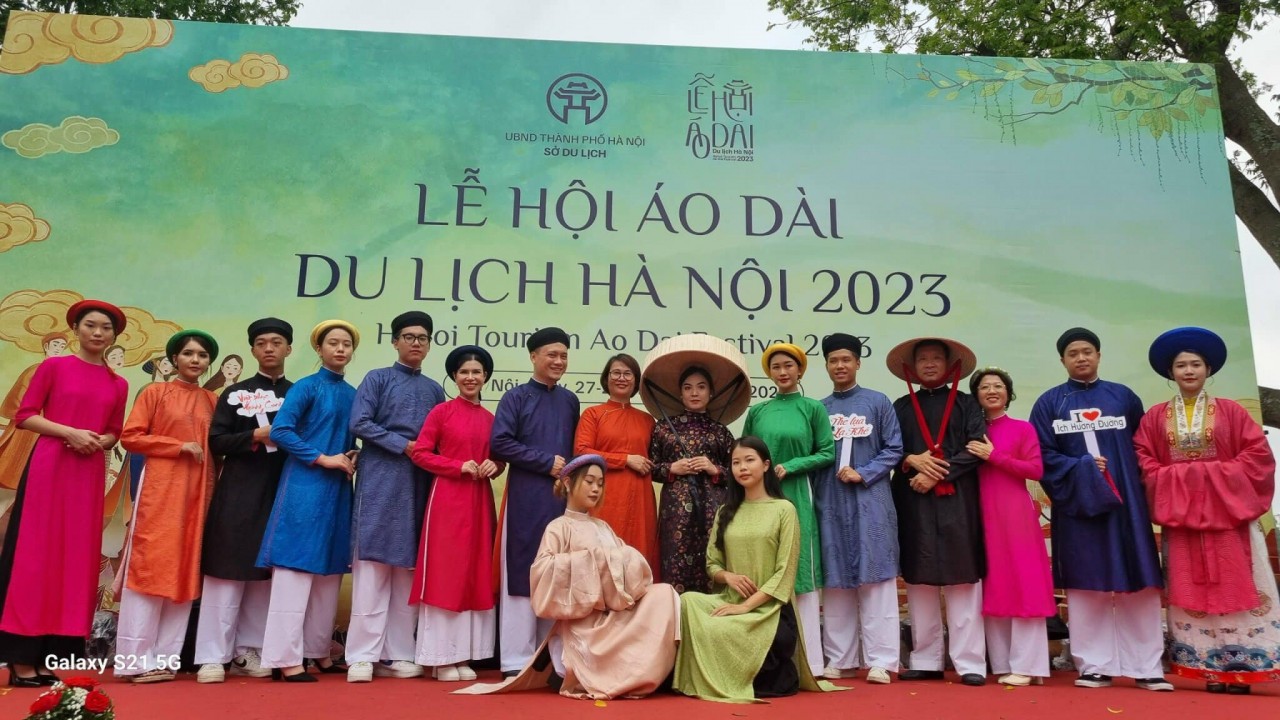 Attendees wore ancient clothes and participated in a festival and its parade to promote and introduce restored Vietnamese feudal costumes. Photo: Loan Phuong Hoa Minh

Notably, over 600 women from various families in Hanoi wore ao dai. At the same time, another 100 individuals in restored ancient costumes of Vietnam participated in a grand artistic performance and parade organized by the Hanoi Women's Union, on October 28-29.


Additional activities include a seminar on the orientation and development of Ao dai in the community and its connection to tourism, the musical program "Nhip Pho" (Street Rhythm), Ao dai dance performances, and Ao dai flashmob dances.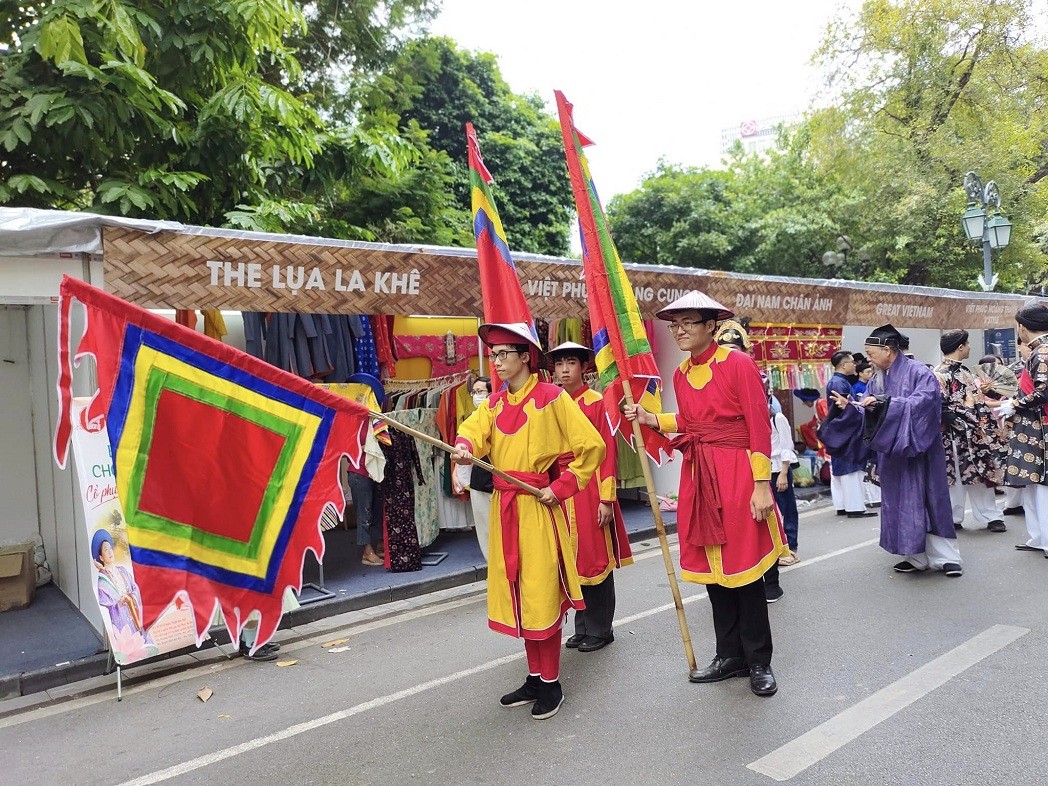 The parade "Bach Hoa Bo Hanh" (A Stroll of Hundreds of Flowers) is part of a grand artistic performance and parade.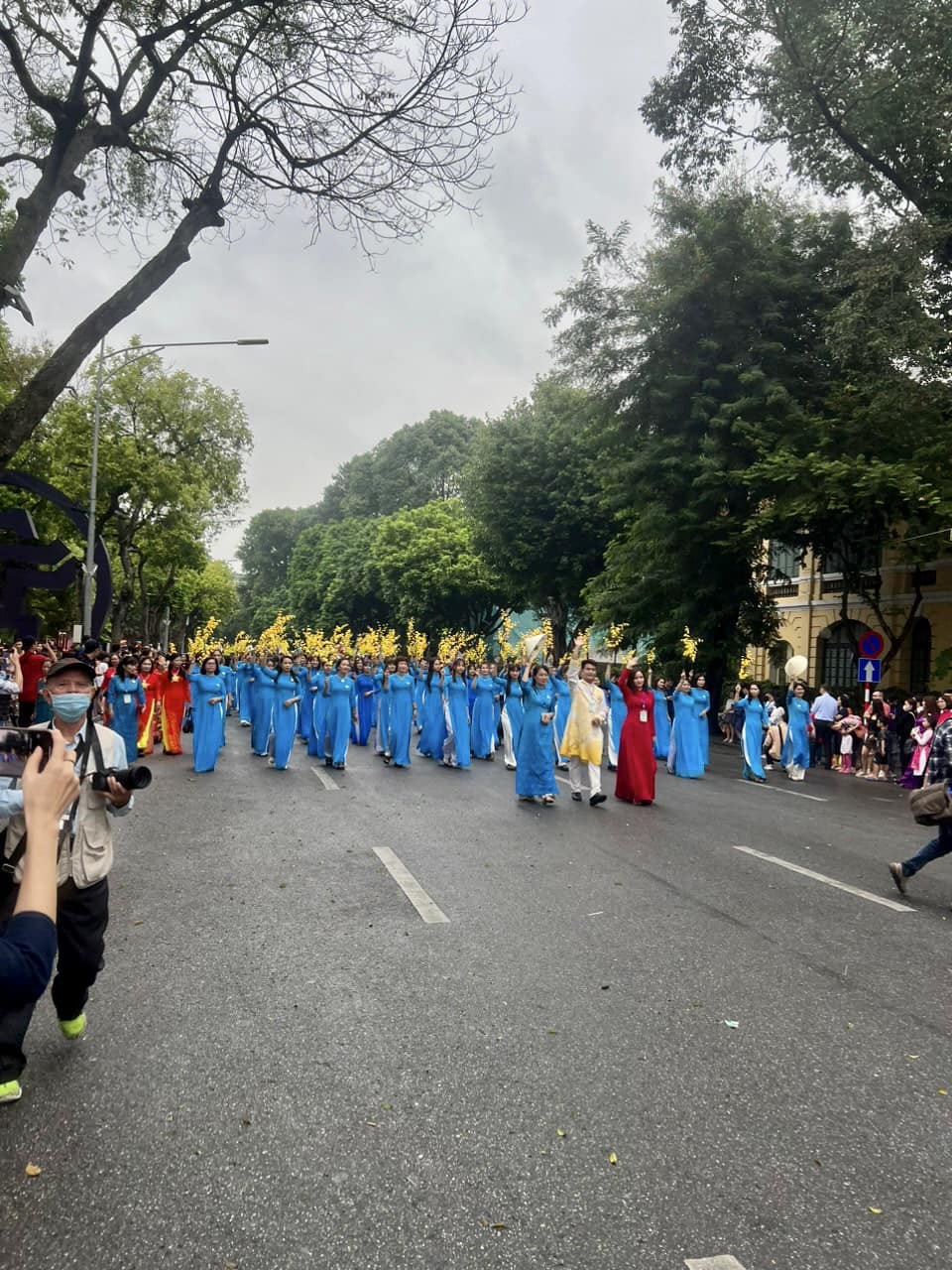 A grand artistic performance and parade on the morning of October 29. Photo: Thuat Pham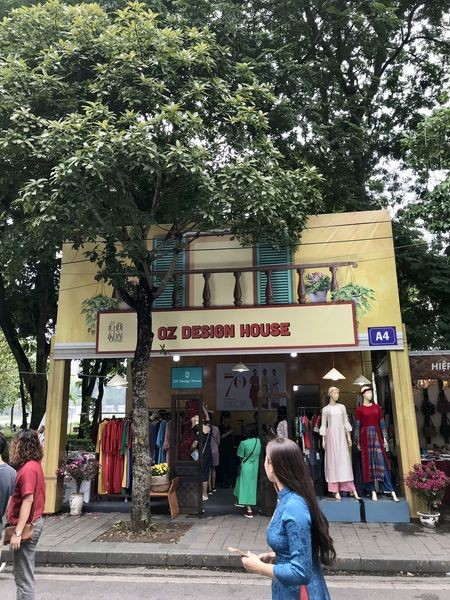 Booths display numerous Ao Dai brands by designers across the country.