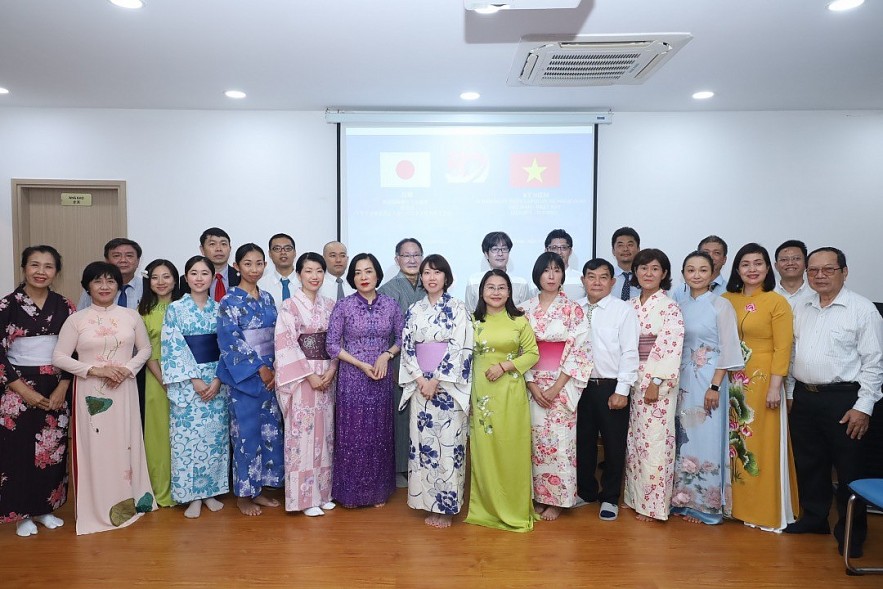 Khanh Hoa and Japanese people at a meeting to celebrate the 50th anniversary of the diplomatic relations between Vietnam and Japan. Photo: NDO
Sincere feelings
More than four years ago, when Sakae, a Japanese citizen, came to Nha Trang-Khanh Hoa, he was captivated by the natural beauty and warm welcome of the people. He decided to settle in Khanh Hoa and currently works at a seafood processing company in Cam Ranh city, specializing in exporting products to the Japanese market. Sakae acknowledges the strong friendship between the people of Nha Trang-Khanh Hoa and Japan, which influenced his decision to choose this location. Similar sentiments are shared by Kyoko, who has been living in Nha Trang for nearly ten years and is engaged in remote administrative work for a Japanese company. She has been astounded by the similarities between Nha Trang and her hometown in Niigata, Japan, including the stunning natural environment and the kind-heartedness of the locals.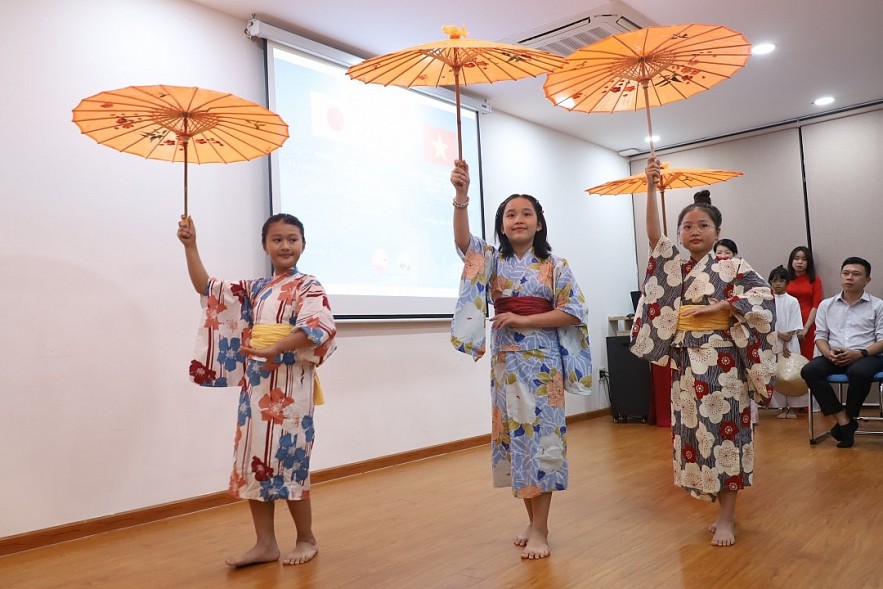 Vietnamese children perform traditional dance performances of Japan.
According to Huynh Phuong Minh, vice chairman of the Provincial Union of Friendship Organizations, the diplomatic relations between Vietnam and Japan were established on September 21, 1973. Since then, the two countries have enjoyed friendly relations and cooperation in various fields such as politics, economics, culture, and sports. Currently, there are nearly 30 Japanese citizens living and working in Khanh Hoa province. The Provincial Union of Friendship Organizations has organized numerous exchange activities with Japanese delegations to strengthen friendship and solidarity between the two countries. The cooperative relationship between Khanh Hoa and Japan has been further enhanced through delegation exchanges and collaborations in areas such as economics, trade, investment, education, training, and culture.
Multifaceted cooperation
A notable investment from Japanese investors is the Van Phong 1 Thermal Power Plant of Sumitomo Corporation, which has a registered capital of US$2.58 billion and began construction in December 2019. It is expected to start operations by the end of 2023. Khanh Hoa province has actively organized and participated in investment promotion conferences to showcase its potential to Japanese investors. To further promote bilateral relations and attract more Japanese tourists, Yamada Takio, the Japanese ambassador to Vietnam, has expressed his gratitude for the affection that the people of Khanh Hoa have towards Japan. He pledged to serve as a bridge between Khanh Hoa province, Japanese partners, and investors, facilitating cooperation in areas where both sides have expertise. Currently, Khanh Hoa province is home to six Japanese FDI projects with a total registered capital of over US$2.65 billion. The province has also witnessed a steady influx of Japanese tourists, with over 5,000 visiting in 2022 and more than 3,800 in the first half of 2023. Education, culture, and sports cooperation have yielded positive outcomes, thanks to the support of the Japanese government, which has sponsored several ODA projects in these fields.
Cooperation between Khanh Hoa and Japan extends beyond economics and tourism. The two sides have developed a strong bond, with Khanh Hoa province hosting various friendship and solidarity exchange activities with Japan on significant anniversaries. The deepening friendship between the government and people of Khanh Hoa and Japan is founded on their sincere feelings and dedication to cooperation. Khanh Hoa province is determined to further strengthen this relationship by leveraging the strengths of both sides to implement mutually beneficial cooperation projects.
Currently, Khanh Hoa province has six Japanese FDI projects, with a total registered capital of more than US$2.65 billion. In 2022, there will be more than 5,000 Japanese tourists coming to Nha Trang-Khanh Hoa. In the first six months of 2023, the province had more than 3,800 visitors. Export turnover to Japan in the first 6 months of 2023 reached US$14,516 million.
Cooperation in education, culture, and sports also regularly takes place and brings many positive results. The Japanese government supported Khanh Hoa province in sponsoring a number of ODA projects in the fields of education, health, and aquaculture.