Vietnam News Today (Aug. 19) Notable Headlines
Australian Foreign Minister, Penny Wong, is scheduled to visit Vietnam next week.
During his visit to Vietnam, the President of Kazakhstan aims to strengthen bilateral relations and take them to new heights.
The United States and Vietnam are joining forces to celebrate the advancements made in higher education, specifically in the fields of Science, Technology, Engineering, and Mathematics (STEM). This collaboration aims to enhance educational opportunities and foster innovation for both countries.
All electronic visa (e-visa) procedures are conveniently handled through our online platform by the Immigration Department.
As the National Day holiday dawns upon us, there are still ample opportunities to book airline tickets for your travel plans.
Vietnam is looking to enhance collaboration with Ecuador
The seminar will focus on exploring both the opportunities and challenges associated with achieving net zero emissions.
Ho Chi Minh City to Host Global Blockchain Conference
Ho Chi Minh City has been selected as the host city for a major global blockchain conference. The conference, which will bring together industry leaders, experts, and enthusiasts from around the world, will be held at a prestigious venue in the heart of the city.
The event aims to showcase the potential of blockchain technology and its impact on various industries, including finance, supply chain management, healthcare, and more. Attendees will have the opportunity to learn from keynote speeches, panel discussions, and workshops conducted by renowned experts in the field.
In addition to networking opportunities, the conference will also feature demonstration booths where companies and startups can showcase their innovative blockchain solutions. This will provide a platform for collaborations, partnerships, and investments in the blockchain space.
Ho Chi Minh City is a vibrant and dynamic city that has been emerging as a hub for blockchain and technology startups. With its growing ecosystem of entrepreneurs, investors, and government support, the city is well positioned to host this groundbreaking event.
Don't miss out on this opportunity to be a part of the global blockchain revolution. Mark your calendar and join us in Ho Chi Minh City for the Global Blockchain Conference!
Vietnam's efforts to attract global semiconductor manufacturers
Vietnam is actively seeking to attract large projects from global semiconductor manufacturers. With its growing economy and skilled workforce, the country has positioned itself as an attractive destination for high-tech investments.
The Vietnamese government has implemented various incentives, such as tax breaks and streamlined regulations, to encourage semiconductor companies to establish manufacturing facilities in the country. Vietnam also offers a strategic location in Southeast Asia, with access to a large regional market and proximity to major electronics manufacturers.
In addition to incentives, the government is investing in infrastructure development, including the construction of specialized industrial parks and research and development centers. These initiatives aim to create an ecosystem that supports the growth of the semiconductor industry and fosters collaboration between companies and research institutions.
Vietnam's efforts have already attracted major semiconductor manufacturers, including Intel and Samsung. The country's ambition is to become a leading semiconductor manufacturing hub in the region, offering competitive advantages such as lower costs, a skilled workforce, and a favorable business environment.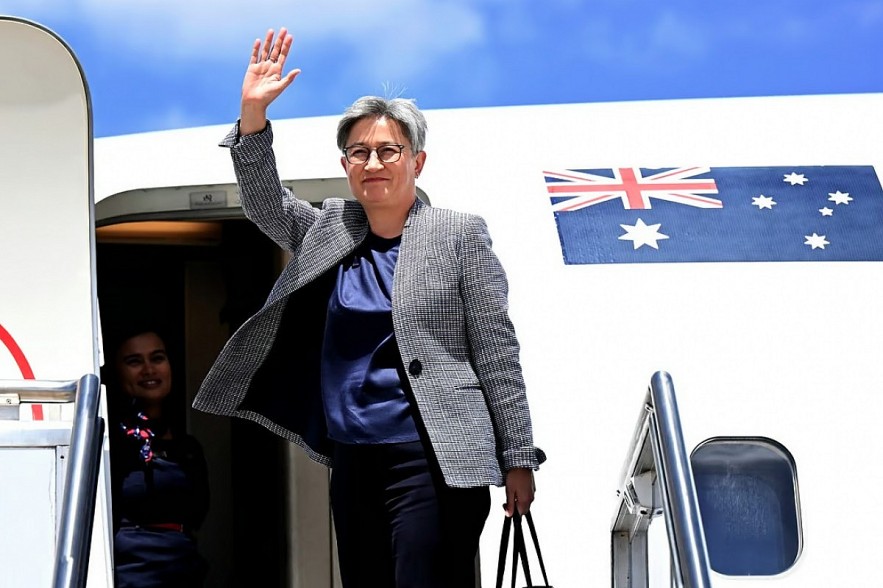 Australian Minister for Foreign Affairs Penny Wong is scheduled to visit Vietnam and co-chair the fifth Vietnam – Australia Foreign Ministers Meeting in Hanoi from August 21 to 24. (Photo: AAP).
Penny Wong, Australia's Foreign Minister, to Embark on Official Trip to Vietnam Next Week
The Australian Minister for Foreign Affairs, Penny Wong, is scheduled to make an official visit to Vietnam from August 21 to 24. During this visit, she will also be attending the fifth Vietnam – Australia Foreign Ministers Meeting.
This marks Wong's second visit to Vietnam, following closely after the recent visits by Australian Governor-General David Hurley and Prime Minister Anthony Albanese.
The purpose of the visit is to facilitate the implementation of cooperative agreements and enhance the strategic partnership between the two countries, as they celebrate 50 years of bilateral diplomacy this year.
Australian Minister for Foreign Affairs, Penny Wong, and her Vietnamese counterpart, Bui Thanh Son, will co-chair the fifth Vietnam-Australia Foreign Ministers Meeting during her stay in Hanoi. This was reported by VOV.
The meeting aims to evaluate the progress made in implementing the outcomes of the recent high-level visits, with a particular focus on various sectors including economy, trade, investment, security-defense, education-training, labor, and agriculture.
Our collaboration will extend to new areas such as digital transformation, digital economy, and energy transformation. We will work together to outline the strategies and plans in these fields.
The two parties will engage in a constructive dialogue and exchange perspectives on regional and international matters that are of mutual interest.
Expected Elevation of Bilateral Ties Through Kazakhstan President's Trip to Vietnam
The official visit of Kazakh President Kassym-Jomart Tokayev to Vietnam from August 20-22 is anticipated to strengthen and enhance the longstanding friendship between the two countries.
Vietnam and Kazakhstan established diplomatic relations on June 29, 1992, and have since seen significant progress in their bilateral cooperation across multiple sectors.
The Vietnamese Embassy in Kazakhstan was officially inaugurated in July 2008. This establishment was reciprocated by Kazakhstan with the opening of their embassy in Hanoi in March 2015.
According to the Vietnam News Agency (VNA), the two countries have been engaged in consistent high-level delegation exchanges, as well as collaboration within bilateral and multilateral forums.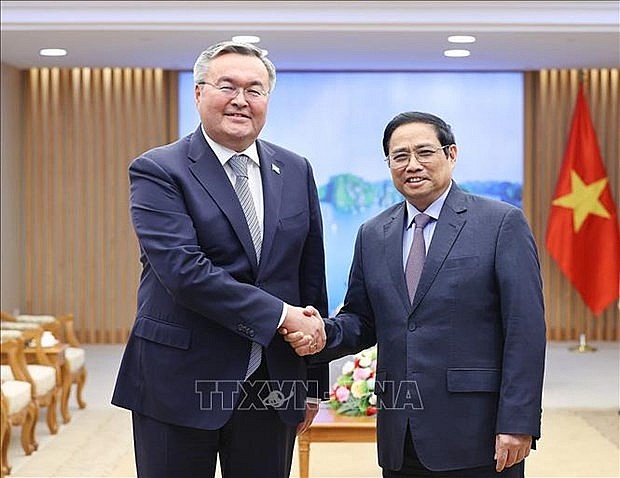 Prime Minister Pham Minh Chinh receives Kazakh Deputy Prime Minister and Foreign Minister Mukhtar Tileuberdi on August 18, 2022 (Photo: VNA)
Kazakhstan has expressed its support for Vietnam's nomination to serve in key roles within the international community. Specifically, Kazakhstan has endorsed Vietnam's candidacy for the United Nations Human Rights Council for the 2023-2025 term, as well as for the UNESCO Executive Board and Intergovernmental Committee for the Safeguarding of Intangible Cultural Heritage for the 2022-2026 term. In return, Vietnam has shown its support by backing Kazakhstan's bid to join the Mission to the Far East of the International Atomic Energy Agency (IAEA).
Vietnam places great importance on fostering its partnership with Kazakhstan, a key ally in Central Asia. In 2022, bilateral trade between the two nations amounted to $584 million, with the first four months of this year alone totaling $124.1 million.
Celebration of Progress in STEM Education between US and Vietnam
The United States Mission to Vietnam, in collaboration with the US Agency for International Development (USAID), proudly commemorated the culmination of its productive alliance with Vietnam and Arizona State University. This remarkable partnership has effectively enhanced STEM education within Vietnamese higher education institutions over a span of eight years.
More than 200 industry leaders, educators, policymakers, and entrepreneurs gathered at the event, which took place on August 16 in Hanoi as part of the 8th annual Science, Technology, Engineering, and Math conference (STEMCON).
"USAID's BUILD-IT public-private alliance is dedicated to partnering with Vietnam in the pursuit of enhancing higher education and equipping students for success in the global economy," stated Aler Grubbs, Mission Director of USAID/Vietnam.
"Through collaboration, we successfully built upon shared aspirations and dedication across industry, government, and academia to revolutionize STEM education, ultimately fostering economic prosperity in Vietnam," he enthusiastically stated.
The BUILD-IT project, which was initiated in 2015 with a budget of US$8.7 million, effectively harnessed the diverse capabilities of governmental, private sector, and academic partners. Its primary objectives included the development of strategic leadership skills, promotion of university autonomy, enhancement of program and instructional quality, and establishment of sustainable partnerships with the private sector.
The project successfully created a lasting impact by collaborating with eight prestigious higher education institutions in Vietnam. These institutions include Can Tho University, University of Da Nang – University of Science and Technology, HCMC University of Technology and Education, Industrial University of HCMC, Vietnam National University HCMC – University of Technology, Lac Hong University, Hanoi University of Industry, and Phenikaa University. This information was reported by VOV.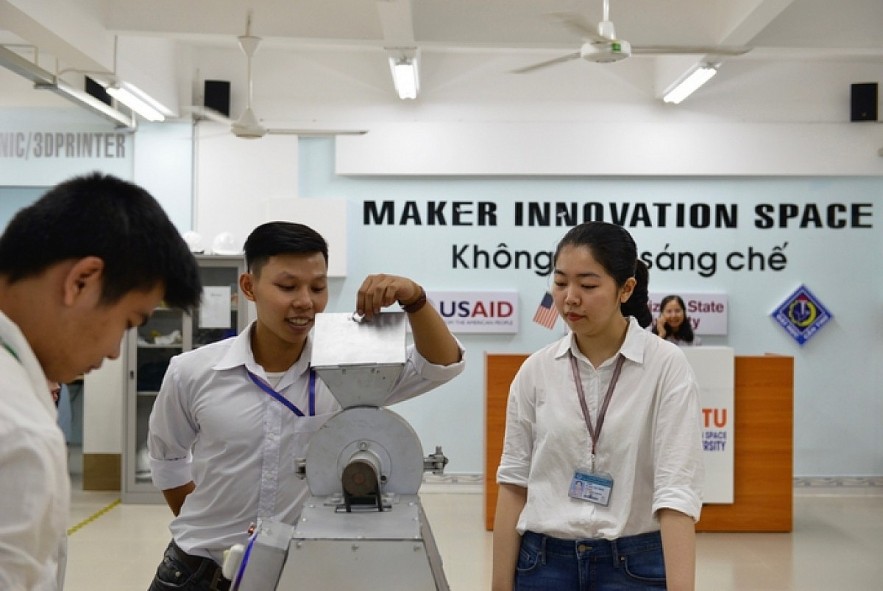 Photo: VOV
Our organization has successfully forged partnerships with 20 industry leaders, resulting in an additional investment of US$8.7 million in higher education in Vietnam.
We are proud to announce that our partnerships have resulted in the accreditation of 121 educational programs, both regionally and internationally. We are particularly pleased to highlight that Vietnam has achieved 12 program accreditations under ABET, the renowned international accreditation body for engineering and technology. This is a significant milestone for us and showcases our commitment to offering quality education to our students.
In response to the evolving needs of the digital workforce, we have redeveloped more than 2,000 courses. Additionally, we have provided meaningful training opportunities for over 4,000 university leaders and staff, focusing on areas such as leadership, strategy, curriculum development, and industry partnerships. Furthermore, we are proud to have enriched the learning experiences of 4,600 students through engaging project-based curricula activities.
The establishment of three Maker Innovation Spaces in Da Nang, Ho Chi Minh City, and Can Tho has significantly enhanced the innovative capabilities of students, facilitated the integration of practical projects into university curricula, and fostered meaningful collaborations with industry partners.
Our spaces provide a sustainable mechanism to support university students in the process of inventing, building, and launching innovative solutions to various technical problems.
Immigration Department Streamlines E-Visa Process With Online Applications
According to the Vietnam Immigration Department of the Ministry of Public Security, the entire process of obtaining e-visas, which includes application submission, request processing, visa issuance, and fee payment, is now exclusively conducted online.
On August 14th, the Government released Resolution 127/NQ-CP, which authorizes the issuance of electronic visas (e-visas) to individuals from all countries and territories.
Foreigners travelling to Vietnam for tourism, market research, investment exploration, and other purposes are now able to independently apply for e-visas, without requiring any invitations or guarantees from Vietnamese agencies, organizations, or individuals, as stated by the department.
All visa-related procedures, including application, processing, and fee payment, are conducted digitally. Foreigners have the convenience of printing their visas without the need to go through traditional visa reception processes at Vietnam's overseas agencies, international ports of entry, or intermediaries.
According to the Ministry of Public Security, the department will review and respond to e-visa applicants within three business days upon receiving complete e-visa application information and fees. This will be done through the public service portal of the Ministry of Public Security. The information was reported by VNA.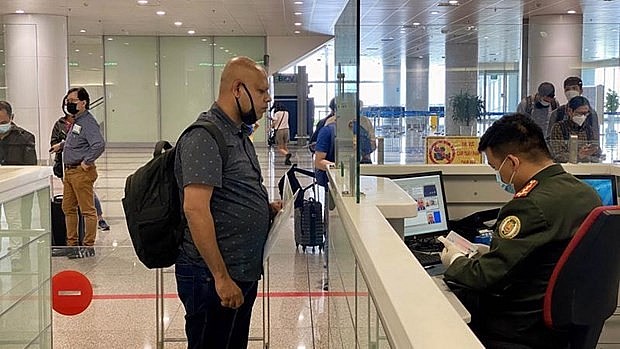 A foreigner waits to have his entry procedures handled. (Photo: VNA)
As per the Government's directive, foreigners holding e-visas are granted entry and exit privileges through 13 air border gates, 16 land border gates, and 13 sea border gates in Vietnam.
There are 13 air border gates in Vietnam, including Noi Bai in Hanoi, Tan Son Nhat in Ho Chi Minh City, Cam Ranh in Khanh Hoa province, Da Nang in Da Nang city, Cat Bi in Hai Phong city, Can Tho in Can Tho city, Phu Quoc in Kien Giang province, Phu Bai in Thua Thien-Hue, Van Don in Quang Ninh province, Tho Xuan in Thanh Hoa province, Dong Hoi in Quang Binh province, Phu Cat in Binh Dinh province, and Lien Khuong in Lam Dong province.
The following are the 16 land border gates in Vietnam:
1. Tay Trang (Dien Bien province)
2. Mong Cai (Quang Ninh province)
3. Huu Nghi (Lang Son province)
4. Lao Cai (Lao Cai province)
5. Na Meo (Thanh Hoa province)
6. Nam Can (Nghe An province)
7. Cau Treo (Ha Tinh province)
8. Cha Lo (Quang Binh province)
9. La Lay and Lao Bao (Quang Tri province)
10. Bo Y (Kon Tum province)
11. Moc Bai and Xa Mat (Tay Ninh province)
12. Vinh Xuong (An Giang province)
13. Ha Tien (Kien Giang province)
The Hon Gai and Cam Pha sea border gates in Quang Ninh province, the Hai Phong sea border gate in Hai Phong city, the Nghi Son sea border gate in Thanh Hoa province, the Vung Ang sea border gate in Ha Tinh province, the Chan May sea border gate in Thua Thien-Hue province, the Da Nang sea border gate in Da Nang city, the Nha Trang sea border gate in Khanh Hoa province, the Quy Nhon sea border gate in Binh Dinh province, the Dung Quat sea border gate in Quang Ngai province, the Vung Tau sea border gate in Ba Ria – Vung Tau province, the Ho Chi Minh City sea border gate, and the Duong Dong sea border gate in Kien Giang province make up the 13 sea border gates.
In late June, the National Assembly granted approval to the legislation, which amends and adds provisions to the Law on Exit and Entry of Vietnamese Citizens and the Law on Foreigners' Entry into, Exit from, Transit through, and Residence in Vietnam.
Starting from August 15, a new law will be implemented which extends the validity period of the e-visa for foreigners visiting Vietnam. Under this law, the e-visa will now be valid for 90 days instead of the previous 30 days. This means that within the 90-day period, foreigners can freely enter and exit Vietnam multiple times without the need to apply for new visas. Additionally, citizens of countries entitled to Vietnam's unilateral visa exemption will also benefit from this law, as they will now be granted a temporary residence period of 45 days instead of the previous 15 days. Furthermore, visa granting and temporary residence extension will be considered in accordance with the applicable regulations. These changes aim to make it easier for visitors to travel to Vietnam and stay for longer periods of time.
The implementation of these measures is anticipated to create favorable conditions for Vietnam to attract international tourists and enhance its tourism competitiveness in comparison to other regional rivals.
According to the Immigration Department, the expansion of e-visa coverage and the extension of its validity period for foreigners will contribute to the modernisation of administrative procedures and streamline the application process, resulting in significant time savings for applicants.
Airline Tickets Still Readily Accessible for National Day Holiday
Air carriers have announced the availability of an additional half a million air tickets for the upcoming National Day holiday in September. However, despite the increased ticket supply, airfares remain high and there are still numerous vacant seats.
Vietnam Airlines Group, consisting of Vietnam Airlines, Pacific Airlines, and VASCO, has announced a significant increase in availability for domestic air routes from August 31 to September 5. With an additional 400,000 seats, this represents a 15% increase compared to the same period in 2019.
The increase in seat availability primarily caters to flights originating from Hanoi and Ho Chi Minh City, bound towards popular tourist destinations like Da Nang, Nha Trang, and Phu Quoc.
Please note that air ticket prices for flights on peak travel days (departure on August 31 and return on September 4-5) are currently high and there is limited availability for discounted tickets. However, there are still a significant number of seats available for these flights.
The cost for a return ticket from HCM City to Hanoi, inclusive of taxes and fees, ranges from VND3.3-4 million. Similarly, a ticket to Da Nang costs VND2.6-3.1 million, and a ticket to Phu Quoc Island costs VND2.1-2.3 million.
For flights originating in Hanoi and destined for Phu Quoc, the price for a return ticket, inclusive of taxes and fees, ranges from VND3-3.35 million. For flights to Da Nang, the price ranges from VND3.44-3.38 million, and for flights to Nha Trang, the price ranges from VND3.8-4.2 million.
The airfares for less popular routes are currently at a higher price point. For the Hanoi-Tuy Hoa (Phu Yen) route, the return ticket is priced at VND6 million. Similarly, for the Hanoi-Quy Nhon (Binh Dinh) route, the prices range from VND3.65-4.6 million. These prices represent a 30-40 percent increase compared to pre- and post-holiday rates.
According to Pham Thi Dong, a booking agent, the average price for a round-trip air ticket to popular tourist destinations during the September holiday is VND3 million. Although there are still many available seats, flights to Da Nang and Quy Nhon are fully booked.
According to a representative from Noi Bai International Airport Authorities, the current passenger numbers on flights continue to remain low. Despite the peak summer tourism season expected to end on August 15, the number of passengers returned to normal at the beginning of August. VNN reports that it is estimated that around 30 percent of seats on each flight are currently vacant.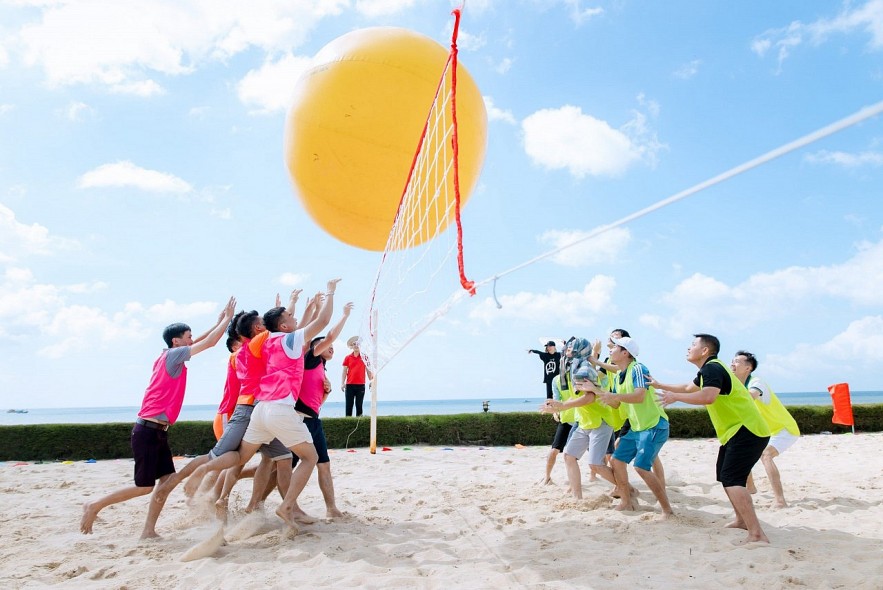 Photo: VNN
"Given that the peak tourism season has concluded and students are gearing up for the upcoming academic year, it is anticipated that there will not be a substantial surge in air passenger numbers during the September holiday period."
The aviation industry has received confirmation that there has been a low demand for ticket bookings among air carriers as of August 13th.
Travel agencies anticipate a continued surge in last-minute bookings as more travelers are projected to seek tour packages in the upcoming days.
According to Le Cong Nang, the CEO of Wondertour, there has been a significant decline in travel demand following the peak summer season. However, with workers being granted a four-day break for the National Day holiday, there is optimism that the number of travelers will increase. This presents an opportunity for individuals to witness the beauty of ripe rice fields and terraced landscapes, or even explore overseas destinations renowned for their autumn scenery.
However, according to Nang, there has been a decline in demand due to a decrease in spending by individuals.
According to Nang, it is expected that the number of tourists during the National Day holiday will only reach 30-40 percent of the tourist volume seen during the April-May holiday.
He stated that the current bookings are higher than those recorded in July and August but they have fallen short of expectations.
"We have strategically curated our tour offerings by eliminating less popular options and prioritizing those with high anticipated demand. Currently, we have successfully implemented 80 percent of our planned tours," stated the spokesperson. They further mentioned that while bookings for the month of September are still being accepted, the company has already begun organizing tours for post-holiday periods.
The CEO of a travel company based in HCM City, specializing in domestic tours, has reported that the current market conditions are rather quiet, despite the upcoming holiday in two weeks' time. The number of travelers has not met the expectations of any tourism company. The CEO mentioned that his firm has mainly accommodated loyal clients throughout the summer season.
According to Tran Bao Thu, a representative from Vietluxtour, the September holiday is typically the final travel season for families with children before the start of the new academic year. As a result, the number of travelers during this time is not as high as it is during the summer months. Additionally, transportation, restaurant, and hotel fees remain stable during this period.
According to her forecast, there is expected to be a significant increase in the number of travelers during the September holiday, with an estimated growth of 20-25 percent compared to the same period last year.