Attending the Vietnamese Festival in Yokohama, the capital city of Kanagawa prefecture of Japan, offered the Japanese people unforgettable experiences. They had the opportunity to engage in traditional activities such as painting Dong Ho folk paintings, creating "to he" (traditional rice powder toy figurines), and witnessing water puppet performances. These cultural interactions left a lasting impression on all those who participated in the festival.
The Vietnam Festival in Kanagawa 2023, scheduled for September 9-10, aims to provide Japanese people with a unique cultural experience of Vietnam. The event features captivating art performances, including puppet shows performed by the talented artists of the Vietnam Puppet Theater. Attendees will also have the opportunity to enjoy mesmerizing ethnic music and dance performances, featuring the enchanting Quan Ho folk songs of Bac Ninh, a UNESCO-recognized intangible cultural heritage.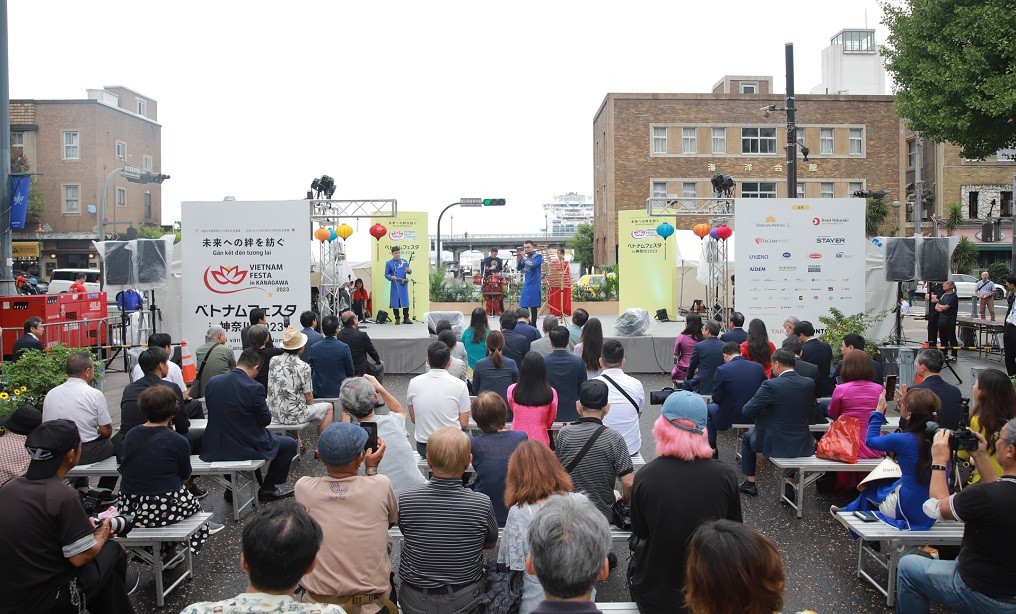 Japanese people enjoy unique Vietnamese art performances in Yokohama city, Kanagawa province.
At this festival, Japanese attendees had the unique opportunity to witness and participate in traditional Vietnamese cultural activities. They were able to observe skilled Vietnamese artisans showcasing their talent in coloring characters for traditional Vietnamese water puppetry, creating to he figurines, and printing Dong Ho paintings.
Moreover, the festival featured a delightful array of authentic Vietnamese cuisine, including popular dishes like pho, fried spring rolls, beef noodle soup, Vietnamese grilled pork with rice vermicelli noodles, and Vietnamese coffee. These delectable offerings drew in a significant number of visitors, who thoroughly enjoyed the experience.
This year, the festival was organized as part of the Vietnam Day in Kanagawa event, which featured a range of investment and tourism promotion activities.
Addressing the event, Kanagawa Governor Kuroiwa Yuji highlighted the significance of the occasion, symbolizing the full restoration of exchange and cooperation between the people of Vietnam and Japan, particularly in Kanagawa, following the Covid-19 pandemic.
According to Kuroiwa, the Governor of Kanagawa Prefecture, where the second largest Vietnamese community resides among foreign communities, this event aims to foster cultural exchanges and promote solidarity between the Vietnamese people and locals.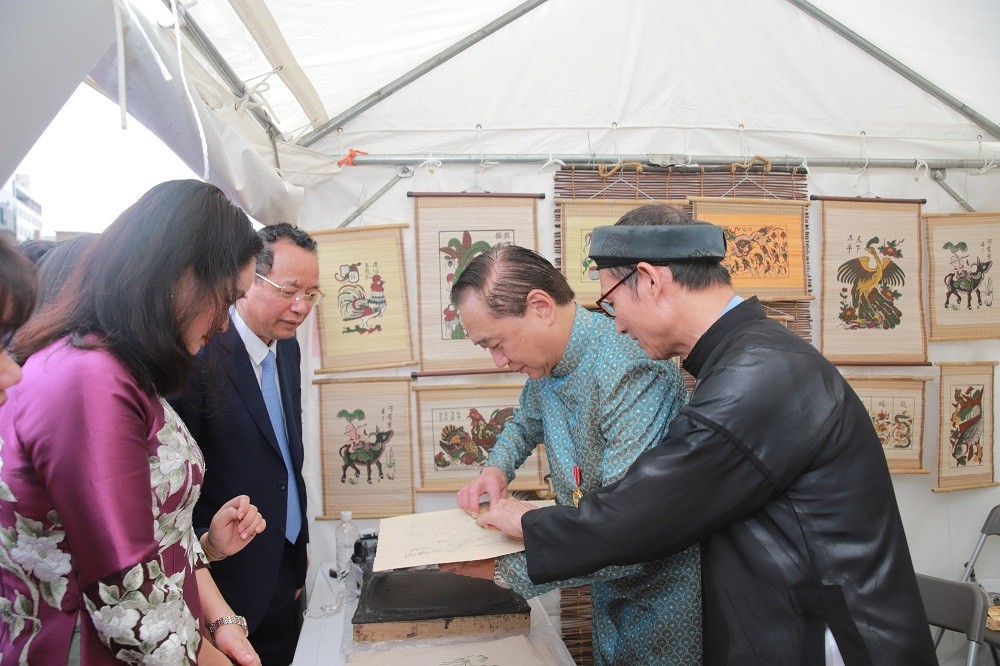 The Governor of Kanagawa Prefecture enjoyed the experience of making Dong Ho folk painting. Photo: Toquoc.vn
Governor Kuroiwa Yuji introduced this festival during the official visit of General Secretary Nguyen Phu Trong to Japan in 2015. Since then, the Vietnam festival has been consistently organized as a cultural exchange and tourism activity in Kanagawa prefecture. It has emerged as a prominent event fostering cooperation, economic ties, and people-to-people diplomacy between Vietnam and Japan.
During our conversation, he mentioned that he has had the pleasure of experiencing a diverse range of Vietnamese art. However, he came to the realization that each region in Vietnam boasts its own distinct and captivating traditional art form.
At the festival, Kuroiwa had the pleasure of immersing himself in various cultural activities including participating in the creation of Dong Ho folk paintings and witnessing mesmerizing water puppet performances, similar to many other Japanese attendees. The enjoyment derived from these experiences was evident in the delight expressed by Kuroiwa.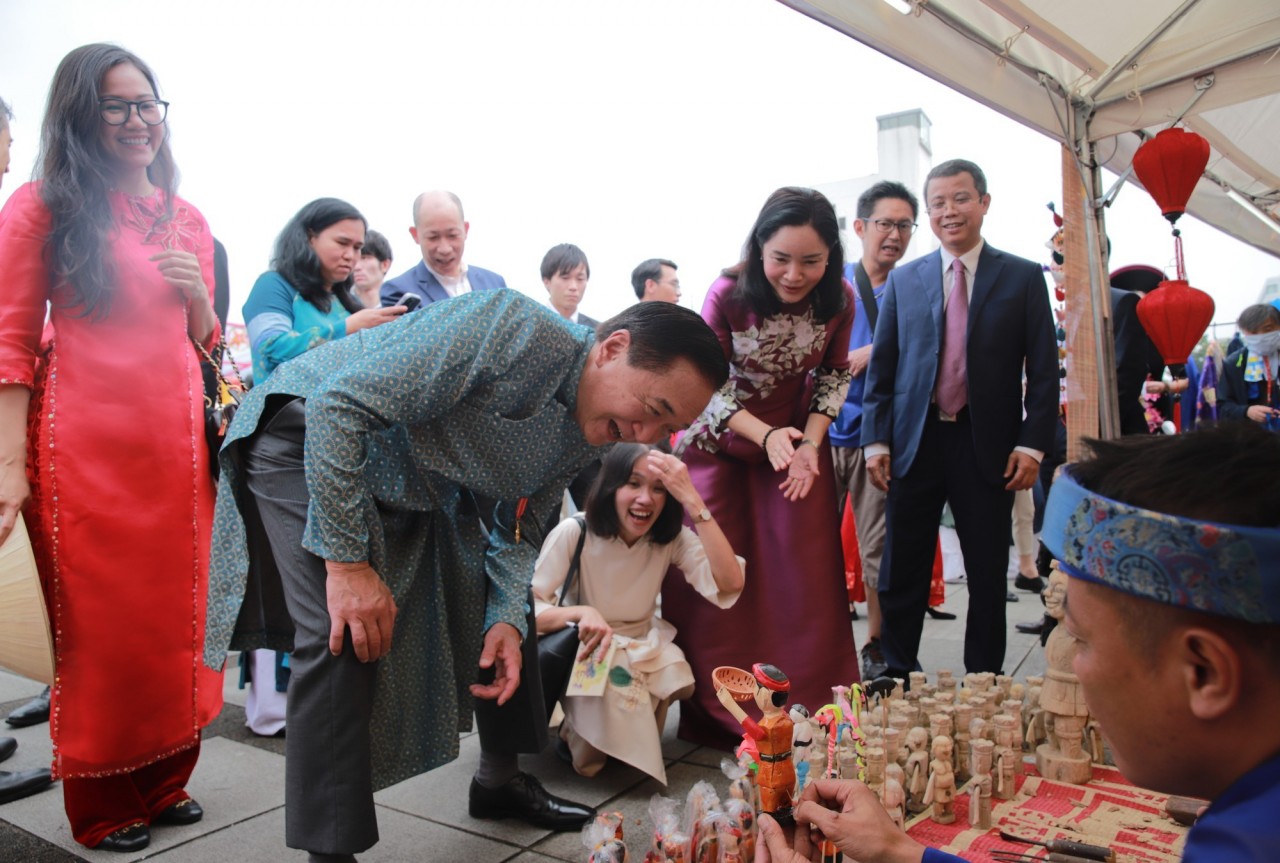 At the puppet-making and to he making experience booth of the Ministry of Culture, Sports and Tourism, the Governor of Kanagawa Prefecture enjoyed stopping for a long time. Photo: Toquoc.vn
During a press sharing, People's Artist Nguyen Tien Dung, director of Vietnam Puppet Theater, expressed his profound and indescribable emotions upon returning to Kanagawa province. Each visit to this province feels like a unique experience. Dung and the talented artists from Vietnam Puppet Theater have developed a strong connection with Kanagawa prefecture, considering it as their second home.
"Each year, we are privileged to receive the entrusted task from the Ministry of Culture, Sports and Tourism and an invitation from Kanagawa prefecture to showcase our water puppetry and Vietnamese puppetry art at the festival. This serves as a testament to the appeal and success of our performances within the Japanese audience. Upon each visit, our talented artists not only present water puppetry but also showcase land puppetry, traditional music, and dance. Kanagawa has become a cherished destination for our theater, where we are warmly embraced and treated like esteemed family members," expressed Dung.
According to Pham Thu Hang, the representative of the exhibit showcasing Tam Chuc Tourist Area and Trang An Heritage, Japan shares a similar culture with Vietnam. The purpose of displaying the images of Tam Chuc and Trang An is to promote exchange and connections in order to attract more Japanese tourists to Vietnam. "Furthermore, our booth features a period costume booth where visitors can immerse themselves in the cultural ambiance of Vietnam."
The Vietnamese Ambassador to Japan, Pham Quang Hieu, emphasized that the festival is one of many events commemorating the 50th anniversary of diplomatic relations between Vietnam and Japan.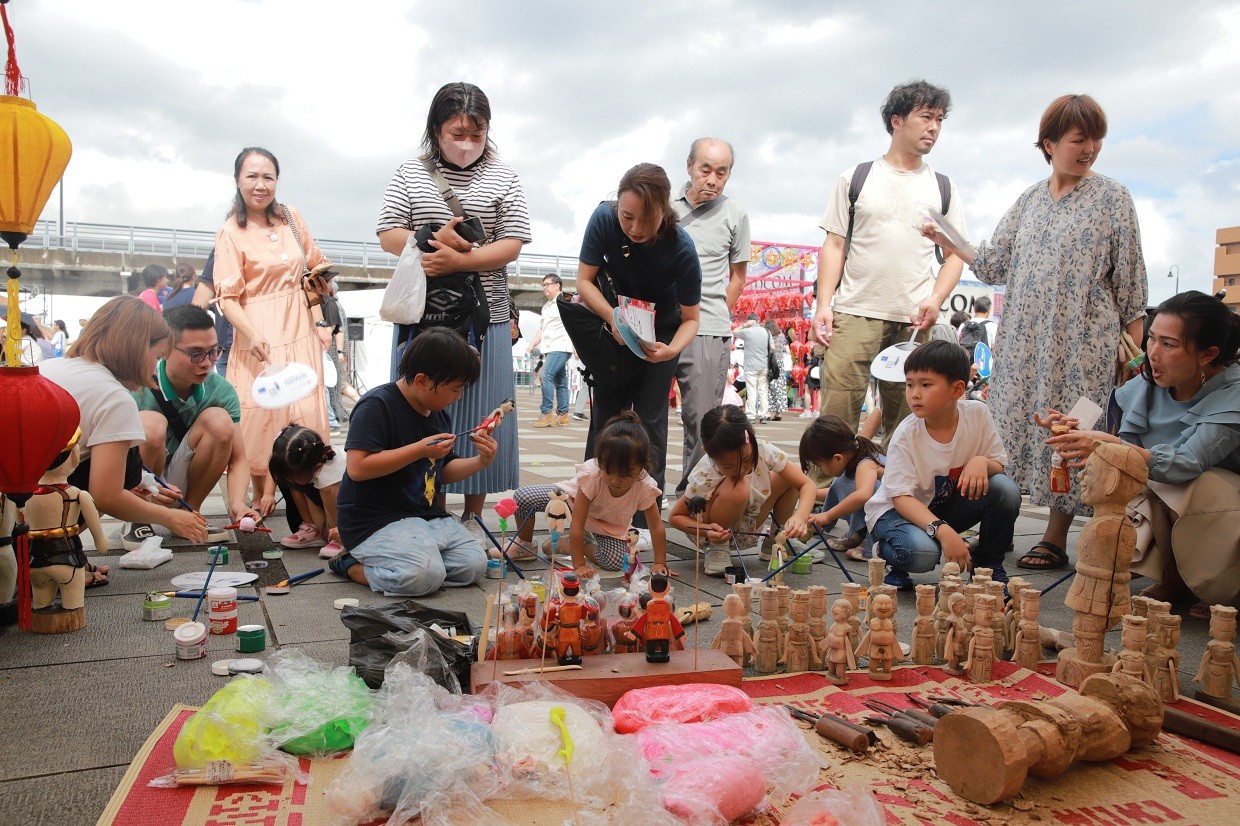 The space to experience puppet painting and toy making attracts many Japanese people, especially children. Photo: Toquoc.vn
Themed "Connecting for the future," the event aims to encourage people of the two countries to foster their connectivity under the motto of "Vietnam and Japan head to the future together and rise to the world".
The diplomat expressed his hope for the success of the Kanagawa Festival in Vietnam, scheduled for November.