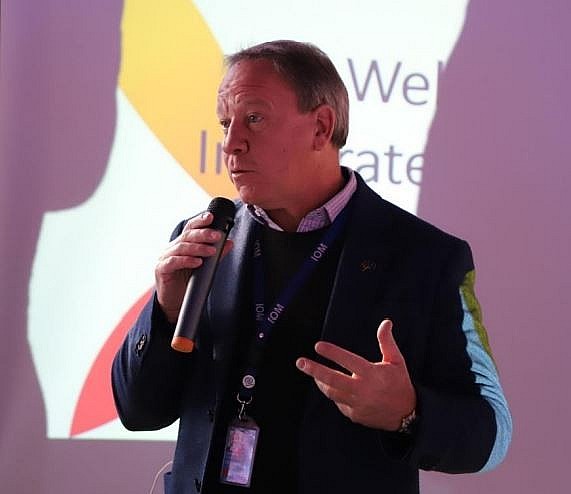 Stuart Simpson, Deputy Director of the Asia-Pacific Region of the International Organization for Migration (IOM).
How do you evaluate Vietnam's efforts in promoting legal, safe, and orderly migration?
Vietnam is one of the few countries that have a national action plan on the global compact for legal, safe, and orderly migration (GCM). I highly appreciate the active role of the Vietnamese government in realizing the GCM through the action plan approved by the Prime Minister on March 20, 2020.
This shows how effectively Vietnam has cooperated with countries and international organizations on international migration issues. It is also a piece of evidence for the commitment of the Vietnamese government to better manage international migration.
The total remittances to Vietnam in 2022 is estimated to reach more than USD 18 billion, ranking Vietnam in the top three countries receiving the most remittances in the Asia-Pacific region and in the top 10 globally. Therefore, Law No. 69/2020/QH14 on contract-based overseas Vietnamese workers plays a key role in ensuring the rights and legitimate interests of overseas Vietnamese workers, as well as equal recruitment of migrant workers.
In recent years, Vietnam has made great efforts to create a transparent migration environment, protect the legitimate rights and interests of migrants, and take decisive actions against human trafficking. One most recent effort is the issuance and implementation of the Program on prevention and combat of human trafficking for the period of 2021-2025 and orientation to 2030.
What do you think about Vietnam's participation in international commitments such as the GCM?
The GCM is the first intergovernmental bargaining agreement on migration and an effective tool for countries to discuss how best to address migration challenges without compromising people's rights and the sovereignty of states.
By actively contributing to the GCM development process and through the GCM action plan, Vietnam has demonstrated its strong commitment to promoting common understanding, shared responsibility, and unity of purpose so that the GCM will benefit everyone.
In December 2022, IOM and the Ministry of Foreign Affairs of Vietnam jointly organized a conference to review the implementation of the GCM with the participation of delegates from government agencies at all levels, social organizations, and research institutes. It is very impressive that 57 localities, 7 ministries, and central agencies of Vietnam have issued the GCM action plan.
IOM also supports Vietnam to further strengthen inter-sectoral cooperation in all areas of migration management, and promote safe migration through sharing of concrete data and best practices, helping Vietnam to achieve the Sustainable Development Goals (SDGs).
Can you share an outstanding project that IOM is implementing in Vietnam to further facilitate safe and orderly migration, helping Vietnam achieve the SDGs?
In Vietnam, we work closely with government agencies, civil society, the private sector, and migrants to provide humanitarian assistance to migrants in need and promote cooperation to address related challenges.
To support Vietnam's commitment to the human trafficking prevention and control program for the period 2021-2025 and vision to 2030, with the support of the UK Home Office, IOM coordinates with government agencies and local authorities to realize their potential to reduce the vulnerability of individuals and communities to modern slavery (TMSV). Accordingly, we take action to change human trafficking practices through media, increase access to justice, and support recovery and reintegration with a victim-centered approach.
From 2018-2022, the project has improved the capacity of more than 1,700 officials working on anti-trafficking, raised awareness of more than 2.93 million people on human trafficking prevention and safe migration, and helped 1,680 victims access local employment opportunities and find a path to unskilled labor migration.
Currently, Vietnam is a member of the UN Human Rights Council for the term 2023-2025. What do you expect from Vietnam's contributions at UNHRC to further promote the rights of migrants?
We congratulate Vietnam on being elected as a member of the UN Human Rights Council for the 2023-2025 term. This is an opportunity but also comes with significant responsibilities and we hope that Vietnam will take the lead in implementing the highest standards of respect for human rights both domestically and internationally, including the rights of migrants.
Vietnam can also strive to become a leading country in advocating for human rights-based approaches to combat climate change and address migration issues, along with the responsibility to provide a Report on the implementation of recommendations that Vietnam has received.
Vietnam is expected to represent the ASEAN region to share experiences in responding to human rights issues arising around the world, and fully cooperate with the mechanisms of the Human Rights Council. This is also a great opportunity for Vietnam to provide technical support and to contribute towards the accomplishment of SDGs in the region.