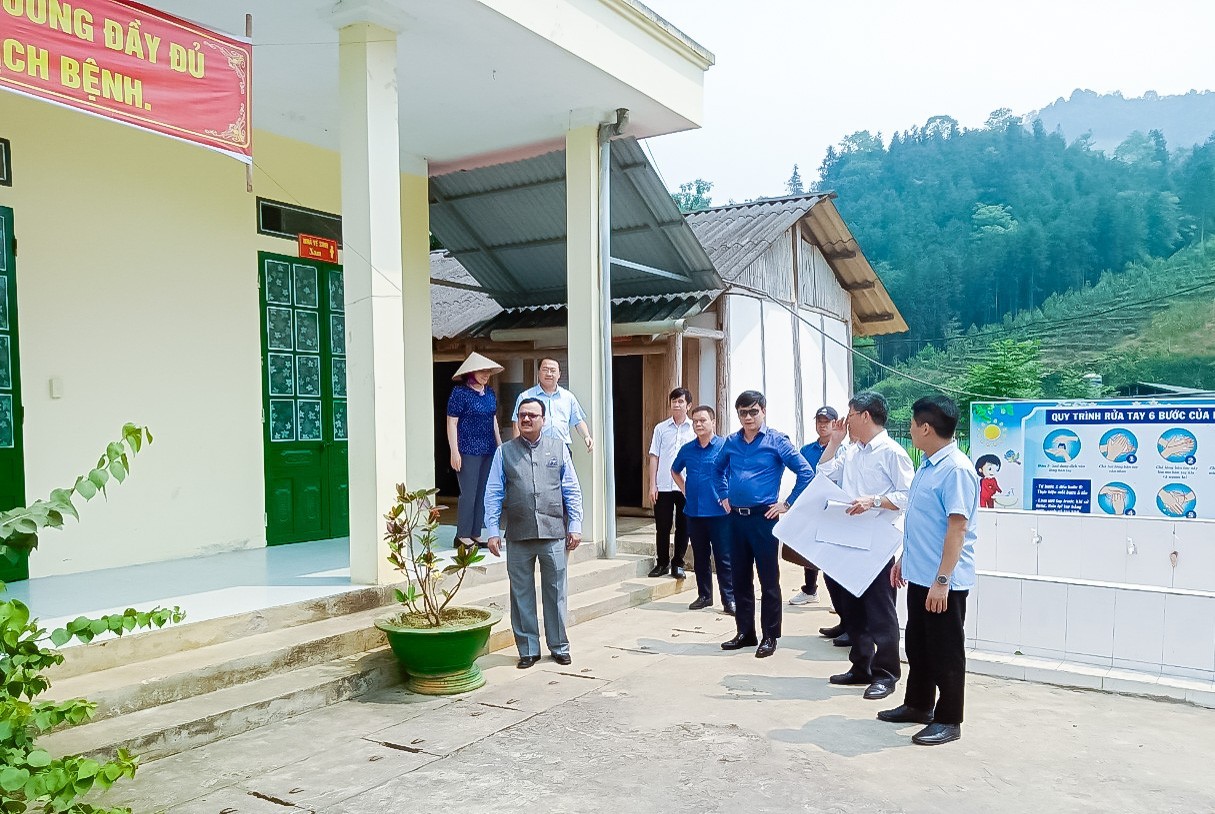 The delegation of the Embassy of India in Vietnam visited Cho Chau Kindergarten, Lung Vai commune, Muong Khuong district. Photo: Han Hien
The Indian Deputy Ambassador to Vietnam, Subhash P. Gupta, recently held a meeting with the leaders of Muong Khuong district in Lao Cai Province to discuss the finer details and financial balance of a project titled "Building a Kitchen and Physical and Extracurricular Facility for Children at Cho Chua Kindergarten, Lung Vai Commune". This project has been funded by the Embassy of India in Vietnam.
Accordingly, the canteen and kitchen works are encompassed by one dining room measuring 70m2 and one dining room specifically for children with an area of 92m2, in addition to a physical education area of 266m2.
The leader of Muong Khuong district has emphatically stated that this is a crucial project, which will enhance the educational infrastructure, fulfil the teaching and learning requirements, and boost the educational development of Muong Khuong district.
Previously, on February 9, the Embassy of India signed a Memorandum of Understanding (MoU) with the People's Committees of nine provinces of Vietnam – Binh Phuoc, Gia Lai, Ha Giang, Hoa Binh, Lai Chau, Lang Son, Lao Cai, Long An, and Thanh Hoa – for the Government of India's support of nine local Quick Impact Projects (QIPs). This agreement was a part of the Indian government's efforts to promote economic cooperation and development in Vietnam.
This agreement was part of the Indian government's efforts to further economic cooperation and development in Vietnam.
The Memorandum of Understanding (MoU) signed this year will help facilitate the implementation of grassroots projects in nine provinces, including:
Educational infrastructure in Binh Phuoc, Lang Son, Lao Cai, Long An, and Thanh Hoa Provinces
Irrigation and water supply projects in Gia Lai and Ha Giang Provinces
A social welfare project in Hoa Binh Province
A road project in Lai Chau Province
With nine additional projects, the total number of Quality Infrastructure Projects (QIPs) supported by India in Vietnam will reach forty-six, covering thirty-nine provinces.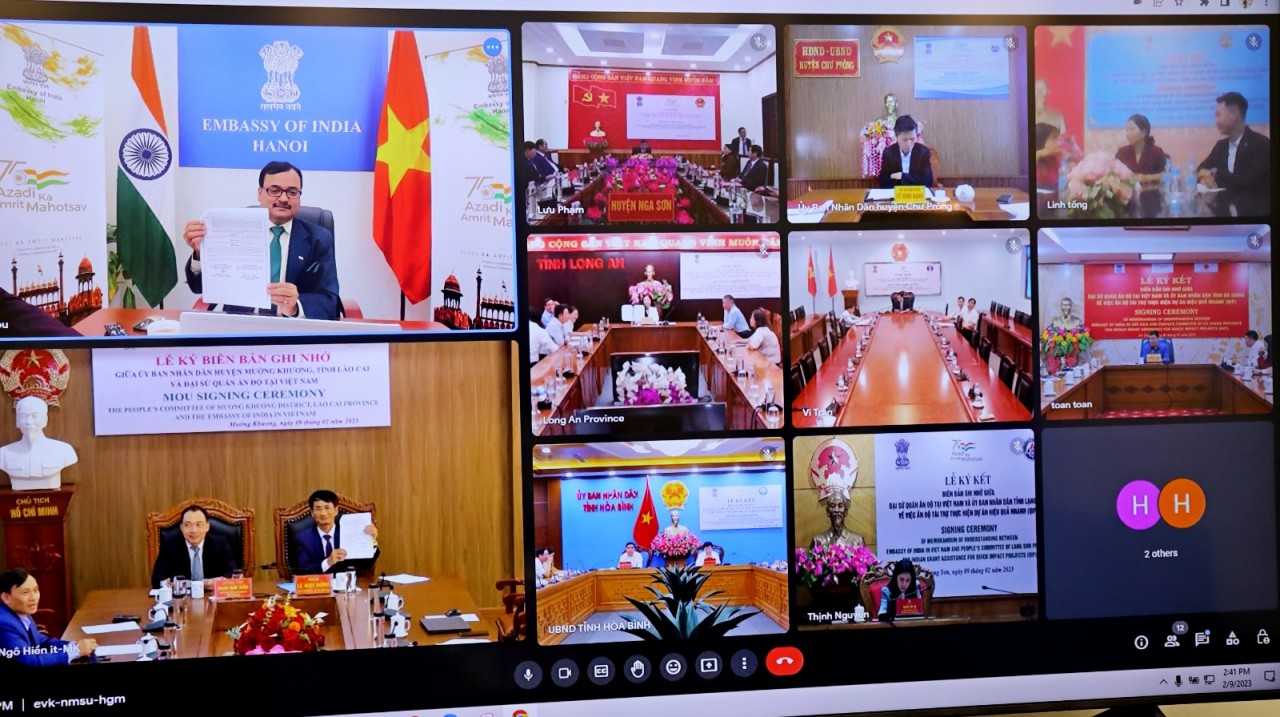 Delegates from the Indian Embassy in Vietnam and nine Vietnamese localities. Photo: Indian Embassy in Vietnam
Deputy Ambassador Subhash P. Gupta declared that the success of the Quality Improvement Programs (QIPs) in Vietnam has provided tangible and immediate advantages to the people living in local communities. The effective implementation of these projects clearly demonstrates the power of the India-Vietnam Comprehensive Strategic Partnership, thus contributing to the shared mission of realizing the Sustainable Development Goals.
As part of the grant-in-aid program under the Mekong Ganga Cooperation (MGC) support activities of the Government of India, Quick Impact Projects (QIPs) are being implemented. During the Virtual Summit between the Prime Ministers of India and Vietnam held on December 21, 2020, the Government of India declared an increase in the number of QIPs for Vietnam every year, from 5 to 10. This decision was made in recognition of the considerable benefits that these small projects bring at the grassroots level.
The QIPs (Quality Infrastructure Projects) mostly cover the improvement of physical infrastructure such as roads and local community centres, as well as social infrastructure in the sectors of education, health, sanitation, and community development. These short-term projects are designed to directly benefit local communities, with quick and obvious results.