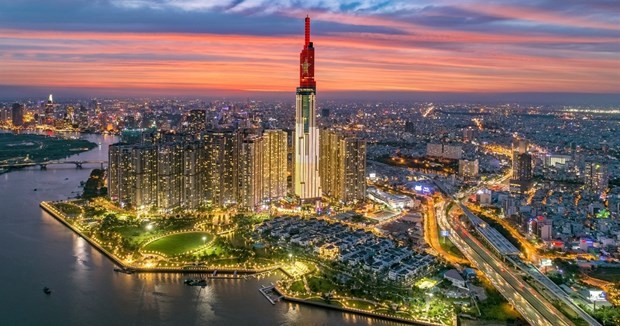 A view of Ho Chi Minh City from above. Photo: VNA
Ho Chi Minh City, the most prominent financial center in Vietnam, has been ranked among the wealthiest cities around the globe for 2021, according to Henley & Partners, an international leader in residence and citizenship by investment, and wealth intelligence firm New World Wealth.
The World's Wealthiest Cities Report 2023 was released by wealth intelligence firm, New World Wealth, which tracked the movements and spending habits of high-net-worth individuals such as Founders, Chairpersons, CEOs, and Directors. According to Henley & Partners, the report also took into account the number of high-priced homes in the 97 cities across the world that were analyzed.
The southern city of Vietnam is quickly becoming a new millionaire hotspot in Asia, with a number of rapidly expanding industries such as financial services, textiles, technology, electronics, telecommunication, chemicals, and tourism contributing to this growth, according to a recent report.
The top wealthiest cities in the world have been ranked based on their number of resident millionaires over the past decade, from 2012 to 2022. All figures are taken from this period.
Millionaires, or high-net-worth individuals, refer to individuals with investable assets of USD 1 million or more.
In 2023, New York City was named the world's wealthiest city, with Tokyo in Japan and the Bay Area of Silicon Valley coming in second and third, respectively.
At the top of the list is New York City, the financial hub of the United States and the wealthiest city in the world, boasting 340,000 millionaires, 724 centi-millionaires, and 58 billionaires.
Located in Japan, Tokyo is home to an impressive number of wealthy individuals, ranking second in the world with 290,300 resident millionaires, 250 centi-millionaires, and 14 billionaires.
The Bay Area takes third place, with San Francisco and Silicon Valley boasting 285,000 millionaires, 629 centi-millionaires, and a whopping 63 billionaires. This area is truly a haven for the wealthy.
In 2000, London topped the list of the world's cities with the most millionaires; however, over the past two decades, it has slipped down to fourth place.
Apart from Ho Chi Minh City, Singapore is the only other Southeast Asian nation to make the list, with the country currently boasting 240,100 millionaires, 329 centi-millionaires, and 27 billionaires – ranking it fifth in the top ten.