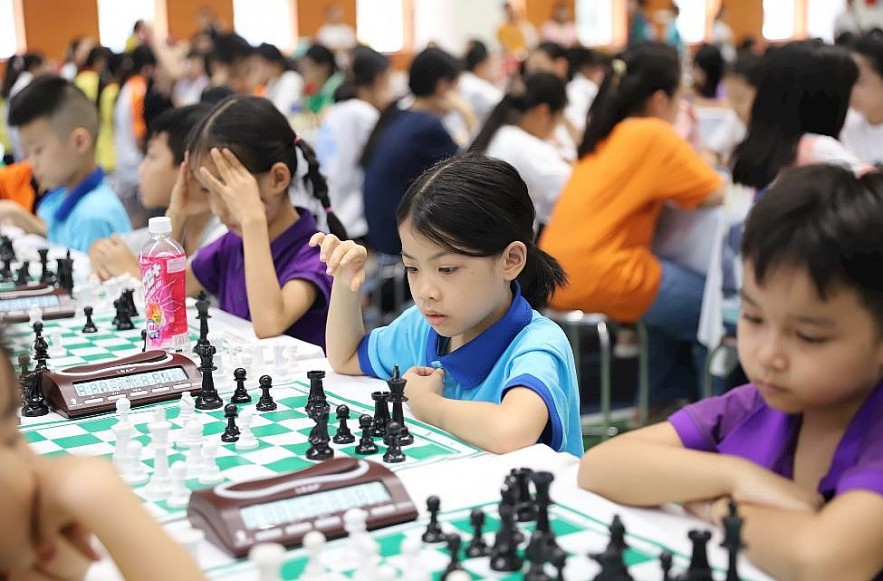 The Hanoi Rapid Chess Championship 2023 ended on November 5.
The Hanoi Rapid Chess Championship 2023 organized by the Vietnam Chess Federation coordinates with the Hanoi Department of Culture and Sports, and the Future Grandmaster Chess Club.
This year's tournament has 2,068 domestic and international players. Among them, there are more than 100 chess clubs in Hanoi as well as more than 20 clubs in provinces, and cities. In particular, the tournament also has the participation of athletes with disabilities, competing with other athletes.
The tournament also set a record for the number of table referees participating in running a chess tournament in Vietnam with 70 referees. Notably, before the tournament date, the Organizing Committee still received requests to register. However, to ensure progress and quality, the Organizing Committee cannot accept registrations.
At the tournament, players competed for 32 sets of medals from ages U5 to U15 in the movement group, and U7 to U13 in the advanced group. In these contents, the expanded advanced group for players who have achieved national and international achievements in participation. Therefore, the tournament has the participation of 1 International Grandmaster (Tran Tuan Minh) and 1 International Master. The achievements of the players in the expanded advanced group are calculated by the Elo coefficient. The first tables of the advanced group are broadcast online via large screens located at the competition venue.
At the end of the tournament, in the expanded advanced group, the duo Dinh Nho Kiet – Nguyen Vuong Tung Lam (VietChess) overcame many other pairs to win the championship. The duo of the Hanoi team, Tran Tuan Minh – Nguyen Nam Kiet (who just won the individual silver medal for the U12 group in the world standard chess) ranked second.
This year's tournament continues to be 100% socialized.