Good Neighbors International (GNI) and the SOMR project have launched the campaign "Flying Books 2023: Putting good books in the hands of readers", calling for book donations.

The campaign has raised 8,300 books, 141 sets of school supplies, and over 21.6 million VND (Vietnamese Dong) in nearly 2 months. The monetary amount was used to purchase new books, which were sent to 6 schools on August 28, 2023. The schools included Ban Ria Secondary & Secondary School, Bang Lang Primary School, Yen Thanh Secondary School, Bac Son Secondary & Secondary School, Do Nhan Secondary School, Dong Quy High School, and Vinh Loc High School.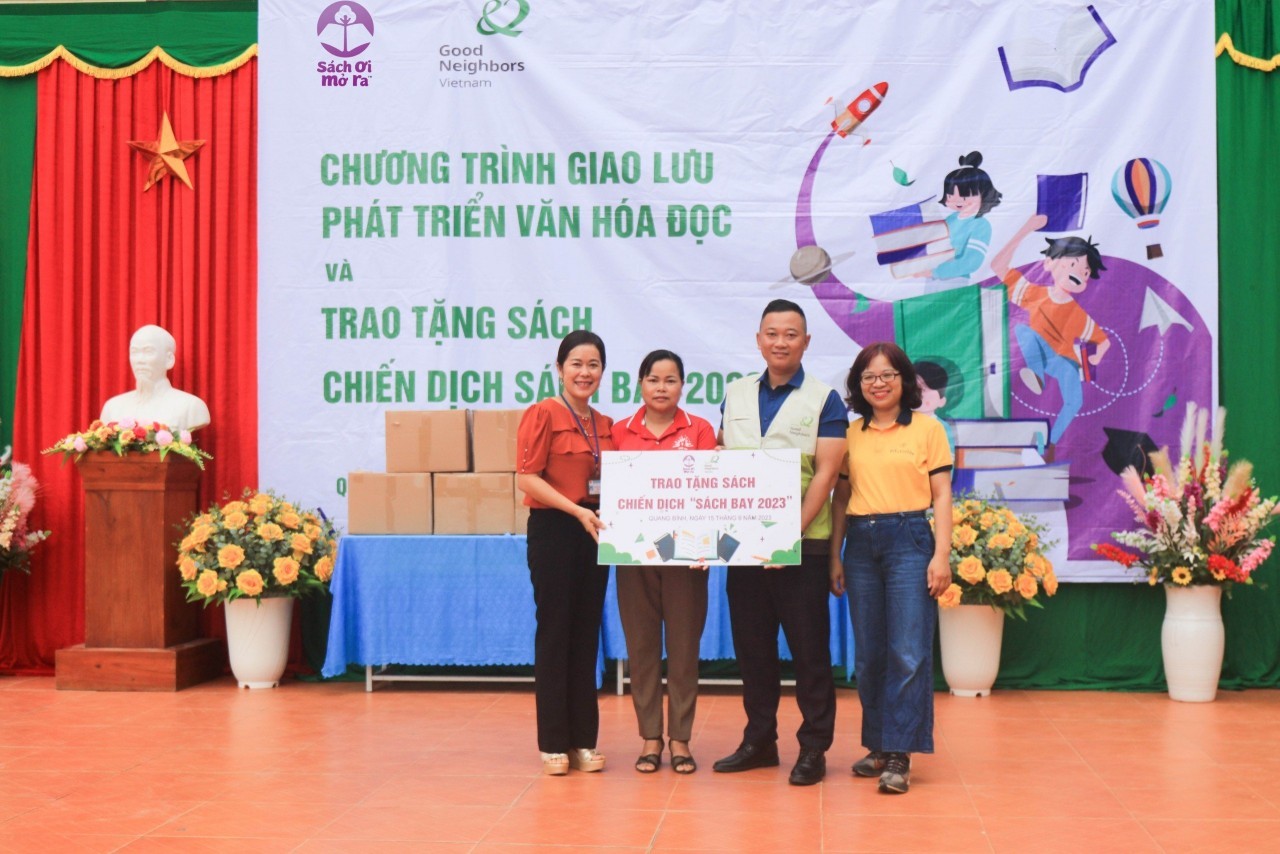 Representatives of GNI presented the donation to Ban Ria Secondary & Secondary School on September 14, 2023. (Photo: GNI).
Along with the donation ceremony at Ban Ria Secondary & Secondary School, GNI organized cultural exchange and reading activities for students. The SOMR project team also participated in folk games such as shuttlecock throwing and bamboo jumping with the students.
Reading activities were carefully organized to promote a reading culture among children of different age groups. Additionally, the SOMR project team worked with the teachers of Ban Ria Primary and Secondary School on library management skills and hosting kid reading activities.
"I learned many things from the people of Ban Ria, their knowledge that I cannot learn from books. Through interacting with teachers, students, and indigenous people, enjoying songs, dances, and local dishes, I understand more about educational practices and the difficulties faced by teachers and students, especially when implementing new programs and textbooks. I love the locals, their simplicity, and culture. All of those experiences are really valuable," said Dr. Nguyen Thi Ngoc Minh, Lecturer in the Literature Department at Hanoi University of Education and Founder of the SOMR project.
Hoang Thi Xuyen, Principal of Ban Ria Secondary and Secondary Boarding School for Ethnic Minorities, believes that SOMR provides students with the opportunity to participate in reading activities that combine learning and play. It also helps teachers at the school learn about organizing kid reading activities.
"On behalf of the school's Board of Directors, I would like to sincerely thank GNI and the teachers from the SOMR project. The books have brought great joy and motivation to our students when going to school," said Principal Hoang Thi Xuyen.
The SOMR project is part of GNI's "Exchange for Change 2023" project, which aims to inspire local people and volunteer groups to improve themselves and help solve urgent problems in the community through exchange activities. GNI plays a connecting and organizing role in these activities. Currently, there is an exchange model to develop a reading culture in Quang Binh, and there are two exchange activities related to the topics of environmental protection and livelihood development to be developed in Tuyen Quang and Hoa Binh.