The picturesque region of Hue has long been a popular destination for both domestic and international tourists. Alongside its historic citadel and mausoleums, Hue is renowned for its serene and pristine beauty. Among the natural treasures waiting to be discovered, Ru Cha forest stands out as a must-visit location.
Ru Cha is the last remaining ancient mangrove forest on Tam Giang lagoon, located in Thua Thien – Hue province. Situated in Thuan Hoa village, Huong Phong commune, Huong Tra town, Thua Thien – Hue, the forest beckons nature enthusiasts.
The name Ru Cha may be unfamiliar to most, as it is a local dialect. "Ru" means forest, and "cha" is the name of the predominant tree species found in this forest. Hence, Ru Cha translates to "the forest of cha trees."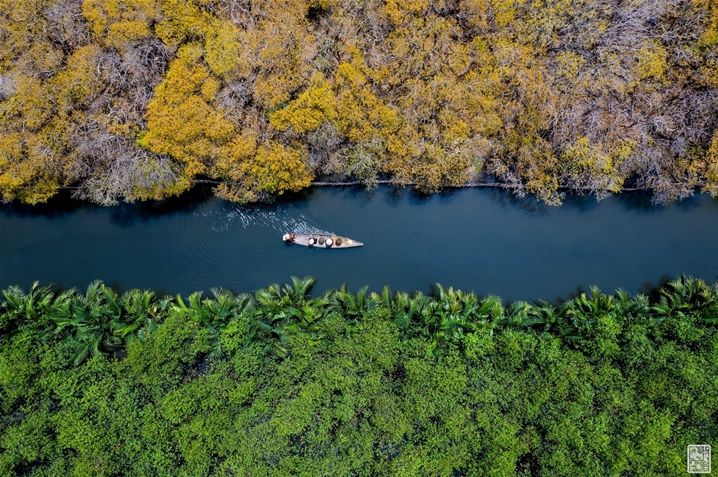 (Photo: VTC)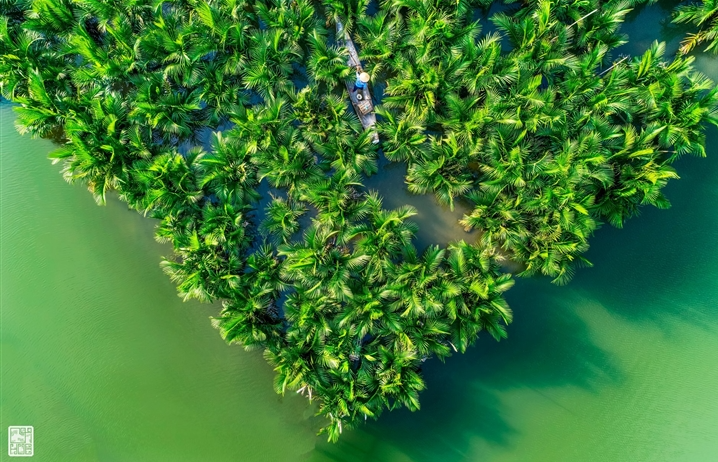 (Photo: VTC)
Visiting Ru Cha mangrove forest is a treat for the eyes, thanks to the striking green hue of the cha trees and the verdant water surface of the 5-hectare lagoon. During the summer, visitors are drawn to the forest for its invigorating and tranquil ambiance.
Even without elaborate structures, vibrant backgrounds, or picturesque seascapes, Ru Cha's mangrove forest beautifully unfolds in photographs. There is no need for costume changes or complicated setups; one can capture dreamy photoshoots effortlessly.
Many couples choose Ru Cha as the backdrop for their pre-wedding photo albums. Despite its challenging accessibility, the forest's wild scenery possesses a unique, mysterious, and alluring charm that continues to attract young people.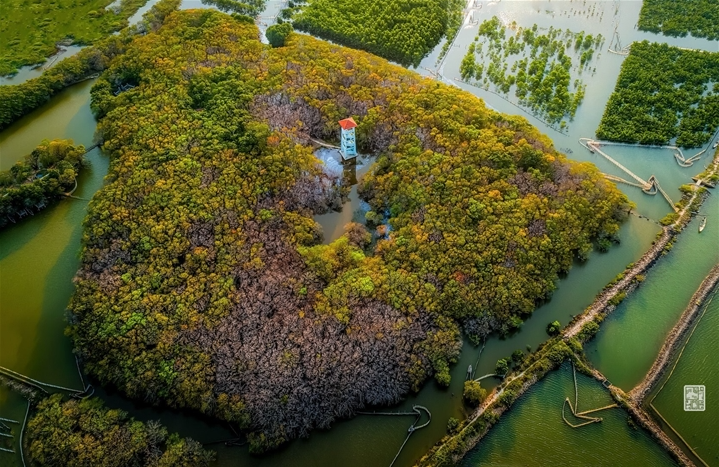 (Photo: VTC)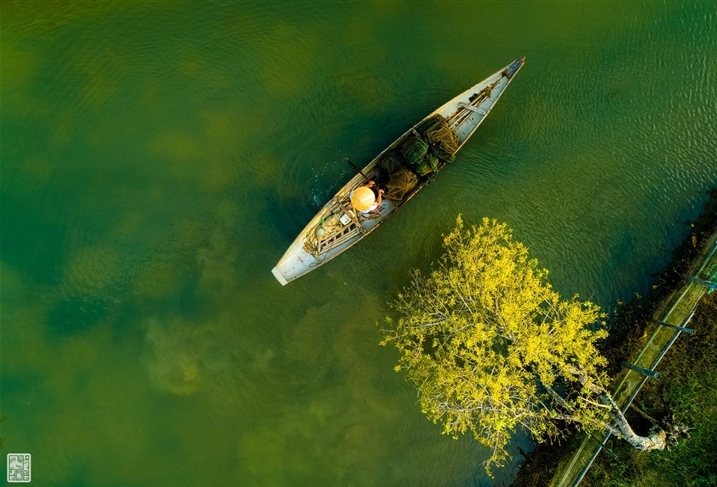 (Photo: VTC)
Tips for Visiting Ru Cha
Located just 15 km from Hue's city center, Ru Cha can be reached by motorbike or bus from the citadel. However, traveling by motorbike is the more convenient option.
Starting from Hue's city center, follow Highway 49 towards Thuan An beach. Take a left turn at Tam Giang bridge and cross Thao Long dam. You will arrive at Ru Cha forest. Along Highway 49, look for the clusters of green trees in Huong Phong commune, which is the Ru Cha mangrove forest. The road leading to Ru Cha is now paved, eliminating the need for a boat ride.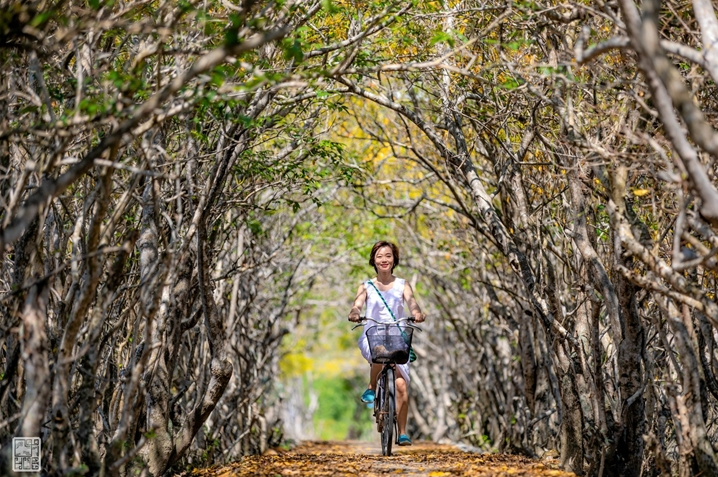 (Photo: VTC)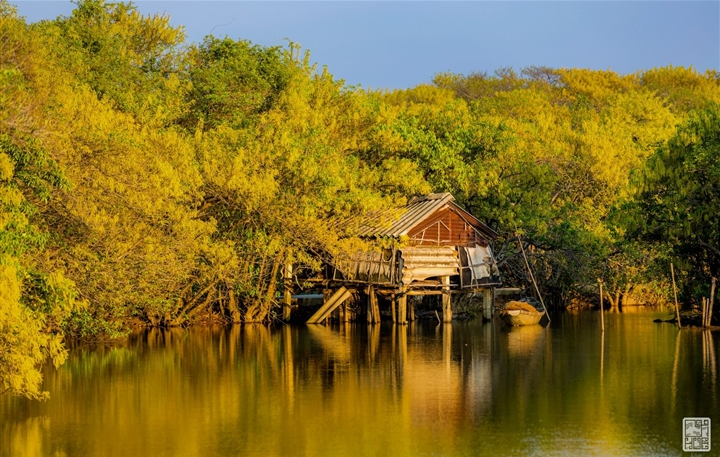 (Photo: VTC)
Due to its pleasant temperature, Ru Cha can be visited at any time of the year. However, the most breathtaking and romantic experience can be had in September when the leaves transition from green to shades of red and yellow.
For an extra special experience, start your journey to the forest around noon to catch a stunning sunset scene.
A few years ago, a concrete observatory was built in the heart of Ru Cha forest. From this vantage point, one can admire the entire forest and capture beautiful pictures.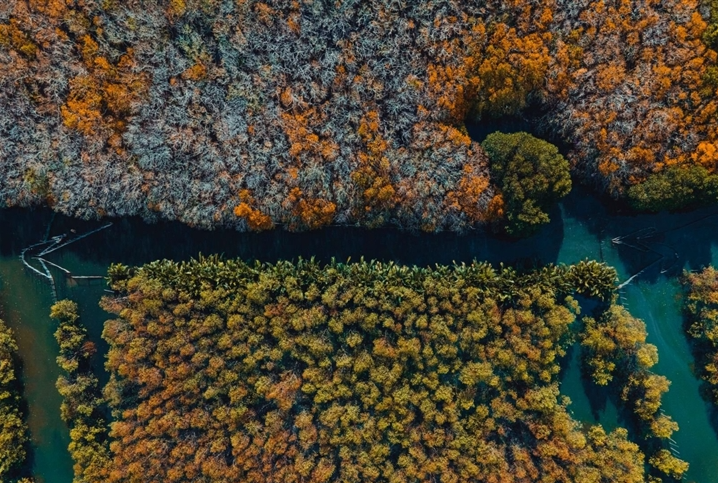 (Photo: VTC)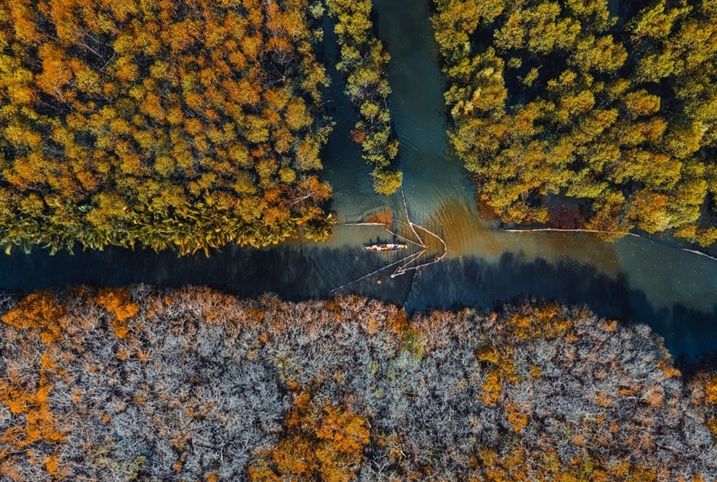 (Photo: VTC)
While it is possible to explore the entirety of Ru Cha forest on a motorbike, taking a boat tour is a recommended activity. However, there are no boat rental services in Ru Cha, so you should arrive early in the morning or late in the afternoon and wait for local fishermen to pass through the forest. Ask them for permission to join their boats.
Deep within the forest, you will discover a small temple dedicated to Thanh Mau (The Mother Goddess). According to local folklore from Thuan Hoa villagers, during a great flood in the distant past, a bowl of incense from Hon Chen temple drifted to this location. Subsequently, the villagers built a temple for the goddess at the exact spot where the incense bowl came to rest, believing it to be a chosen sacred place for blessings.