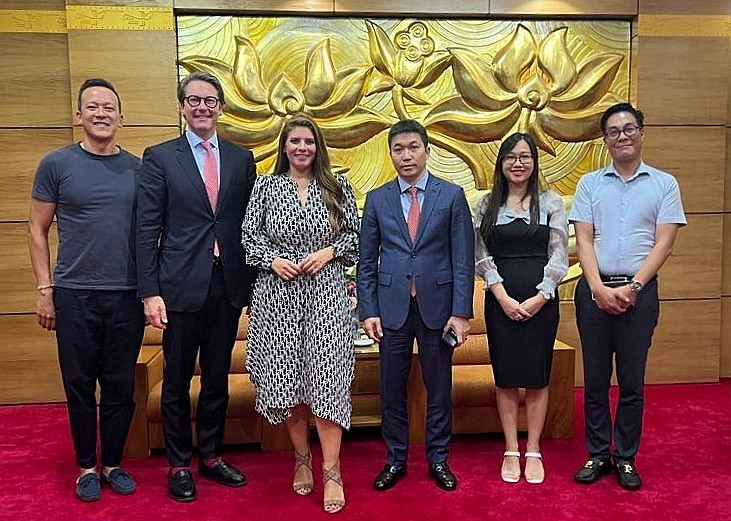 President of the Viet Nam Union of Friendship Associations (VUFO) Phan Anh Son (third from right) and representatives of the German delegation at the meeting. Photo: VUFO
At a reception for a delegation of German businesses in Hanoi on September 29, Son pledged that the VUFO would support German firms to operate effectively in Vietnam.
The German side commended Vietnam's dynamism and potential, saying the visit aims to explore the market and accelerate German investment there.
Earlier, the delegation had a working session with representatives from the Ministry of Industry and Trade, where Deputy Minister Nguyen Sinh Nhat Tan noted that Vietnam prioritizes the development of renewable, new, clean energy.
He emphasized investment opportunities for foreign investors, including those from Germany, in these fields.
Earlier, German news website NTV published an article highlighting the attractiveness of the Southeast Asian country to German businesses.
According to the article, Vietnam has long been famous for shoes, garments textiles, coffee, and pepper. The country is always ready to innovate and absorb new technologies, so it has a good reputation as an electronics manufacturing hub.
Meanwhile, "Made in Germany" goods and machinery are also very popular in Vietnam, along with automobiles and chemical products. Germany currently has about 350 companies with offices and facilities in the Southeast Asia country, it said.
Two-way trade turnover reached EUR18 billion (USD19.2 billion) last year, of which shipments from Vietnam accounted for EUR14.7 billion. Germany is currently Vietnam's most important trade partner in the European Union (EU) while Vietnam is Germany's largest partner in the Association of Southeast Asian Nations (ASEAN).
Ludwig Graf Westarp, the representative of the German Association for Small- and Medium-sized Businesses (BVMW) in Vietnam, said Vietnam is a country with many development opportunities and a very vibrant market. Over the recent years, the country has poured much capital into infrastructure, roads, ports, and airports. Vietnam is also expanding its renewable energy industry which requires not only experience but also technology from Germany.