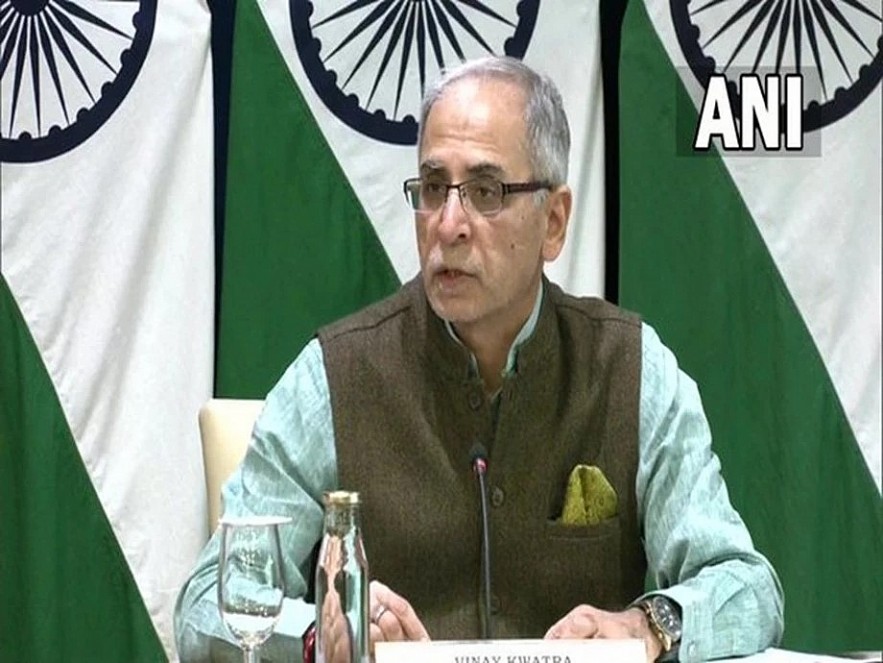 Foreign Secretary Vinay Kwatra. (ANI/Image) Image Credit: ANI
The G20 Foreign Ministers Meeting (FMM), which is scheduled to take place in physical format from March 1-2, 2023 in New Delhi under India's Presidency is "one of the largest gatherings of foreign ministers hosted by any G20 Presidency." In a special briefing by Foreign Secretary Vinay Kwatra on G20 Foreign Ministers' Meeting, he said, "It is one of the largest gatherings of foreign ministers hosted by any G20 Presidency."
The venue of G20 FMM is Rashtrapati Bhavan Cultural Center. Overall 40 delegations — Argentina, Australia, Brazil, Canada, China, European Union, France, Germany, India as host, Indonesia both as immediate past president and ASEAN chair, Italy, Japan, Mexico, South Korea, Russia, Saudi Arabia, South Africa, Turkey, UK, US (all G20 member countries) — are expected to participate in the meeting. Among the 9 guest countries participating at the level of FMs are Bangladesh, Egypt, Mauritius, Netherlands, Nigeria, Oman, Singapore, Spain and the UAE.
"Besides the participation of these countries which I said comprising of over 40 delegations, this would also include 13 international organisations. Surely, this is one of the largest gatherings of the FMs hosted by any G20 Presidency that we would privilege to host," said Kwatra. G20 Foreign Ministers' Meeting, under India's ongoing G20 Presidency, will be held on Thursday (March 2) but it will kick off on Wednesday night with a gala dinner.
"It will be under the chairmanship of our External Affairs Minister, S Jaishankar. This would be the second ministerial meeting being held under our Presidency. The first ministerial meeting has just concluded in Bengaluru, which was of the Finance Ministers and Central Bank Governors' meeting," said Kwatra. During the Foreign Ministers' meeting on Thursday, the EAM will be chairing two sessions of the foreign ministries meeting.
"The first session will focus on multilateralism, and issues related to food and energy. The second session will focus on four or five key issues including new and emerging threats includes counter-terrorism and narcotics, global skill mapping, focus on global talent pools," said the foreign secretary. Kwatra also spoke about Japan's Foreign Minister Yoshimasa Hayashi who will not attend the meeting.
"We understand that the Japanese Foreign Minister is not able to come because of his domestic compulsions but we are looking forward to a very active participation, active support in consultation with the Japanese delegation that is coming," said Kwatra. Deputy Foreign Minister Kenji Yamada is scheduled to visit New Delhi, India, to attend the G20 Foreign Ministers' Meeting from March 1 to 3, read Japan's Ministry of Foreign Affairs press release.
"At this meeting, we will take our position and efforts as Japan, the G7 presidency, on important issues in the current international situation, such as multilateralism, food and energy security, and development cooperation, as Russia's invasion of Ukraine continues," said Kenji. The development comes after Japanese Foreign Minister Yoshimasa Hayashi skipped a meeting due to a scheduling conflict with a Diet (Japanese parliament) session.
The theme of India's G20 Presidency is "Vasudhaiva Kutumbakam" or "One Earth. One Family. One Future."