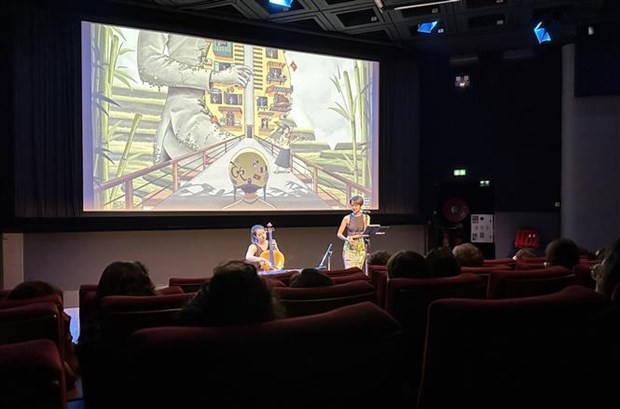 Once upon a bridge in Vietnam is about a young French-Vietnamese man's journey to find his roots. Photo: VNA
A musical documentary film introducing Vietnamese music and culture was screened on June 19 at Forum des Images movie theatre in Paris as an opening activity of the 41st annual music festival week of France "La Fête de la Musique", VNA reported on Wednesday.
The film entitled "Once Upon a Bridge in Vietnam" directed by young Vietnamese-French director François Bibonne tells the story of a young Vietnamese-French youngster's journey to find his roots. Through a musical path, he discovered the wonders of his grandmother's homeland.
With his love and passion for music, Bibonne made a documentary film introducing Vietnamese music and culture to international friends, as well as bridging the friendship between Vietnam and France.
The film released in early 2022 has been screened in many places in Vietnam, France, and around the world. It won the "Best Documentary Short Film" prize at the Los Angeles Film Awards in February 2022 and another prize at the New York International Film Awards in March 2022.
The screening ended with an exchange between the audience and the young director, with sharing around the filmmaking process, as well as the plans that director Bibonne cherished.
Previously, the short film Le Chant des Oiseaux (roughly translated as Birds song) directed by Camille Lamy, along with the concert performance of the heroine Justine Métral and lyricist Léa Badillo surprised the audience. The Vietnamese folk Beo Dat May Troi (Water-ferns drift, clouds float) performed by singer Léa Badillo as well as an interesting narration for the film.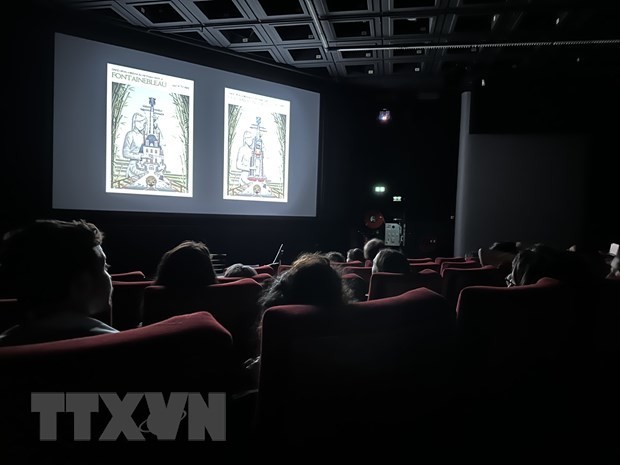 The audience filled the auditorium and was swept away by the folk and contemporary music of the movie 'Once upon a bridge in Vietnam'. Photo: VNA
La Fête de la Musique is a big event that takes place on June 21 every year in France. First held in 1982, the initiative by French Culture Minister Jack Lang aims to spark a passion for music.
During the festival, people and artists from all over the world will gather to perform and enjoy music for free on streets, parks, squares, and other public places. Only 15 years after the festival was first held in France, it has been organised in more than 100 countries and so far has become an annual international event.
Last week, a Vietnamese street food festival entitled "Ici Vietnam Festival" was held at Monge Square in District 5, Paris by the Vietnamese Association in France (UGVF) and the Vietnam Youth Association in France (UJVF).
This is the third year the festival has been organised, offering visitors opportunities to taste popular Vietnamese dishes and fruits. This year, visitors can also enjoy contemporary music, with the excitement of electronic music, pop and rap, performed by French-Vietnamese DJ-beatmakers.