1. Bun bo Hue (Hue Beef Noddle Soup)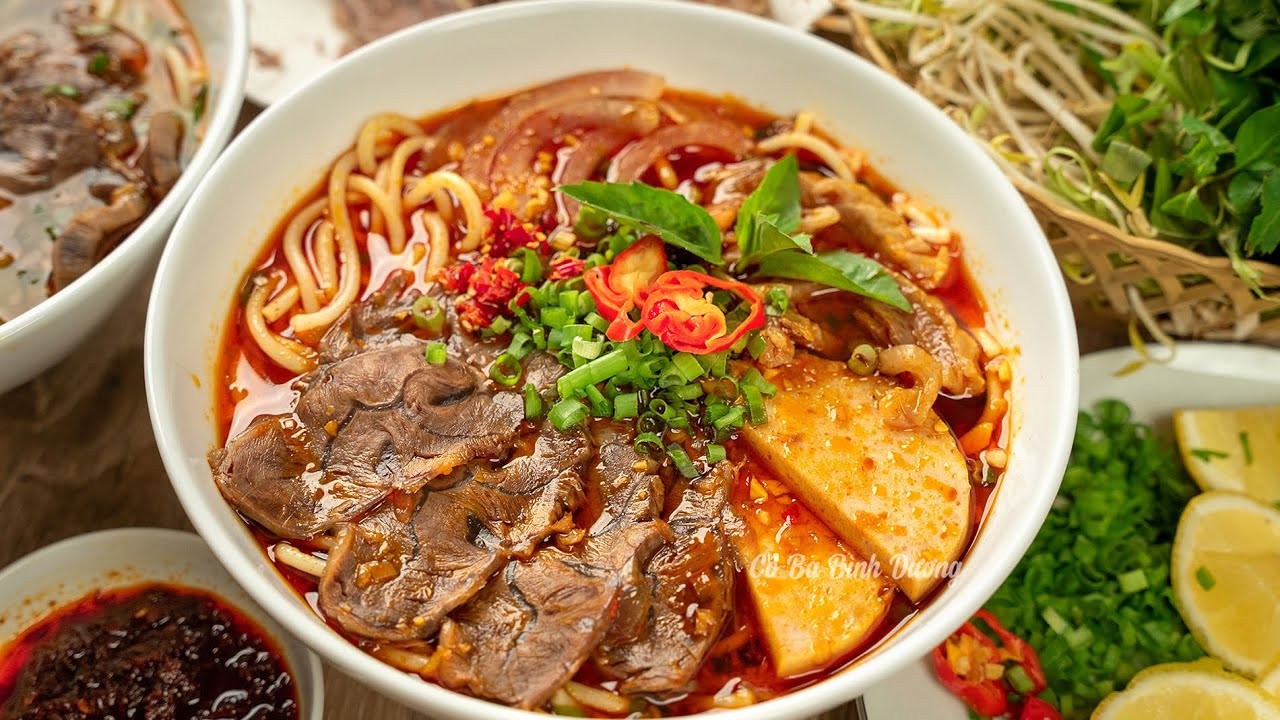 Photo: Co Ba Binh Duong
When you travel to Hue, the first food you try will be a hot bowl of Hue beef noodle soup (Bun bo Hue). This dish is not only popular in the region, but also a delicious dish around Vietnam.
Hue was an old capital in central of Vietnam has the cooking style of the former royal cooking. Therefore, the dish is famous for its balance of spicy, sour, salty and sweet flavors. And the special flavor of Bun Bo Hue is that of bone, lemongrass and shrimp paste. Another, compared to Pho in the North or Bun Rieu in the South, the noodles are thicker and round shaped.
As for the toppings, expect congealed pig blood, beef or pork knuckles, beansprouts, lime wedges, cilantro, diced green onions, banana blossoms, mint and basil. You can also ramp up the spiciness by adding fresh chillies and fermented fish sauce to your bun bo hue.
2. Com Hen (Rice with mussel)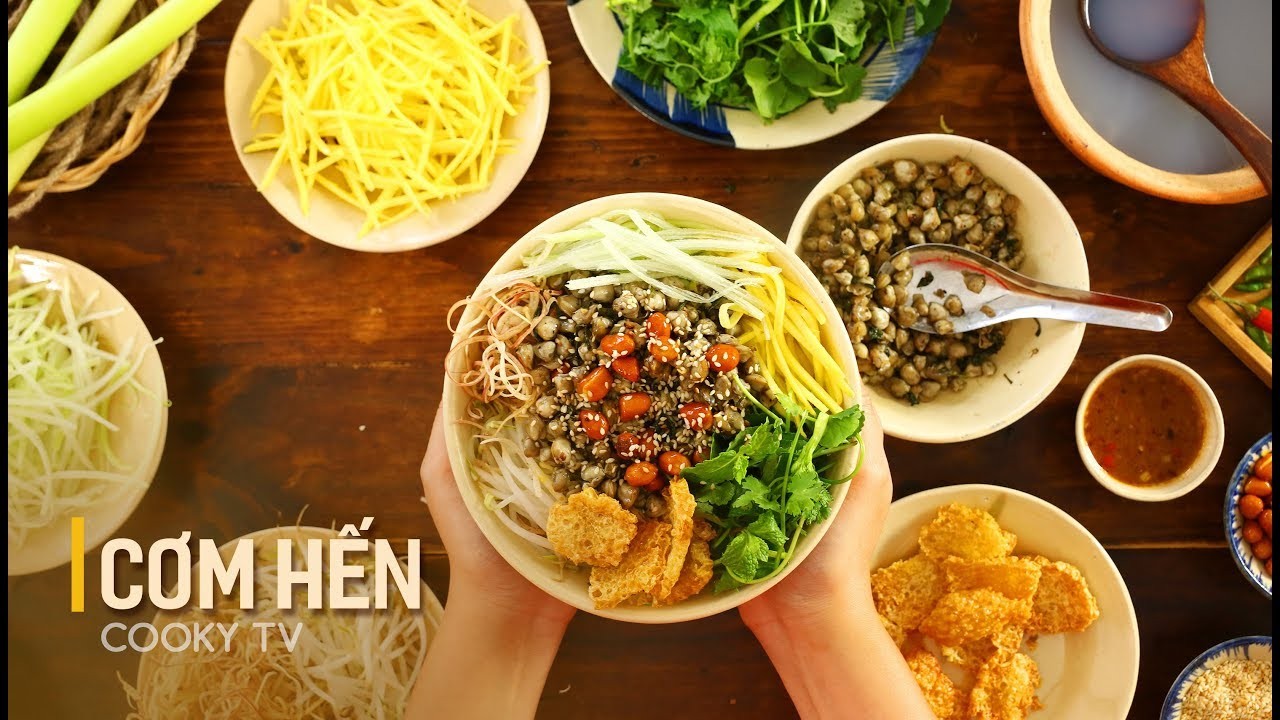 Photo: Cooky TV
Com Hen – The sweet soul of Hue cuisine, is one of the famous dishes that you cannot miss. From luxurious restaurants to street vendors, Com Hen always has a special place in everyone's heart in Hue and tourists from all over Vietnam.
Com hen is a rice dish with rural ingredients like baby mussels (hen) and fresh herbs combined through a sophisticated process. The mussels are boiled to create the broth adding sweetness and depth to the rice.
According to locals, the tastiest baby mussels are found in the Perfume River section of Con Village, Vi Da Ward. "Briefly boiled baby mussels are delivered to me at around 4.30 a.m. However, they still contain sand and dirt at this point and require a thorough wash before being seasoned and sautéed," said the owner of a local com hen eatery.
Another crucial ingredient is fresh herbs including mint leaves, fine banana blossom shavings, starfruit slices, and pennywort. Preparation commences at 8 p.m. the previous night. Correct timing prevents sogginess and preserves herbal flavoring. Prior to each serving, the chef spends 3-4 hours cutting, washing, and drying the herbs.
Com Hen is common in all places in Hue and nowadays. Extra favorably, it's a low-priced specialy, you coud eat it in luxurious restaurants in Hue city and even in pavement.
3. Banh Beo (Hue Steamed Rice Cake)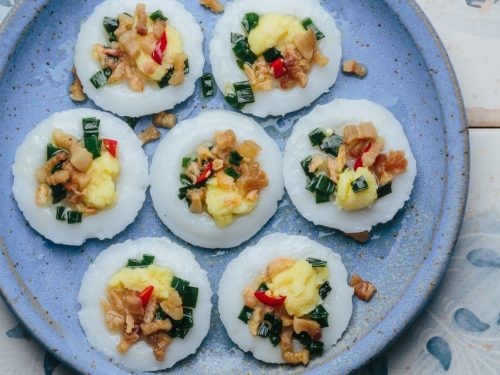 Photo: Beyond Sweet and Savory
These delicious Vietnamese steamed rice cakes (Banh Beo) are topped with velvety mung bean, prawn floss, fried pork fat, and a drizzle of scallion oil for the perfect combination of flavor and texture.
This is one of the lesser known (but equally delicious) specialties of Hue. On top of the rice cake is a shrimp paste and crispy shallots. The texture may throw you off at first, seeing as it is pretty mushy and soft, but after a few bites you will learn to embrace it. Simply pour some of the fish sauce and chili peppers (if you like spicy) on top of the rice cake, and scoop it out with a spoon.
Accompanied with a side of nuoc mam (fermented fish) dipping sauce and red chillies, there are two variations of this local delicacy – Banh Beo chen is prepared in a coin-sized ceramic saucer (you can get five or six for about VND 30,000 at sit-down restaurants) while the larger banh beo dia is eaten as a main dish.
4. Nem Lui (Hue Lemongrass Skewers)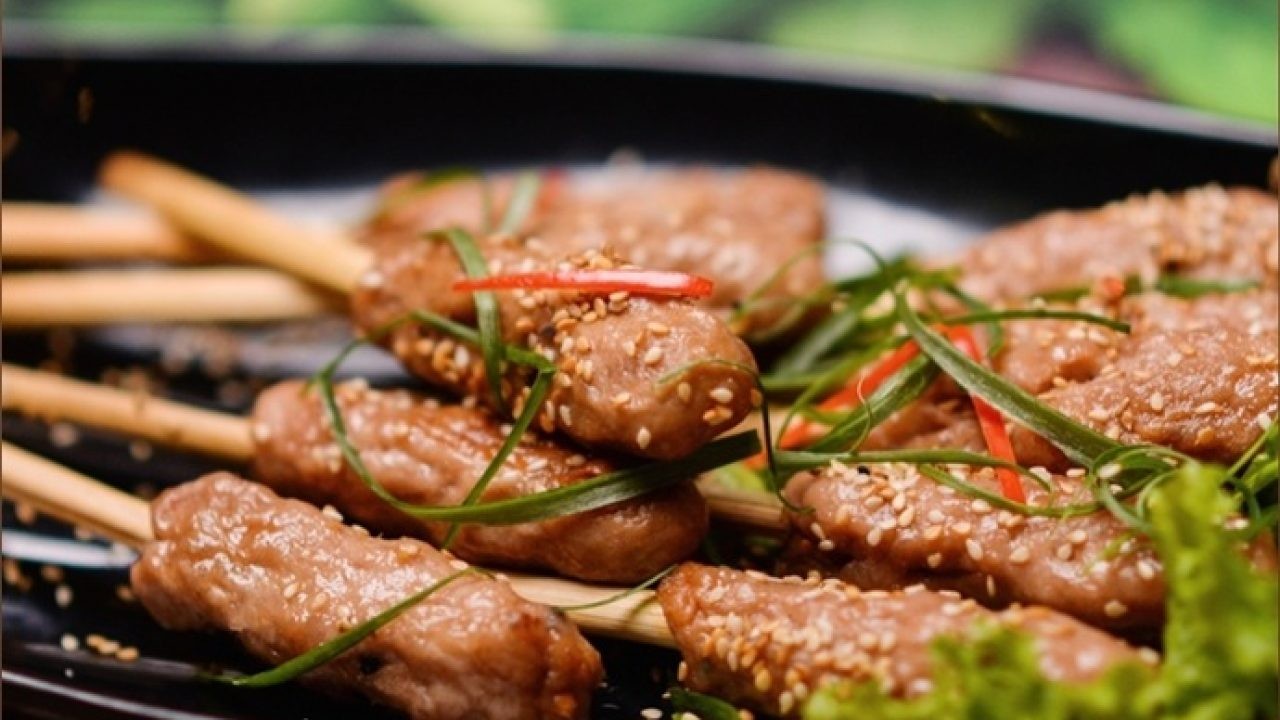 Photo: Vina.com
Nem lui Hue is made with grilled pork sausage or meatball, and is also a popular Vietnamese food that charms many tourists. This dish can be served as snack from afternoon till night, or as a main course. Nem lui is a specialty of Hue, and you can find it anywhere, from restaurants to street vendors. One bite and you will fall in love with it.
These Vietnamese beef and pork skewers are shaped around stalks of lemongrass and cooked on a chargrill, which releases a smoky aroma that flavours the meat beautifully.
Diners are also served with a side of rice paper, lettuce and cucumber slices, rice vermicelli, and fresh herbs. It's available as an appetiser at just about all local restaurants and hotels in Hue. For added flavour, dip nem lui into a local sauce made with ground peanuts, fermented beans, sesame seeds, shrimp paste, chopped garlic, chillies and shallots.
Methods to make the best Nem Lui:
1. Combine the sausage ingredients in a mixing bowl. Knead for 5 minutes, or until all the ingredients have combined together well. Cover and refrigerate for 1 hour to allow the flavour to develop.
2. With wet hands, divide the meat mixture into 12 portions, then roll each portion into a sausage shape.
3. Thread each sausage onto a lemongrass stem and brush with a little oil.
4. Heat a barbecue grill or chargrill pan to medium–high. Cook the skewers for about 6 minutes, turning every few minutes, until cooked through.
5. Remove the meat from the lemongrass skewers and distribute two portions per baguette. Spread 2 teaspoons each of chili sauce and hoisin sauce into each baguette. Add a coriander stalk, some chili and serve.
5. Mam Tom Chua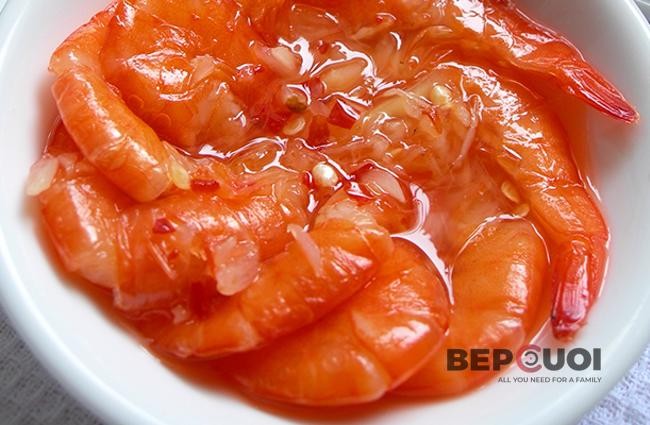 Photo: bepcuoi
Sour shrimp sauce (mam tom chua) is a well-known speciality of Hue, the country's former imperial capital. To make it, fresh medium-sized shrimps are cooked until they turn bright red and mixed with other ingredients to create a thick sauce.
With its fusion of the sweet, rich taste of shrimp, pungent spiciness of chillies and galangal, and sourness from fermentation, the sauce is used in daily food along with white rice and slices of boiled pork.
It is also an essential part of a unique Hue treat, the wet-cake roll with sour shrimp sauce, which is frequently sold on streets in the afternoon.
Best time to visit Hue
Dry season
There are two seasons in Hue including dry and wet ones. The dry season stretches from February to August. During the dry season, the humidity stays low making the weather very comfortable and pleasant. In the period from May to August, the temperature turns a little bit higher but tourists can experience clear blue skies in exchange for that.
In the wet season, the weather cools down because of frequent small rains resulting in some inconvenience in visiting activities. However, people said that a tiny rain makes Hue's scenery beautiful and picturesque.
Hue Festival
Hue Festival is an international event organized every two years. The first festival was held in 1992 with the name of "Vietnam – French Festival" which was changed into "Hue Festival" in 2000.
Reasons to travel to Hue, Vietnam:
1. Hue is the ancient capital of Vietnam and home to more historical sites than any other places within the country. The city was first settled by the Cham people, visited by the Dutch and Portuguese, and colonized by the French, it was the city's time under Mandarin rule that shaped present-day Hue. The last imperial family, the Nguyen, ruled under French protection from 1802 to 1945, until the Japanese occupation during World War II. In addition to being the political center, it was the country's cultural and religious heart.
2. Hue is a favorite holiday destination among travelers who prefer a peaceful hideaway as it is less touristy compared to other cities in Vietnam such as Hanoi and Ho Chi Minh City. Even during the peak holiday time, Hue still has a very laid-back vibe. Besides the Purple Forbidden City main buildings, you can peacefully stroll through its hidden corners and courtyards.
3. Vietnamese food varies a lot by region and by the cities. Central Vietnamese cooking is much different from Northern and Southern Vietnam, especially Hue with its own unique foods, which has made it stand out in the country cuisine map and make Hue worth visiting.