Hue beef vermicelli (Bún bò Huế)
When it comes to Hue cuisine, it is impossible not to mention the famous Hue beef vermicelli, which is praised by many domestic and foreign diners as one of the must-try specialties here.
A bowl of Hue beef vermicelli includes ingredients such as vermicelli, beef, pork blood, crab cakes, and rich broth. Noodles are made from rice flour mixed with filtered flour in different proportions, making the vermicelli both soft and chewy.
In addition to bringing a delicious taste, this dish also attracts customers with its attractive colors, from the orange color of cashew oil to the brown color of beef and pig's blood, and the white color of bean sprouts.
The beef is carefully selected, and fresh and is mainly the fore calves, beef encrustation, or bright red flesh. In addition, it is indispensable that crab cakes are made from pureed crab meat which gives the dish a naturally sweet and fatty taste.
The broth is considered the soul of this dish. It is simmered directly from beef bones, so it has a rich sweet taste. In addition, the cook also adds a little fish sauce and lemongrass to give the broth an attractive aroma.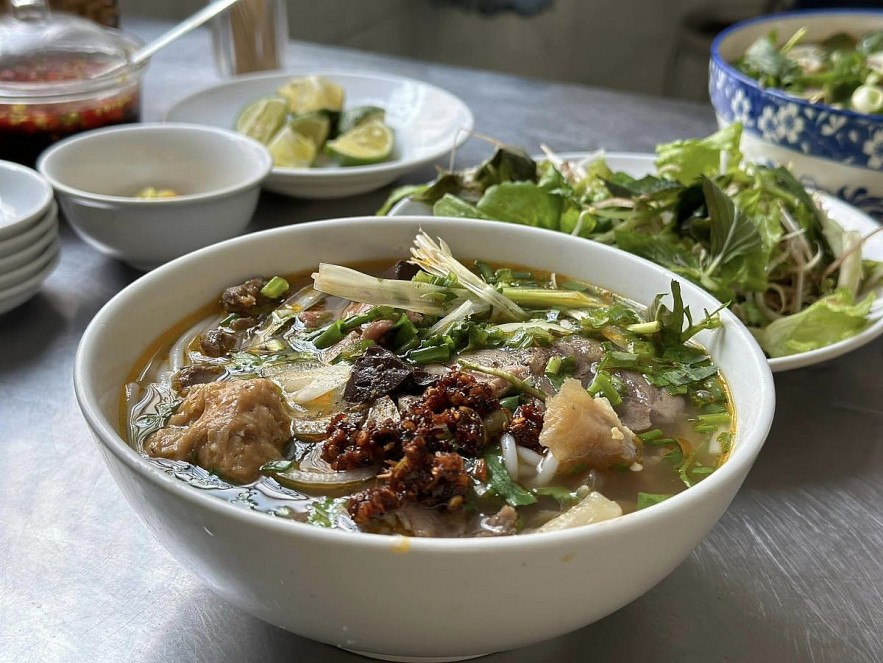 Photo: Vietnamnet.vn
Mussels rice (Cơm hến)
It is not a delicacy, nor a sophisticated specialty, but for many years, mussel rice has attracted many diners to Hue. According to local people, the delicious Hue mussel rice must be made from the burnt yellow mussels of the Con Hen area. Then soak the mussels with water for a few days to let them release the mud inside.
Next, people soak mussels in dilute rice water to choose the largest mussels to put in the mixed ginseng water. This way the mussel juice becomes clear and tasty.
To make a delicious bowl of mussel rice, the chefs must prepare Con Hen mussels, lard, sesame, peanuts, spinach, herbs, mint, cilantro, star fruit, bananas, and rice. Diners will feel the cool taste of fried mussels with a little spicy, pangolin of marinated spices.
Photo: Vietnamnet.vn
Rice dumpling cake (Bánh bột lọc)
Rice dumpling cake is available in many places, but only when visitors eat in Hue can they fully feel the delicious and unique flavor of this delicacy.
The main ingredients to make this dish are shrimp and pork. The shell is made from tapioca starch. The filling is cooked shrimp and meat. After the filling is put into the shell, it will be wrapped in banana leaves and steamed. This delicacy is transparent, the dough does not stick or settle on the leaves. Diners can feel the toughness and softness of tapioca starch and the rich taste of meat and shrimp fillings.
The dipping sauce is also an important factor to enhance the flavor of the dish. The Hue people have their own strange dipping sauce recipes, so even though they use familiar ingredients such as fish sauce, sugar, filtered water, minced garlic, and chili, they still create a delicious distinct flavor.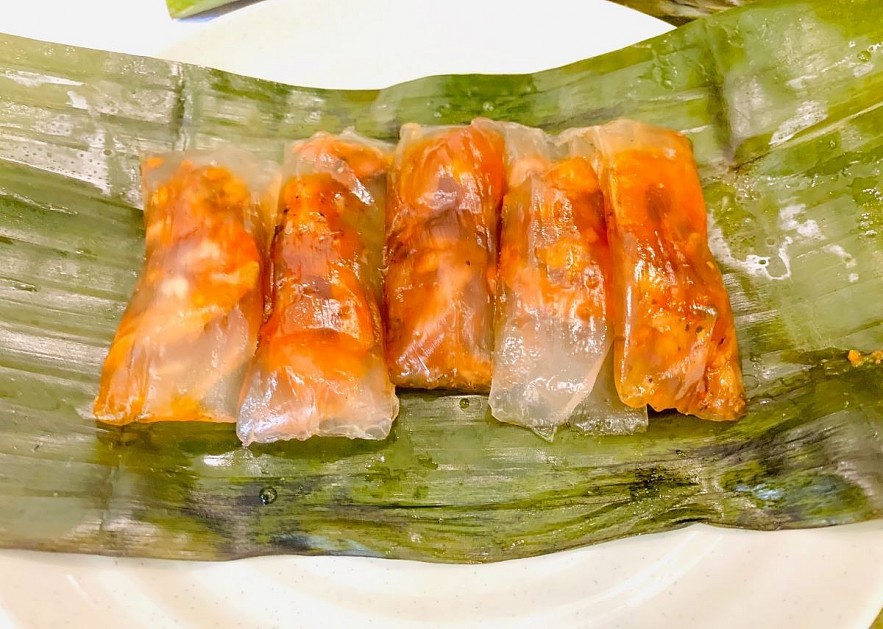 Photo: Vietnamnet.vn
Sweet soup with grilled pork (Chè bột lọc heo quay)
Hue is also considered one of the "capitals" of unique sweet soups. There are one-of-a-kind dishes. One of them is a sweet soup with grilled pork. This dish is actually just roasted pork balls wrapped in dough. The shell is made from filtered flour and the filling is roasted pork. Although it is made from two rustic ingredients, it requires a lot of skill. Customers will feel the chewy, crunchy taste of the filter powder mixed with the salty, greasy meat and a little sweet sugar water.
When the customer orders, the seller scoops the filtered powder into a bowl or cup and then adds sugar water. Many people who like spicy food will add a few slices of ginger and sprinkle roasted sesame on top. Others like to enjoy this dish with ice.
Each cup costs from VND 10,000 (USD 0.427) – VND 15,000 (USD 0,640) with 4-5 pieces of filter powder. It is not too much but just enough for diners to ẹnoy this delicacy.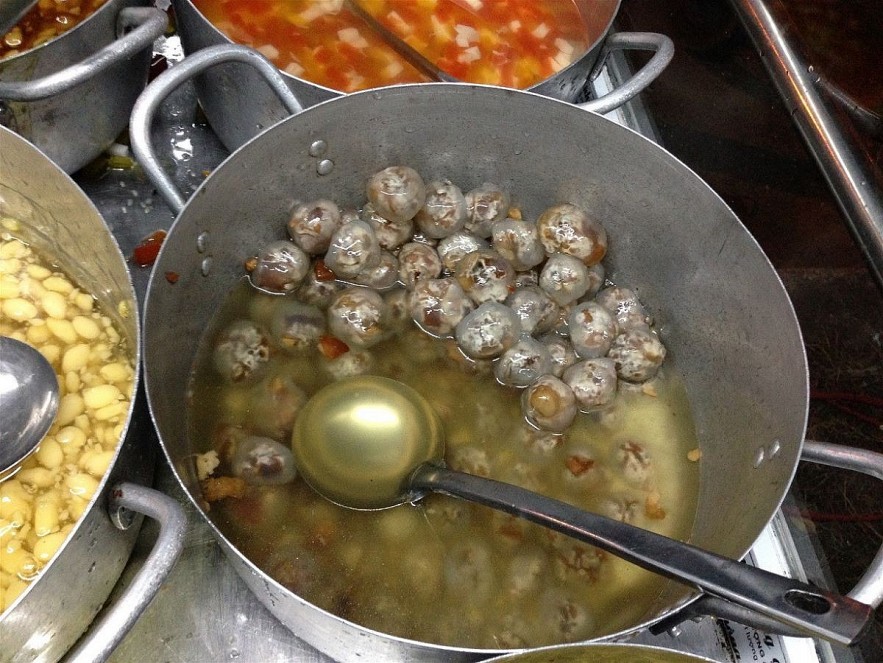 Photo: Vietnamnet.vn
Salted Coffee (Cà phê muối)
Salted coffee is a very special drink with the typical flavor of the ancient capital of Hue. This drink was created more than 10 years ago but still has a strong attraction for many generations of locals and tourists from all over the world. A cup of salted coffee has a layer of condensed milk underneath, fermented milk, and salt. At the top is the coffee filter.
When the coffee drips down, it will dissolve into the ingredients below, causing the color of the drink to slowly change. After the coffee runs out, about 3-4 minutes, diners just need to stir well and enjoy. In Hue, salted coffee is sold for VND 15,000 (USD 0,640)/cup, diners can enjoy it hot or cold, at any time of the day.
Those who are not used to it will find salted coffee a bit difficult to drink because of the strange mixture of salty, sweet, and bitter flavors. The ingredients seem to be unrelated, but when combined, they create a delicious and rich drink. Salt plays a neutralizing role, bringing out the sweetness of milk and controlling the bitterness of roasted coffee.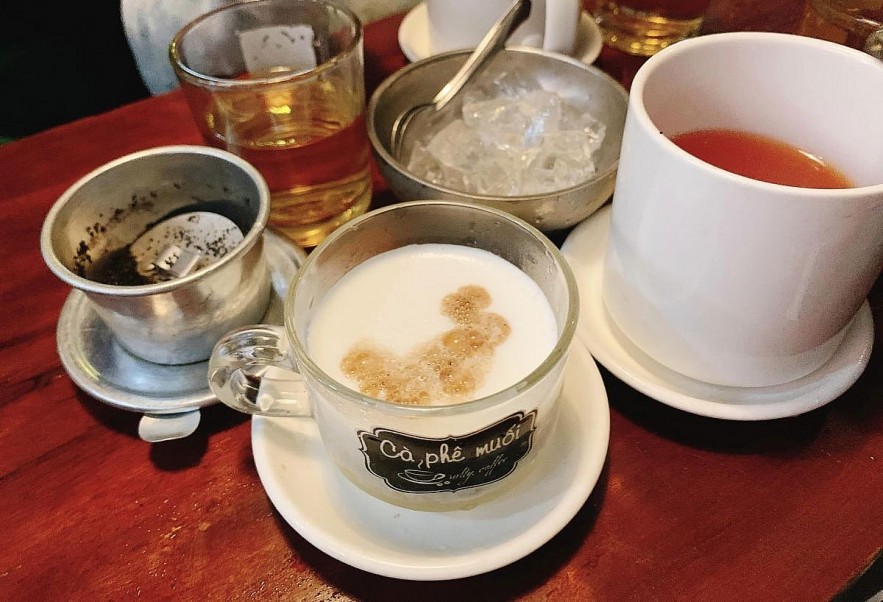 Photo: Vietnamnet.vn