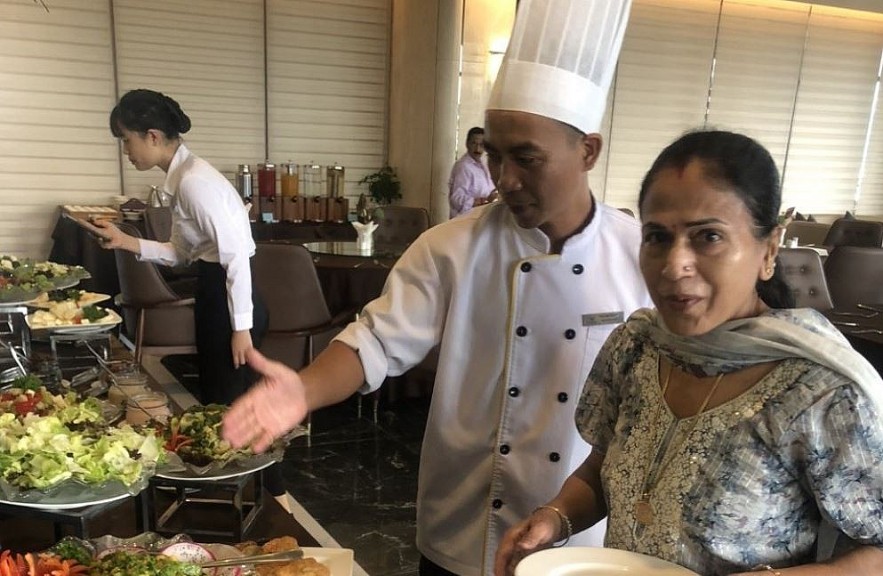 Photo: Bao Quang Ninh
Great potential ahead
According to the Global Muslim Travel Index, the Halal tourism market has significant potential due to the 23% Muslim population. The number of international Muslim tourists is projected to increase from 108 million in 2013 to 160 million in 2019 (pre-Covid-19 pandemic). By 2030, it is estimated that tourism spending from the Halal market will reach USD 341.1 billion per year. Recognizing this potential, countries such as Japan, South Korea, Thailand, Singapore, and the UK have been actively attracting Muslim tourists and considering it as a market for tourism restoration and development.
According to the Vietnam National Tourism Administration, the Halal tourism market is concentrated in Southeast Asia, South Asia, and the South Pacific, particularly in countries with a high percentage of Muslim population such as Saudi Arabia, United Arab Emirates (UAE), India, Indonesia, Malaysia, and Turkey. For several years now, the number of tourists from Muslim countries visiting Vietnam has significantly increased. Indian tourists alone experienced a 240% growth in September 2023 compared to the same period last year. Visitors from Southeast Asian countries like Singapore and Indonesia have also shown an increase.
Ha Van Sieu, Deputy Director of the Vietnam National Tourism Administration, has emphasized that the Halal market presents promising opportunities for Vietnam's tourism sector and serves as a "golden chance" to drive momentum for the entire industry.
Acknowledging the potential of the Halal market, Vietnam has been conducting numerous tourism investment promotion conferences in the Middle East and South Asia since 2022. Various workshops on Halal tourism are being organized in different localities to provide effective and sustainable solutions for attracting Muslim tourists. Provinces such as Quang Ninh, Da Nang, Quang Nam, and Kien Giang have developed plans to welcome Muslim visitors from potential countries like India, Malaysia, and Singapore.
Professional preparation needed
Despite the deployment of many projects, Vietnam still faces limitations in attracting Muslim tourists, including a lack of understanding about their customs and the absence of facilities and services to cater to their needs. Nhu Thi Ngan, General Director of Hanoi Tourism Investment Joint Stock Company (Hanoi Tourism), points out that Vietnam lacks connection and cooperation with Halal organizations and businesses. Moreover, most of the country's products and services, including cuisine, do not have Halal certification.
To effectively tap into this potential market, Sunny Ghaiee, Deputy Managing Director of Hanoi Daewoo Hotel, suggests that Vietnamese localities should organize training programs on services for restaurants and accommodation establishments. This will provide them with the necessary knowledge and skills to serve Muslim customers.
Nguyen Trung Khanh, Director of the Vietnam National Tourism Administration, stresses the importance of not only continuing to attract tourists from Malaysia, Indonesia, Singapore, and India but also focusing on the Middle East region, which is home to many Muslim countries and high-spending tourists. Khanh recommends the construction of prayer rooms in public areas, restaurants, hotels, and entertainment locations.
Hanoi can also benefit from the Halal tourism market as there has been a significant increase in the number of Indian, Malaysian, and Singaporean tourists visiting the capital. Dang Huong Giang, Director of the Hanoi Department of Tourism, has announced that many hotels and restaurants in Hanoi have recently introduced Halal menus for Muslim guests. The Department is also providing guidance to tourism establishments on developing services, training staff, and investing in advertising activities to attract Muslim customers.