Cat Ba, known as the "Pearl of Tonkin," offers a picturesque combination of sea, islands, and mountains.
Located just 30 km from Hai Phong city, Cat Ba island boasts of its vast greenery and numerous hidden wonders.
Travelling from Hanoi to Cat Ba has become incredibly convenient and fast since the inception of the Tan Vu sea bridge in 2017. This bridge connects the Ha Noi-Hai Phong Expressing with Lach Huyen international sea port in Hai Phong.
Upon reaching Cat Ba island, tourists can board a ferry at Got port and travel approximately 20km to their destination. Cat Ba island is most bustling during weekends, as visitors enjoy recreational activities like sunbathing and swimming.
A tourist from Hanoi, Nguyen Thi Huyen, expressed her delight on her first visit to Cat Ba island. She stated, "Cat Ba's landscape is simply breathtaking. The island has managed to preserve its natural beauty, and the locals are exceptionally friendly and welcoming."
Cat Ba's pleasant and refreshing climate makes it an ideal destination for resort tourism. The island attracts both Vietnamese and foreign tourists, who indulge in activities like swimming and sunbathing on its pristine sandy beaches, along with scuba diving and kayaking. Additionally, tourists can embark on boat rides to explore the neighboring islands and caves in Lan Ha bay.
Thomas, a tourist from the Netherlands, commented, "Cat Ba is a peaceful haven. We plan to visit again with our family. The tranquility and the close connection to nature are truly unique, unlike anything we have experienced in Europe. The presence of mountains on an island is an enchanting sight."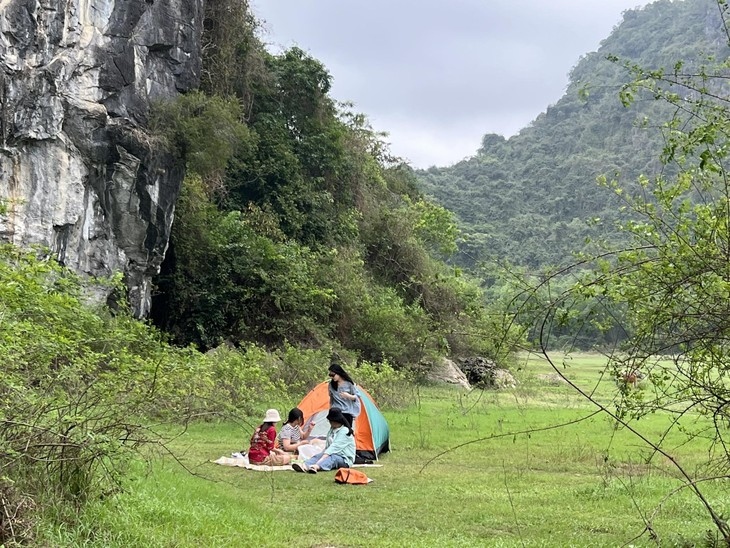 Cat Ba National Park serves as an intriguing stop on the journey to explore Cat Ba island. Visitors can choose to hike, ride a motorbike, or take an electric car to reach the park, which is located 14 km northeast of Cat Ba town. The park is home to various archaeological relics from the Neolithic period, as well as remnants of the Ha Long culture and ancient Vietnamese traces.
The park houses dense forests, deep ravines, extraordinary peaks, caves, and pillar-like rock formations.
Recognized as one of the world's biosphere reserves and a special-use forest, Cat Ba National Park showcases the richest biodiversity in Vietnam.
In addition, the marine area of the national park contains numerous coral reefs and hundreds of species of sponges, mollusks, and sea and river fish.
With over 4,000 species of animals and plants, including 150 species listed in the Vietnam Red Book, Cat Ba National Park provides tourists with opportunities to camp and take forest treks.
Dominik, a German tourist, expressed his admiration, saying, "This is my first time here. Cat Ba is a gorgeous island with stunning seascape. If given the chance, I will definitely return."
Cat Ba archipelago was honored with the title of World Biosphere Reserve by UNESCO in 2004. In September, UNESCO will consider Vietnam's application to register Cat Ba archipelago as a world natural heritage site. This recognition will play a vital role in preserving and enhancing Cat Ba's endemic biodiversity for future generations to witness and cherish.