Experience the beauty of the world's most affordable travel destinations. Don't miss out on the opportunity to explore these breathtaking yet budget-friendly tropical getaways that are guaranteed to leave you with a smile on your face. Discover more about the cheapest places to travel by clicking here.
For those seeking a more domestic adventure, there are plenty of affordable destinations to explore within the United States. However, for those with a craving for a distant beach and a willingness to embark on a plane journey, these incredible spots are sure to exceed expectations. By comparing various deals and reserving accommodations ahead of time, one can also secure budget-friendly plane tickets and lodging options, as advised by The Travel.
Vietnam boasts an abundance of breathtaking beaches, making it a prime destination in Southeast Asia for beach lovers.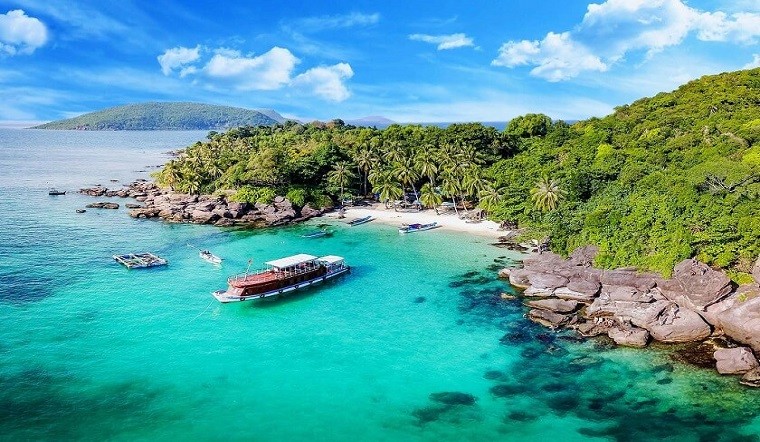 Photo: Vinpearl
This vibrant country boasts stunning coastal landscapes and a lively tropical atmosphere. Moreover, it offers affordable prices for those seeking a tropical getaway, allowing visitors to explore numerous attractions and experiences in a compact time frame.
Phu Quoc is the largest island in South Vietnam, located in the Gulf of Thailand. It is renowned for its stunning beauty and is surrounded by the captivating Tho Chu Archipelago and other charming neighboring islands, making it an extraordinary cluster of tourist destinations in Kien Giang Province.
Pearl Island is home to a stunning array of beaches that span from the North to the South. With ninety-nine mountains, majestic hills, and primeval forests boasting a diverse range of flora and fauna, Phu Quoc Island truly embodies a unique and breathtaking natural beauty. The dry season on the island begins in November and lasts until April, during which time visitors can bask in the warm sunshine and refreshing seawater, occasionally accompanied by gentle rainfall. This period is widely regarded as the perfect time to fully experience the wonders of Pearl Island.
The rainy season on Phu Quoc Island typically occurs from May to October, with the months of September and October experiencing the most prolonged and intense rainfall. If you plan to visit Phu Quoc Island during this period, it is advisable to explore destinations located in the northern part of the island such as Long Beach or Xep Beach in the south.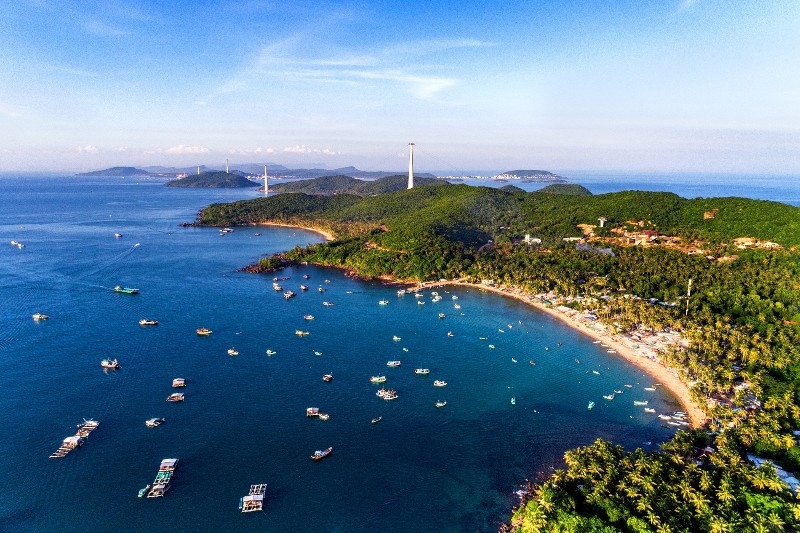 Photo: Vinpearl
Phu Quoc is renowned for its fish sauce, offering visitors the opportunity to embark on a captivating tour of a fish sauce factory to witness the intricate process of crafting this prized, fermented delicacy. For an authentic immersion in local culture, venture to a traditional fishing village such as Ham Hinh, allowing the chance to indulge in delectable, freshly-caught seafood at a charming floating restaurant.
Travelers who are interested in immersing themselves in local culture and history will find great enjoyment in visiting educational sites such as Cay Dua prison. Additionally, exploring temples like Cao Dai offers a fascinating opportunity to learn about a unique religion that combines elements from Christianity, Buddhism, Islam, Confucianism, Hinduism, Genie, and Taoism.
Phu Quoc, known as the "Pearl Island," is home to some of the most breathtaking beaches in Vietnam. Among its many beach gems, Ong Lang Beach, Starfish Beach, and Khem Beach stand out as exquisite coastal wonders.
Ong Lang Beach offers a tranquil atmosphere and soft, white sands, providing a serene escape for those seeking relaxation and rejuvenation.
Starfish Beach lives up to its name, captivating visitors with its vibrant marine life and the chance to observe starfish scattered along the shoreline. This secluded beach is a perfect destination for snorkeling and exploring the wonders of the underwater world.
Khem Beach is renowned for its pristine beauty, boasting crystal-clear turquoise waters and miles of powdery sand. It is a truly magnificent beach that will leave visitors in awe.
Exploring Phu Quoc Island with My Family
Traveling by plane is the most convenient and time-saving way to reach the beautiful island of Phu Quoc. With numerous big cities offering direct flights to Phu Quoc, flying ensures a seamless and efficient journey. Upon arrival at Phu Quoc airport, it only takes approximately 20 minutes by car to reach the bustling center of Duong Dong Town.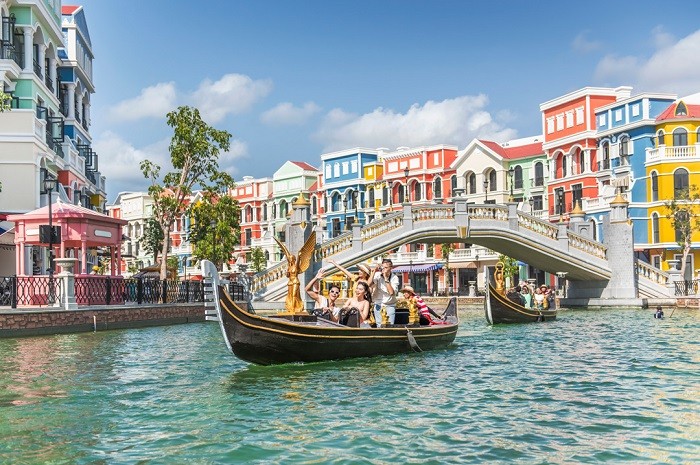 Photo: Vinpearl
The high-speed ferry option is a cost-effective means of transportation. It is recommended for those with a limited budget. However, it is important to adhere to the fixed departure schedule to avoid any delays. Failure to board on time may result in a wait for the next ferry.