Top 7 Da Nang Luxury Resorts
InterContinental Danang Sun Peninsula Resort
The magnificent InterContinental Danang Sun Peninsula Resort features a private beach, two huge outdoor swimming pools, and a spa. The hotel is 45 minutes from Danang Airport and 30 minutes from the Marble Mountains (Ngu Hanh Son).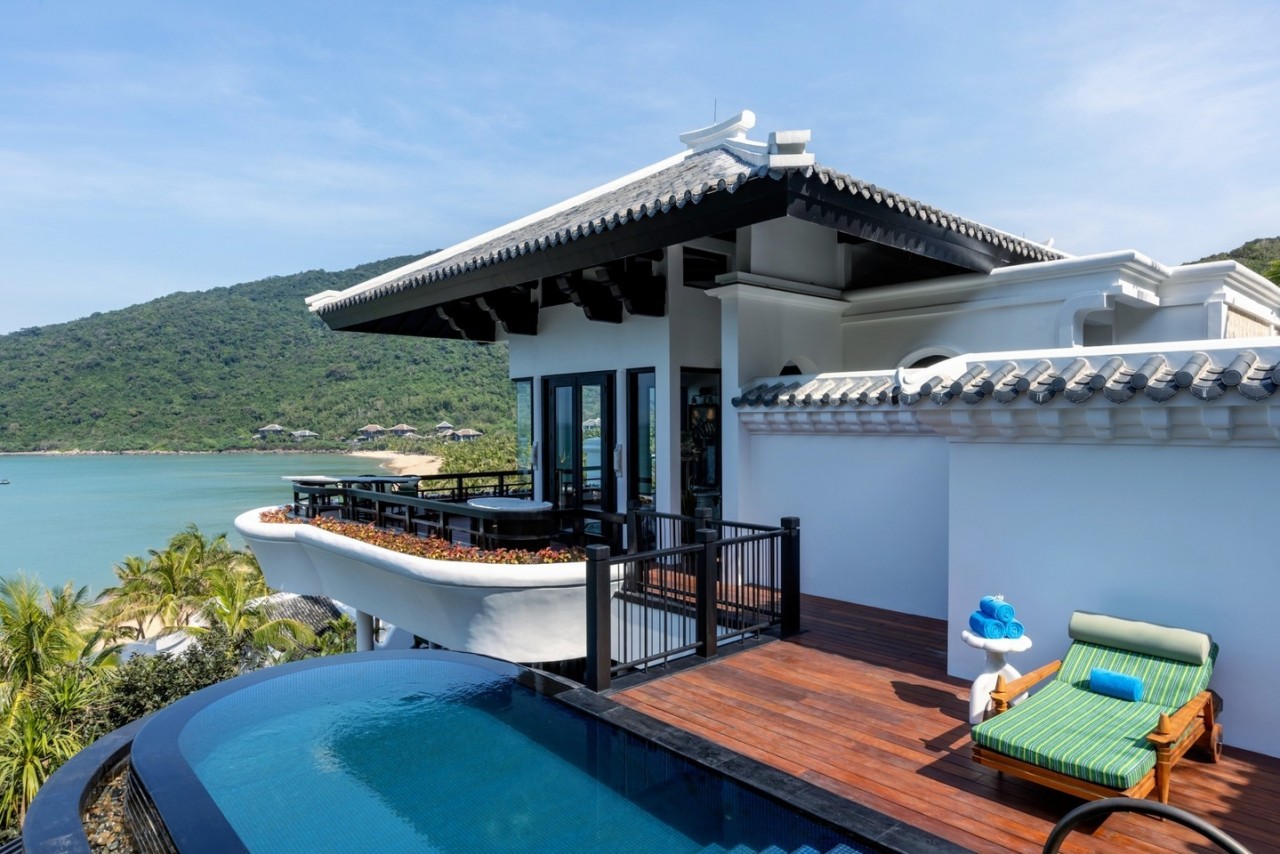 Photo: intercontinentaldanang/Instagram
The resort offers breathtaking views of the ocean. All of the rooms are tastefully designed and have individual balconies. The beachfront villas at the resort are located among beautiful boulders at the foot of the mountain and have private pools, a sundeck, and exquisite bathroom facilities. Select accommodations feature a spa bath and a private dining pavilion with spectacular ocean views.
Cycling, yoga, and hiking are among the various recreational activities available at the resort. Alternatively, customers can visit the spa and get pampered with massages and body treatments.
Photo: intercontinentaldanang/Instagram
Citron Restaurant serves authentic Vietnamese delicacies in private booths 100 meters above sea level. Visit Barefoot for a casual seaside dining experience and savor great grilled meats and fresh seafood combined with beverages and wines. Vintage champagne and premium hand-rolled cigars are available at Buffalo Bar.
Address: Bai Bac, SonTra Peninsula.
Telephone: 0236 3938 888
Price range: From VND12.000.000 (US$503,78)
Pullman Danang Beach Resort
The Pullman Danang Beach Resort is a popular choice for business travelers. The house is in a fantastic location, immediately in front of Danang Beach, and it's also only 10 minutes from downtown and the airport. This makes it a perfect location for individuals who are unfamiliar with Da Nang and are looking for convenient lodging.
Pullman Danang Beach Resorts has been named one of the top hotels in the World Luxury Hotel Awards, ensuring the highest level of luxury and relaxation. They provide a variety of lodging options, including suites, family rooms, and cottages.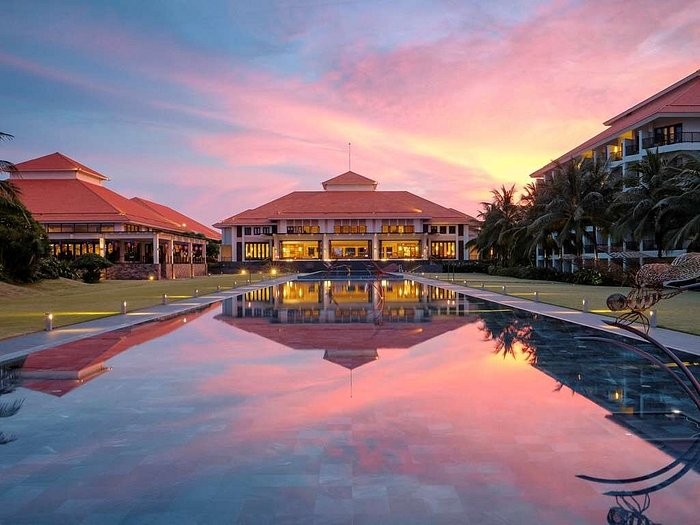 Photo: TripAdvisor
There are three restaurants on-site at Pullman Danang: Epice, which serves local specialties and gourmet Vietnamese cuisine, Azure Beach Lounge for casual eating, chilled cocktails, and beach BBQs, and Infinity Bar, which offers beautiful fine dining.
Address: 101 Vo Nguyen Giap Street, Ngu Hanh Son
Telephone: 0236 3958 888
Price range: From VND4.500.000 (US$188,92)
Naman Retreat Resort
Naman Retreat welcomes guests with an outdoor swimming pool and a private beach area. The peaceful getaway is situated in Da Nang only 4.2 km from Non Nuoc Hamlet and Non Nuoc Beach. The majestic Ngu Hanh Son Mountain is about 5 km away while Phu Bai Airport is located 79 km away.
Naman Retreat offers spacious rooms and villas. Each is fitted with air conditioning and a flat-screen TV. Some villas feature a separate living area and a private pool. Elegant en suite bathrooms feature a bathtub and plush bathrobes.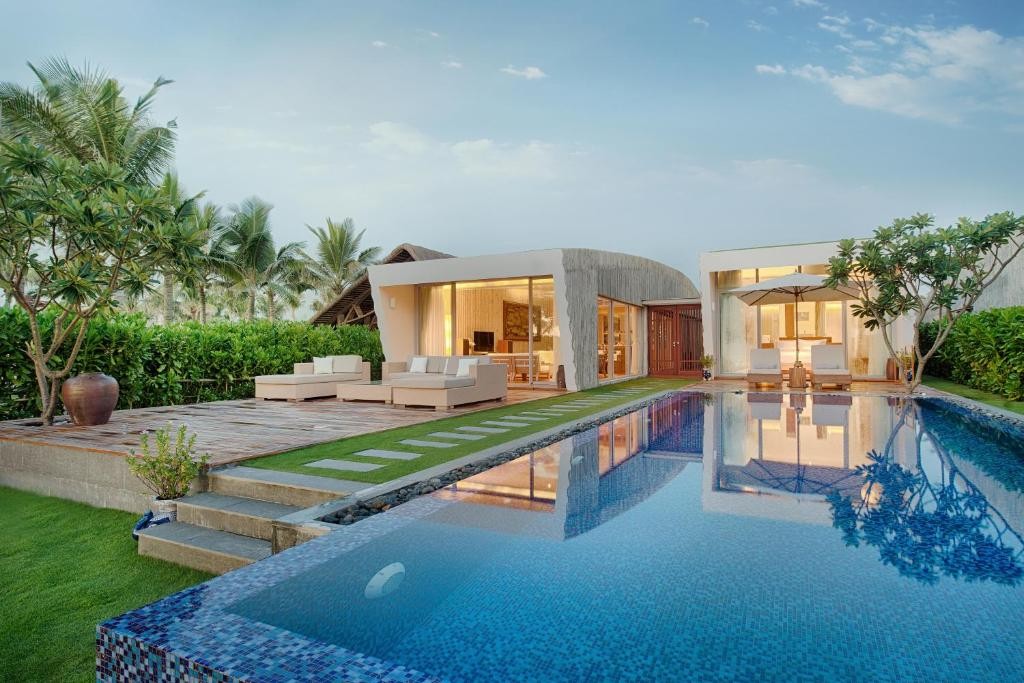 Photo: Booking.com
Private yoga and Reiki (healing therapy) are also available. Other amenities include a fitness center, barbeque facilities, and an outdoor terrace. Guests can also enjoy several activities at Naman Retreat like cooking class, lantern making, and kite making.
An array of local and international cuisines will be served at Naman Retreat Restaurant. Particularly, friendly English-speaking staff at the 24-hour front desk can arrange for airport transfers and shuttle services. The property offers a welcome drink upon arrival and complimentary daily bus tours to Danang City and Hoi An Ancient Town.
Address: Truong Sa Road, Ngu Hanh Son
Telephone: 236 3959 888
Price range: From VND4.000.000 (US$167,93)
TIA Wellness Resort
TIA Wellness Resort, located on the picturesque My Khe Beach, provides comprehensive spa service in the most extensive spa facilities in Central Vietnam, complete with steam baths and sauna amenities. The TIA Wellness Resort is located 15 minutes from Hoi An Town and the Da Nang International Airport. It is conveniently located near sights such as the Thu Bon River, Marble Mountain, and the Japanese Bridge.
This beachside resort in Da Nang offers 5-star villa accommodations as well as an outdoor pool with a waterfall. Each modern Vietnamese-style villa boasts vast layouts and an open-plan living area, as well as private courtyards with magnificent sunset views.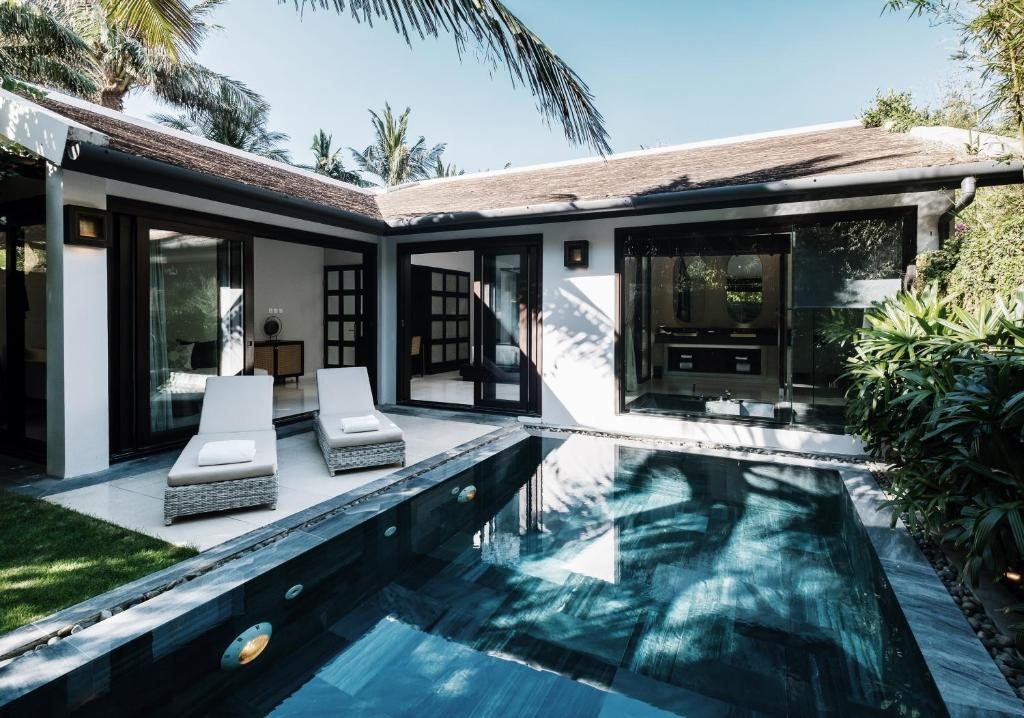 Photo: Booking.com
Bathrooms are spacious, with huge windows and separate bath and rain shower facilities. Guests are welcome to swim in the villa's private pool.
Breakfast is available all day on the beach or in the spa area. Five restaurant features Pan-Asian cuisine, while Fresh serves seafood poolside. Besides, Tonic Lounge provides light refreshments.
Address: Vo Nguyen Giap, Khue My, Ngu Hanh Son
Telephone: 0236 3967 999
Price range: From VND10.000.000 (US$419,82)
Vinpearl Da Nang Resort & Villas
Vinpearl Da Nang Resort & Villas, located within a 15-minute drive from Da Nang International Airport, is unquestionably exquisite. You will be taken on a voyage through Da Nang's center city, a city of the young, vibrant, and ever-growing.
Vinpearl Da Nang Resort & Villas is the ideal holiday destination for you, located in the prime location of Non-Nuoc beach and overlooking the enormous ocean, with its back resting on the spectacular Marble Mountain range. Its ideal position also allows you to explore several famous UNESCO World Heritage sites, including My Son Sanctuary, Hoi An's old neighborhood, and Hue Citadel.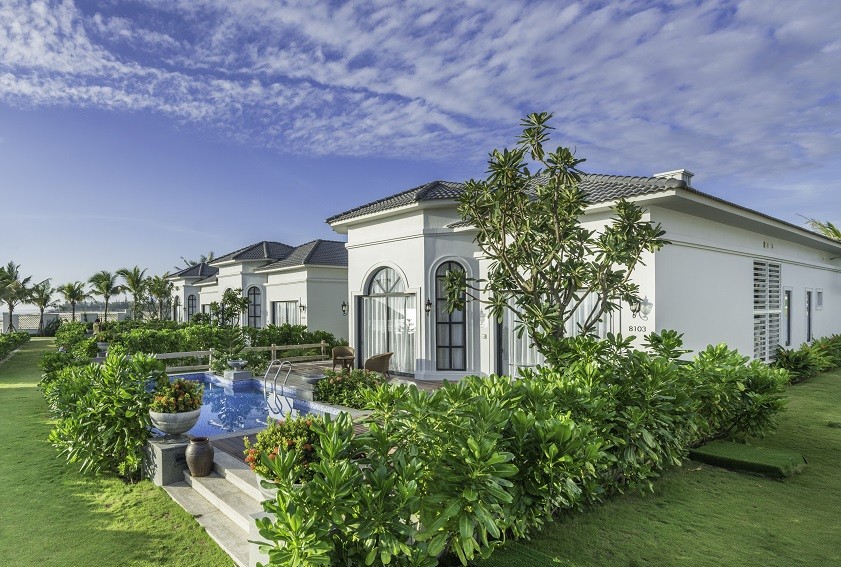 Photo: Kien Nguyen/Vinpearl
This luxuriant hotel has 200 luxury rooms with services that justify its 5+ star rating. Danang Marriott Resort & Spa offers magnificent rooms by the unspoiled sands of Non-Nuoc Beach, with the Marble Mountains as a backdrop. It has five outdoor swimming pools, a full-service spa, and workout facilities.
Spacious rooms with modern décor include private balconies with spectacular sea or pool views and outdoor seats. Afternoons can be spent relaxing on the secluded beachfront or snorkeling in the pristine waters.
Goji Kitchen&Bar delivers hearty breakfast buffets and all-day eating, while Madame Son Restaurant specializes in Vietnamese cuisine. Light refreshments are available in the Great Room, the Writer's Bar, and the Non-Nuoc Bar.
Address: 23 Truong Sa, Hoa Hai, Ngu Hanh Son
Telephone: 0236 3966 888
Price range: From VND8.000.000 (US$335,85)
Furama Resort Danang
Furama Resort Danang is located on the island of Bac My An. It is about a 30-minute drive from Hoi An's ancient "Silk Road" commercial port and less than 2 hours from My Son Holy Land. This world-class resort, known as Vietnam's gastronomic resort, serves as a gateway to three World Heritage Sites: Hoi An, My Son, and Hue.
The 198 rooms and suites are decorated in a traditional Vietnamese style with a hint of French colonial architecture. This award-winning resort has extensive diving opportunities just off one of the world's most magnificent beaches, as well as a variety of other water sports.
Photo: Booking.com
The Furama provides luxurious beauty and spa treatments such as massage techniques and facials. Guests can unwind with steam baths and sauna treatments, or they can rest with a massage by the pool.
The resort's famous Café Indochine, Don Cipriani's Italian restaurant, The Fan beach-front steak house, Hai Van Lounge, open-air bars, and poolside restaurants make it a warm and intimate yet decidedly sophisticated drinking and dining destination.
Address: 105 Vo Nguyen Giap, Khue My, Ngu Hanh Son
Telephone: 0236 3847 333
Price range: From VND6.000.000 (US$251,891)
Premier Village Danang Resort
The resort is only 6 kilometers from Da Nang International Airport, 4.4 kilometers from the magnificent Marble Mountains, and 21 kilometers from the old village of Hoi An.
Premier Village Danang Resort Managed by Accor is a magnificent property set in the center of Da Nang, welcoming guests with an outdoor infinity pool and a private beach area.
The villas are huge and stylish, with a private pool and a large outdoor deck. It has living and eating areas, as well as a kitchenette and an oven. The marble bathrooms include a hairdryer and luxurious bathrobes.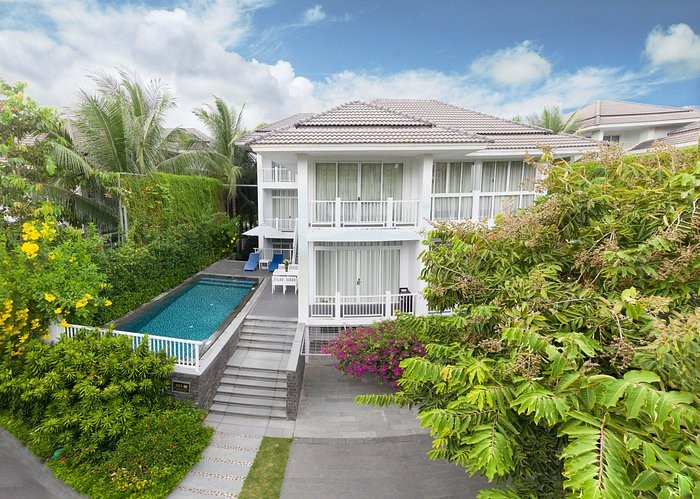 Photo: TripAdvisor
A business center, a mini-market, and a library are also available at Premier Village Danang Resort. A 24-hour reception desk, dry-cleaning services, and free bicycle rentals are also available.
Guests can choose between three distinct meal alternatives. Lemongrass Restaurant will offer a diverse selection of world cuisines. Nautical Beach Club, which has a rooftop expansion, serves a variety of wines and beverages.
Address: 99 Vo Nguyen Giap Street, Ngu Hanh Son
Telephone: 0236 3919 999
Price range: From VND8.000.000 (US$335,85)