German news website NTV has published an article highlighting the attractiveness of Vietnam to German businesses, as reported by VNA.
The article, published on September 14, emphasizes Vietnam's reputation in shoes, garment and textile, coffee, and pepper industries. It also highlights the country's ability to innovate and adopt new technologies, making it an appealing electronics manufacturing hub.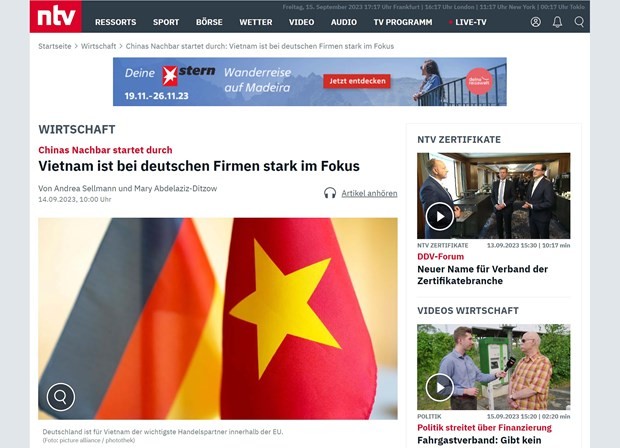 German news website NTV has published an article highlighting the attractiveness of the Southeast Asian country to German businesses. Photo: VNA
German goods and machinery, including automobiles and chemical products, are highly popular in Vietnam. Currently, there are about 350 German companies with offices and facilities in Vietnam. According to VNA, the two-way trade turnover between Vietnam and Germany reached EUR 18 billion (USD 19.2 billion) last year, with EUR 14.7 billion coming from Vietnam.
Ludwig Graf Westarp, the representative of the German Association for Small- and Medium-sized Businesses in Vietnam, highlighted the country's abundance of development opportunities and a vibrant market. Westarp also mentioned that Vietnam has invested significantly in infrastructure, renewable energy, and technology.
The article states that Vietnam's per capita Gross Domestic Product (GDP) has doubled in the past 10 years. With a young population and a stable political system, the Vietnamese economy remains optimistic despite the impacts of the Covid-19 pandemic.
In addition to its economic potential, Vietnam is also an attractive country for Germany in terms of geopolitics. Many countries, such as South Korea and Japan, have established production bases in Vietnam to benefit from its economic advantages. Given the increasingly volatile world order, Vietnam presents great potential for German businesses.
Chairwoman of the Bundestag's Parliamentary Friendship Group for Relations with ASEAN States Gabriele Katzmarek speaks at a working session between Vietnamese Ambassador to Germany Vu Quang Minh and Mayor of Bühl city Hubert Schnurr. Photo: VNA
The EU-Vietnam Free Trade Agreement (EVFTA) has been effective for three years and has resulted in positive trade outcomes between Vietnam and the EU, including Germany. Dr. Daniel Müller, Regional Manager for ASEAN at the German Asia-Pacific Business Association, stated that the trade between Vietnam and Germany reached EUR 64.3 billion (USD 70.26 billion) this year, with EUR 11.3 billion coming from Vietnam. The EVFTA, which eliminates tariffs gradually, is considered an important factor in establishing and expanding economic relations between Germany and Vietnam.
Dr. Müller mentioned that the EVFTA has made trade areas in Vietnam more reliable and has sparked interest from other ASEAN countries in similar agreements with the EU. The deal has been beneficial to both sides, with increased exports from Vietnam and import benefits for the EU and Germany.
Regarding cooperation between the two countries, Dr. Müller emphasized the potential for German companies to contribute to the automation, digitization, and productivity improvement of Vietnamese companies. He also suggested building a network of suppliers in Vietnam for German industrial production and collaborating on workforce development. However, he advised businesses to carefully understand each other's characteristics and business culture to avoid uncertainties and disappointment.