For tourists seeking a tranquil and pristine destination to spend their summer holiday, Ninh Binh is an ideal choice. This province offers stunning natural beauty and the opportunity to experience the golden ripening rice season in Tam Coc.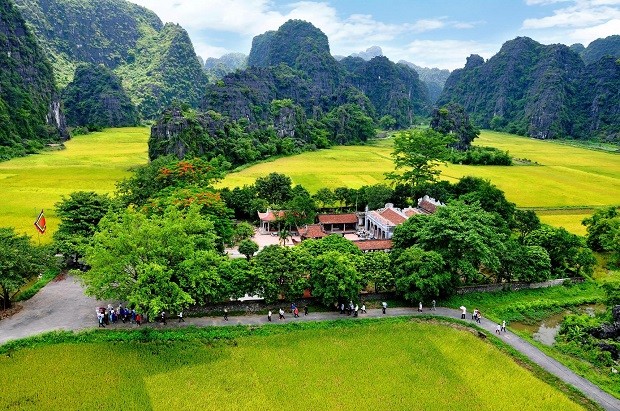 Photo: Vietnambooking
Ninh Binh is home to many beautiful landscapes, but Tam Coc – Bich Dong is the most suitable destination during the rice season. Often referred to as "Halong Bay on land," Tam Coc – Bich Dong in Ninh Binh is a popular tourist spot for both domestic and international travelers. It boasts impressive cave formations, rocky mountains, and picturesque views of the sky and hills.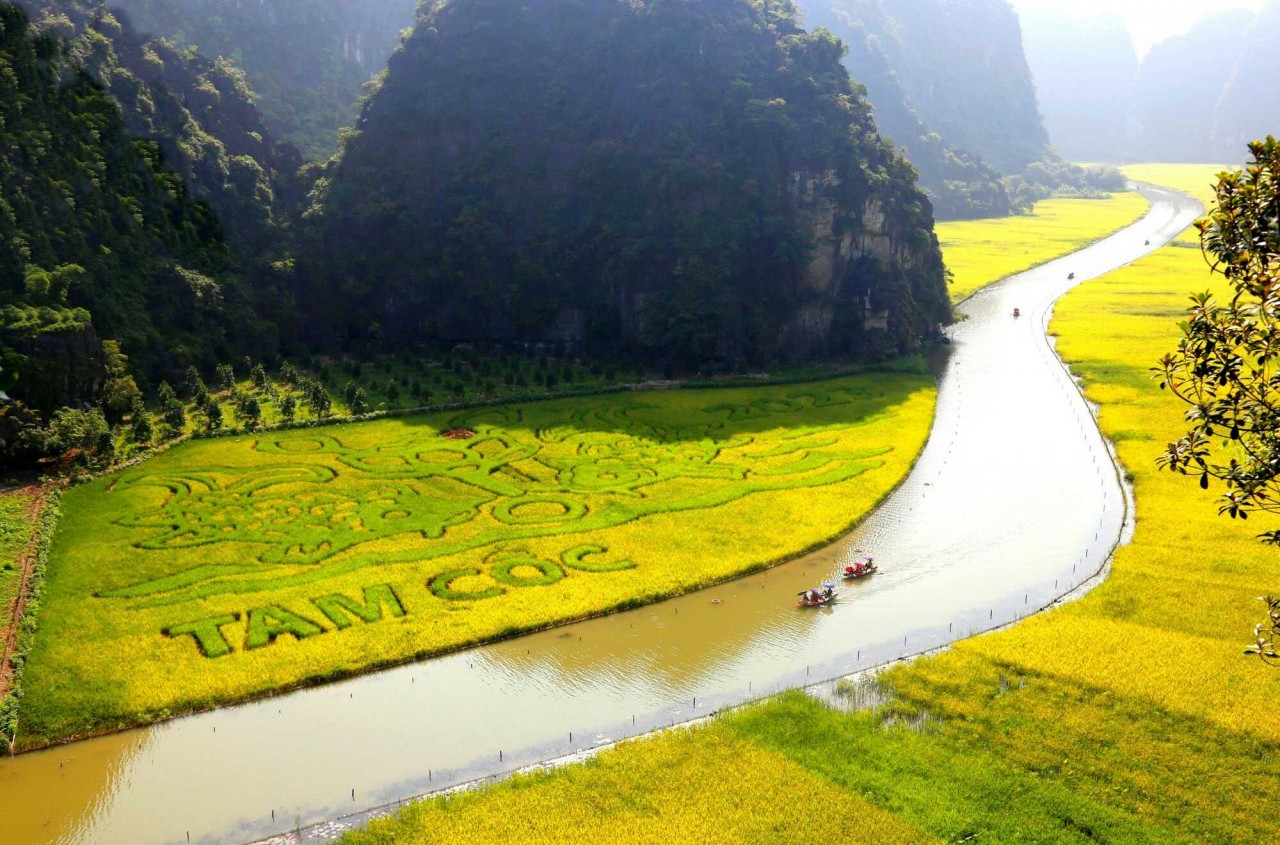 Photo: Dan Viet
Tam Coc consists of three caves: Ca Cave, Hai Cave, and Ba Cave. These unique caves were formed along the Ngo Dong River and showcase different features. Visitors can listen to the legends and histories of the caves from local ferrymen or tour guides.
About 2km from Tam Coc is Bich Dong, another magnificent cave that is worth exploring. It is renowned for its flawless and enchanting beauty. During the summertime, visitors can enjoy the sight of brilliant golden rice fields just across the Ngo Dong River.
The best time to visit Tam Coc – Bich Dong is during the ripe rice season, from mid-May to the end of June. The landscape is adorned with beautiful ripening rice fields that create a breathtaking golden scenery, especially in the early morning. Tourists from around the world flock to Ninh Binh at this time to capture the stunning mountains, forests, and hills and breathe in the fresh air.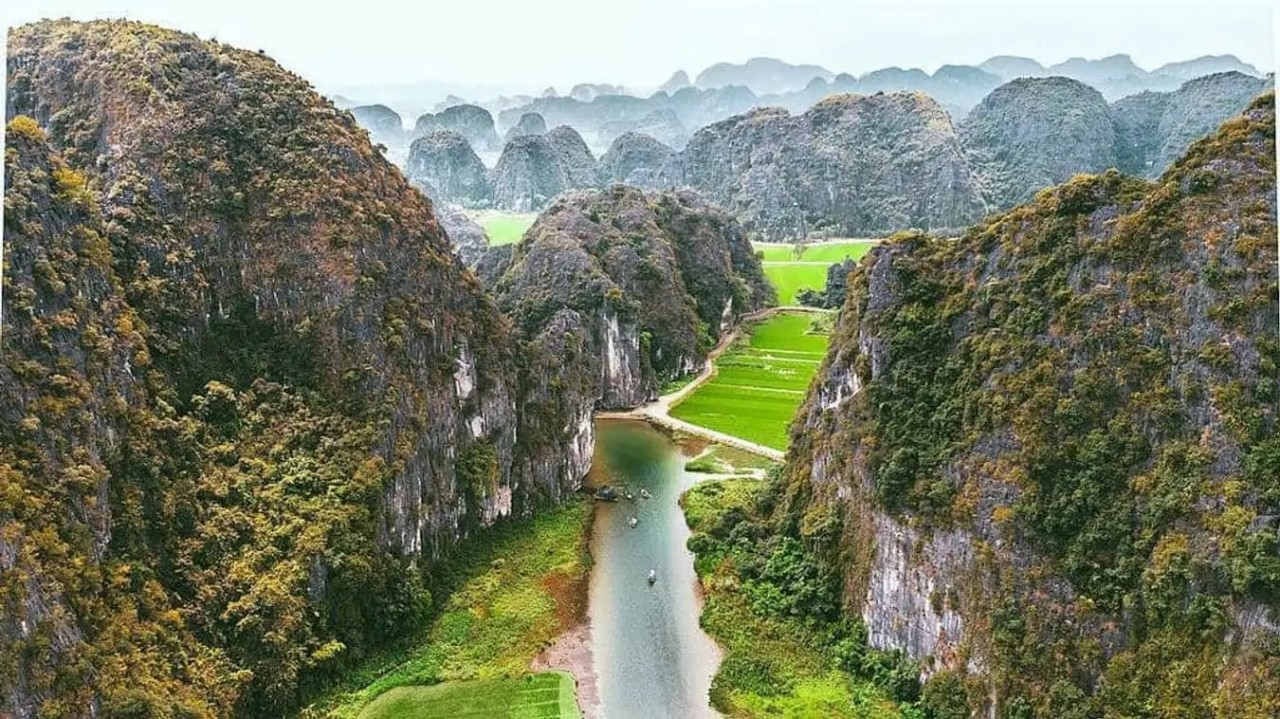 Photo: Traveloka
While in Ninh Binh, particularly in Tam Coc and Bich Dong, visitors can indulge in delicious local specialties. One not-to-be-missed dish is burned rice, a crispy dish made from over-burned rice, onion, dried pork, and sriracha or homemade sauce. Ninh Binh burned rice is fried to perfection and served with a special handmade sauce that will leave you craving for more.
Another must-try specialty in Ninh Binh is goat meat. Raised in the rocky mountains of Ninh Binh, the goat meat is tender and chewy. It can be prepared in various styles, including roasted, steamed, and marinated in ginger sauce, which is a favorite among locals and tourists alike.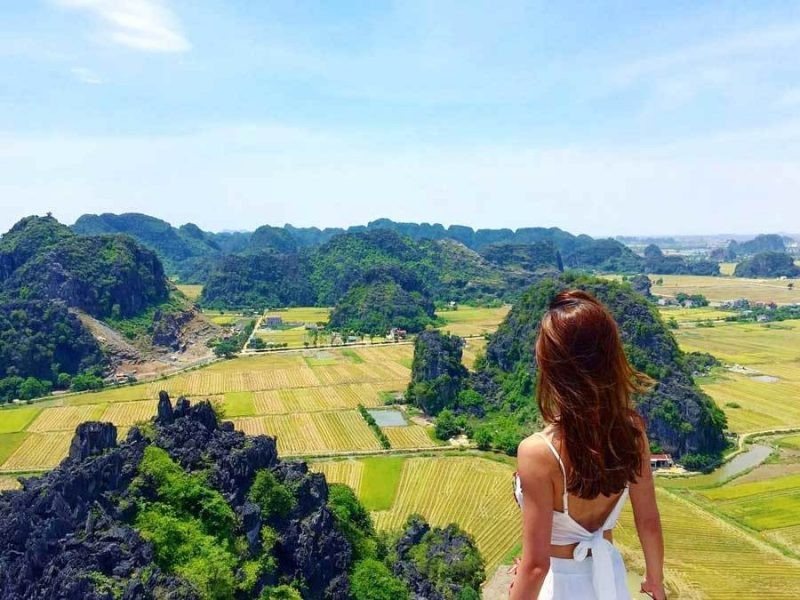 Photo: Du lich An Nam
Bun cha is another Ninh Binh specialty and a proud dish of Vietnamese cuisine. It consists of caramelized pork meatballs served with rice noodles. The meatballs in Ninh Binh's bun cha quat are larger and rectangular compared to traditional ones. The dipping sauce, made from fish sauce with a sour and sweet taste, complements the meatballs perfectly. Bun cha quat is typically served with fresh vegetables and fermented carrots or radishes.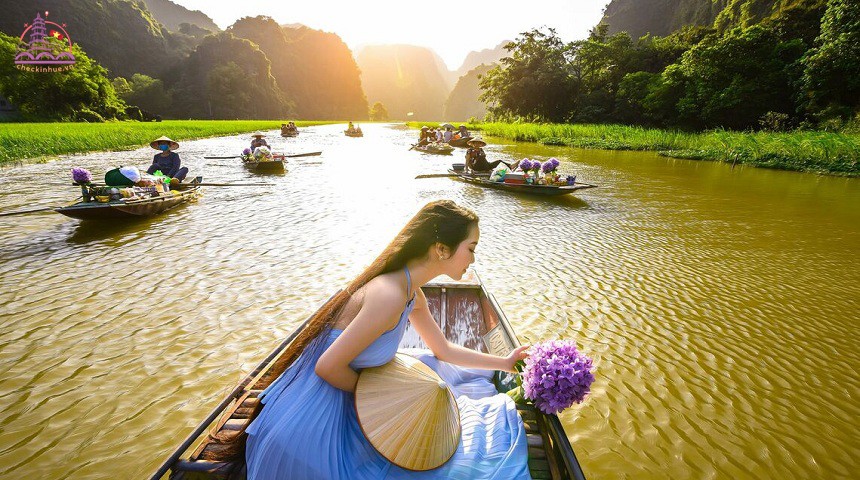 Photo: Checkin Hue
An essential part of Ninh Binh cuisine is Sticky Rice Wine, a specialty made from sticky rice and originating from Kim Son, Ninh Binh. The rice is carefully selected to produce the highest quality rice wine. Skilled local winemakers craft the wine using their secret techniques that result in a unique taste. It is recommended to enjoy Sticky Rice Wine when it is served cold.