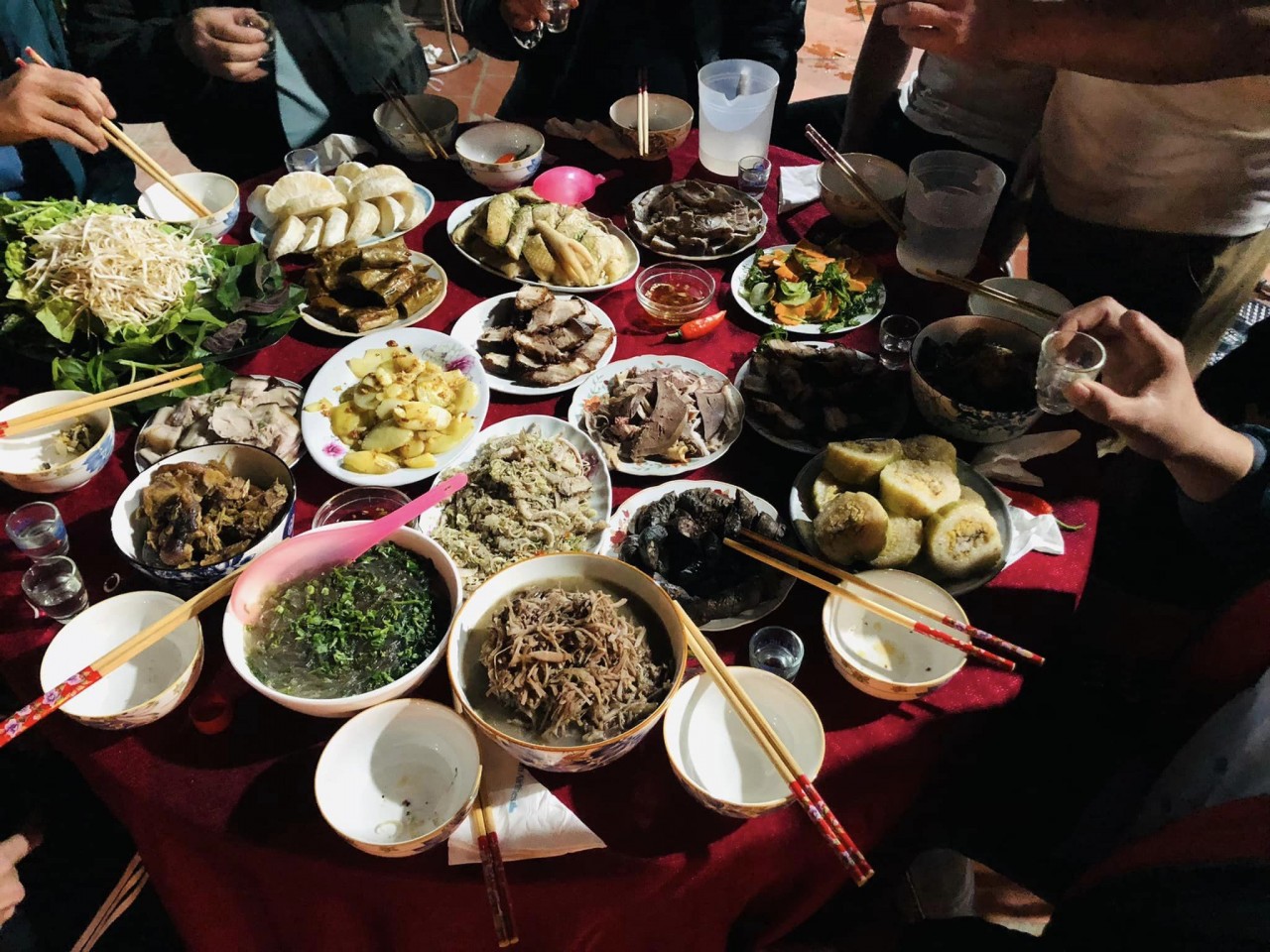 Tet (Lunar New Year) is the time for all family members to get together while enjoying traditional dishes. All these sumptuous feasts and alcohol consumption can make you gain unwanted weight this Lunar New Year.
Despite changes in Tet (Lunar New Year) dishes, for many families, traditional dishes, such as banh chung (square sticky rice cake), gio lua (lean pork paste), thit dong (frozen meat stew), canh mang (bamboo sprout soup) and nem (fried spring roll), have always been an integral part of Tet banquet.
First, Chung cake (savory sticky rice cake) – a favorite dish and almost indispensable in the food trays on Tet (Lunar New Year) holiday. A Chung cake consisting of glutinous rice, green beans, pork, onions, pepper and salt is wrapped in dong leaves and boiled on a fire for 12 hours.
Based on the Vietnamese food ingredients table published by the Ministry of Health. In the same weight of 100g Banh Chung includes:
Sticky rice contain 344 kcal, 74.5 grams carb 8.6 grams protein 1.5 grams fat
Green beans contain 328 kcal, 53.1 grams of carbs, 23.4 grams of protein, 2.4 grams of fat
Pork belly contain 260 kcal, 0 grams carb 16.5 grams protein, 21.5 grams fat
Crushed pepper contain 231 kcal.
It is calculated that each 600g banh chung (excluding dong leaves and strings) contains about 2,000 kcal.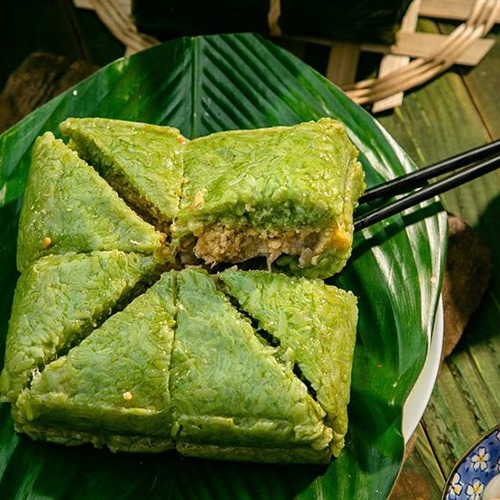 The very soul of Vietnamese Tet is banh chung (square glutinous rice cake).
Usually, people will cut banh chung into 8 equal pieces, each piece will contain about 250 kcal (about 2 bowls of white rice). After consuming one piece of banh chung, an average person needs to cycle for 40 minutes (at a slow pace) or jog for 30 minutes, or spend 1 hour 30 minutes after a meal to clean up.
You know what the additional calories can do to you: Weight gain. And you only need just a week of festive bingeing for the unhealthy weight gain and increase in body fat to show up.
Not to mention many other dishes such as steamed marinated pork, braised pork, nem (fried spring rolls), gio lua (lean pork paste), thit dong (frozen meat stew), canh mang (bamboo sprout soup), to name a few.
Aside from weight gain, the high sugar content in Lunar New Year jams and cakes may cause a spike in blood sugar levels.
HOW CAN YOU AVOID OVEREATING?
For starters, determine your portion size before you start eating rather than eat till you are full.
Here are other tips:
EXERCISE PORTION CONTROL
USE A SMALL PLATE AND LIMIT IT TO ONE
PRACTISE MINDFUL EATING
LIMIT YOUR SWEETS INTAKE
DIVERT YOUR ATTENTION TO SOCIALISING
LIMIT LIQUID CALORIES
AVOID HAZARDOUS AND HARMFUL ALCOHOL USE
STAY HYDRATED
If, despite your efforts, you've over-stuffed yourself again, don't make the mistake of fasting or skipping meals for the rest of the day or the following day. A study found that not only will eating one meal per day increase levels of ghrelin, the hunger hormone, it can also raise your fasting blood sugar and delay your insulin response.
Eat fermented foods like sauerkraut, kimchi, kefir, and yogurt, which recharge your gut with helpful bacteria. Take a high-quality probiotic supplement daily. And eat lots of veggies, which feed your existing bacteria the nutrients they need. And fruits that are hydrating and less sweet: berries, watermelon, melons, citruses (oranges, pomelo, lemon, kumquat), apple, and star fruit.
Instead, get up after the meal and enjoy a stroll rather than lie down. Exercise is considered just as important as dieting. Exercises that reduce stress are important, including meditation, yoga, tai chi, and qigong. Aerobic exercises, gardening, walking, or running can also help.