The 17th ASEAN Environment Ministers Meeting (AMME17) commenced with an opening ceremony in Vientiane, Lao PDR on August 23. The event was hosted by Bounkham Vorachit, the Laotian Minister of Natural Resources and Environment, and Kao Kim Hourn, the Secretary-General of ASEAN.
The ceremony saw the participation of ASEAN environment ministers, Deputy Secretary General of ASEAN for ASEAN Socio-Cultural Community, and representatives from China, Republic of Korea, Japan, and the United States.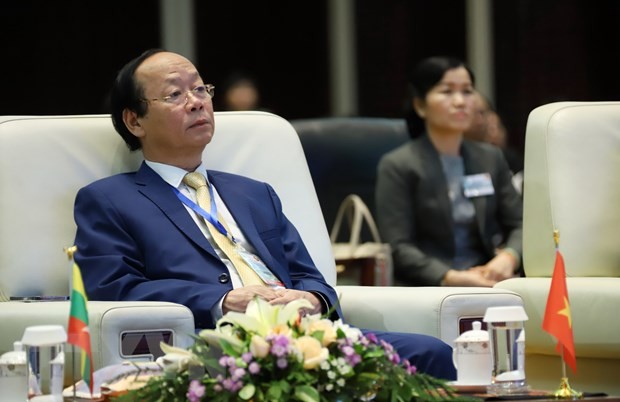 Vietnam's Deputy Minister of Natural Resources and Environment Vo Tuan Nhan at AMME17 (Photo: VNA).
During the 17th AMME Conference, Vietnam's Deputy Minister of Natural Resources and Environment Vo Tuan Nhan highlighted the pressing regional and global challenge of climate change, environmental pollution, and the loss of biological diversity.
Nhan put forth three proposals, emphasizing the need for regional solidarity in addressing the mentioned "double crisis." Furthermore, he underscored the importance of a fair and inclusive transition as a top priority for ASEAN in achieving net-zero emissions, energy transition, and plastic waste management.
In addition, promoting cooperation with partners to mobilize institutional, technical, and financial support is crucial for building a resilient and sustainable ASEAN community.
AMME17 aims to discuss advanced regional environmental cooperation and integration to achieve the 2030 Agenda's goals for sustainable development (Photo: Lao News Agency).
During the opening ceremony, Bounkham Vorachit, the Lao Minister of Natural Resources and Environment, stated that the focus of AMME17's discussions will be the implementation of the framework for environmental cooperation since the 16th ASEAN Ministerial Meeting on the Environment. Key issues such as regional climate change, chemicals and waste, biological diversity, and collaboration for environmentally friendly and sustainable development will be highlighted.
The ministers will also discuss cooperative activities, make recommendations, and propose solutions for advancing the ASEAN framework for environmental cooperation.
Vorachit added, "[At the meeting, we will be] recognizing the current status and trends of environmental issues, as well as initiatives in place to address environmental concerns in the region, such as the progress and achievements of ASEAN Cooperation on Environment and the Seven Strategic Priorities of the working groups under ASEAN Senior Officials on the Environment (ASOEN) and the works of the Governing Board of the ASEAN Centre for Biodiversity."