The pagoda, originally constructed during the Ly Dynasty and later expanded in 1262 during the Tran Dynasty, served as a revered destination for high-ranking mandarins and the aristocracy of the Tran Royal Court to worship and embrace a religious lifestyle. For more information about The pagoda, please click here.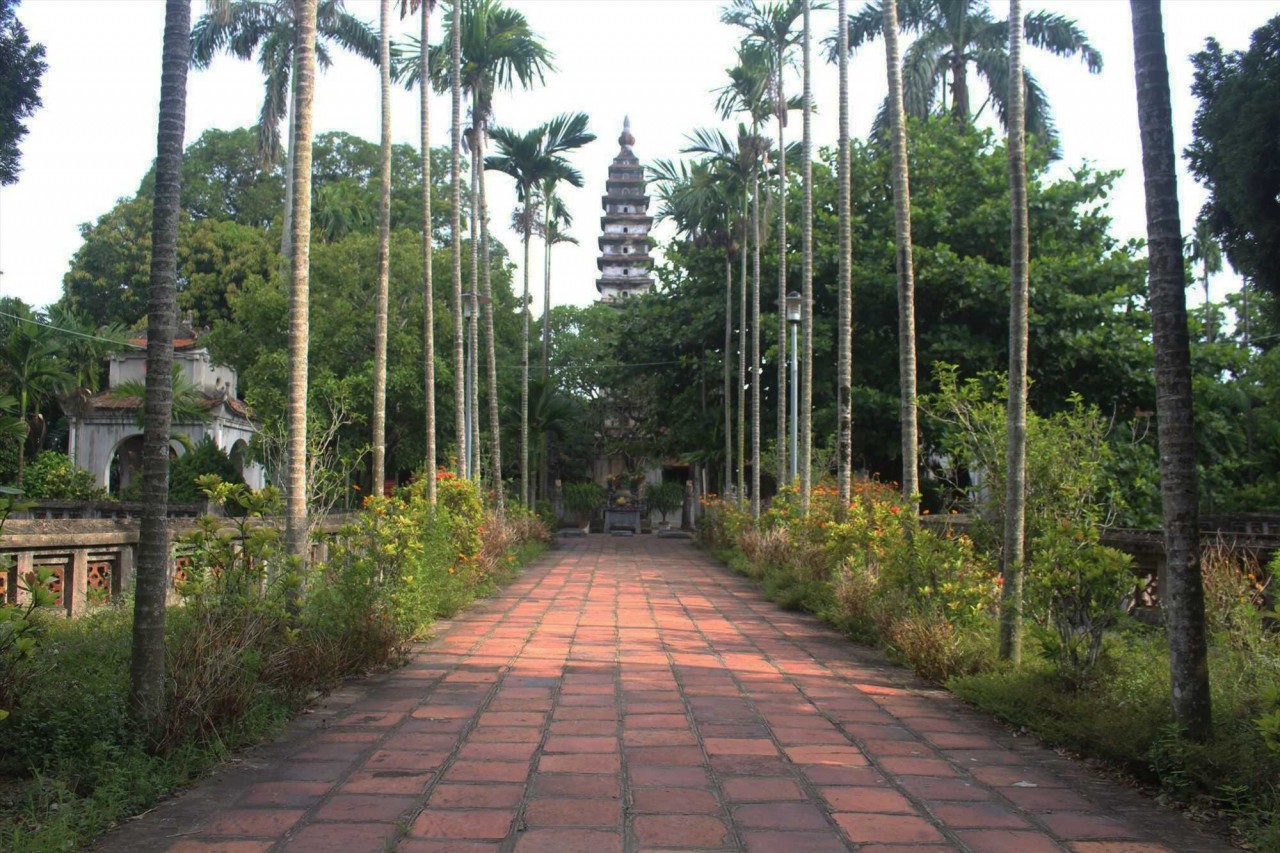 Photo: Bao Lao Dong
The pagoda was constructed in the "noi cong ngoai quoc" architectural style, featuring an inner design resembling the Han character 工 (Cong) and an exterior design showcasing the Han character 国 (Quoc), effectively representing coexistence of Confucianism, Buddhism, and Taoism.
The pagoda houses several significant statues, including the reclining statue of King Tran Nhan Tong symbolizing his entrance into Nirvana. Additionally, it showcases the three founders of the Truc Lam Buddhist Sect – Tran Nhan Tong, Phap Loa, and Huyen Quang. Moreover, the pagoda carefully preserves 60 exquisite red-lacquered and gold-trimmed Buddha and Saint Statues.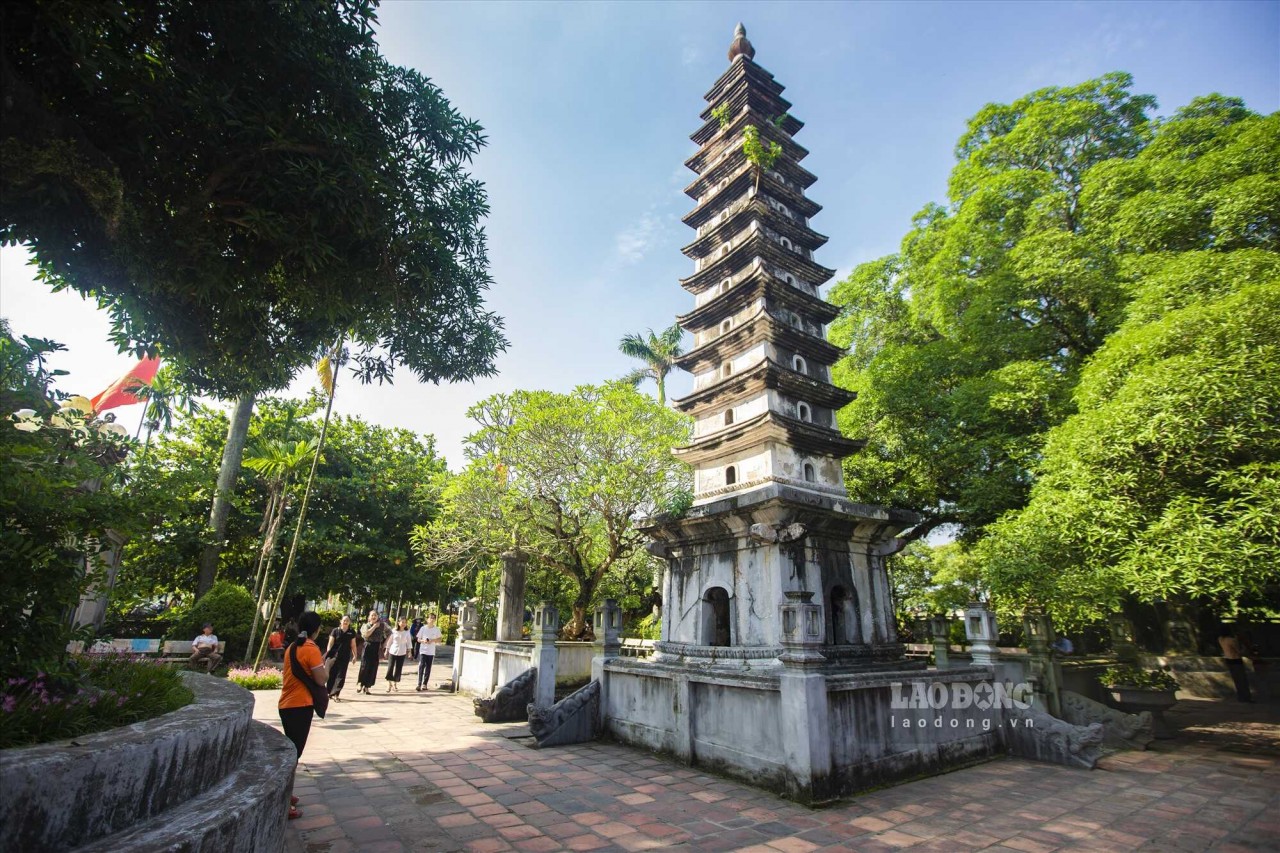 Photo: Bao Lao Dong
Pho Minh Tower: A Remarkable Architectural Masterpiece
Pho Minh Tower is a remarkable architectural marvel dating back to 1305, during the Tran Dynasty. Despite the passage of 700 years, this unique structure has remarkably stood the test of time, remaining intact and well-preserved.
With a weight of 700 tonnes, it is astonishing to note that this tower occupies a mere 30 square meters of space. Constructed with a combination of flagstones at its base and first floor, and bricks for the upper floors, Pho Minh Tower showcases the exquisite craftsmanship of its builders.
At the pinnacle of the tower, one can find a captivating cube-shaped ornament resembling an unopened lotus flower, fashioned from ancient terracotta. This final touch adds an additional layer of beauty and elegance to this already impressive architectural masterpiece.
Width: 5+ meters per side
Pho Minh Tower is a unique architectural work of the Tran Dynasty that is quite well-preserved and was built in 1305. Photo: Bao Lao Dong
The stone surface of the pedestal and first floor showcases subtle carvings, featuring exquisite floral patterns, delicate leaves, rhythmic waves, and serene clouds, which are characteristic of the renowned decoration style of the Tran Dynasty. Moreover, the upper floors of the structure are adorned with magnificent dragon motifs, enhancing its allure.
The vicinity of Pho Minh Pagoda boasts a serene and refreshing atmosphere, thanks to the lush greenery dotting the landscape. Within the temple, visitors can marvel at the well-preserved wooden door flaps adorned with intricately carved dragons from the Tran dynasty. Additionally, a grand bell dating back to 1796 and an array of ancient statues, including those depicting the three patriarchs of the Truc Lam sect, further enhance the historical significance of the site.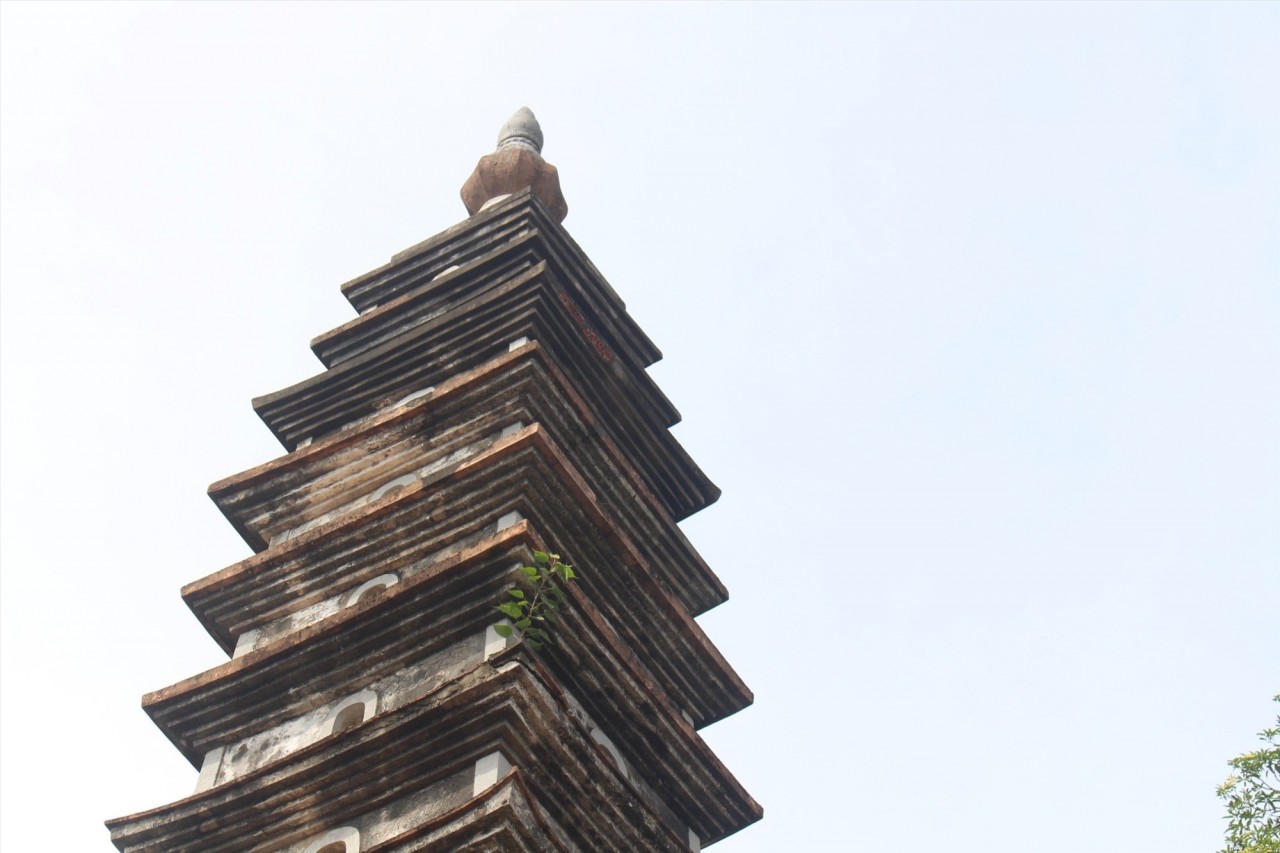 Photo: Bao Lao Dong
The Pho Minh tower, built by King Tran Anh Tong, boasts a height of 19.5 meters and spans across 14 floors. This majestic structure serves as a sanctuary for his father's sarira. Impeccable dedication and meticulousness can be observed in the King's earnest preservation of the Pho Minh tower, as indicated by archaeological findings.
The construction process of the tower was incredibly intricate, employing sophisticated and advanced techniques. This may help to account for the tower's remarkable durability over the course of seven centuries, as it has remained largely undamaged.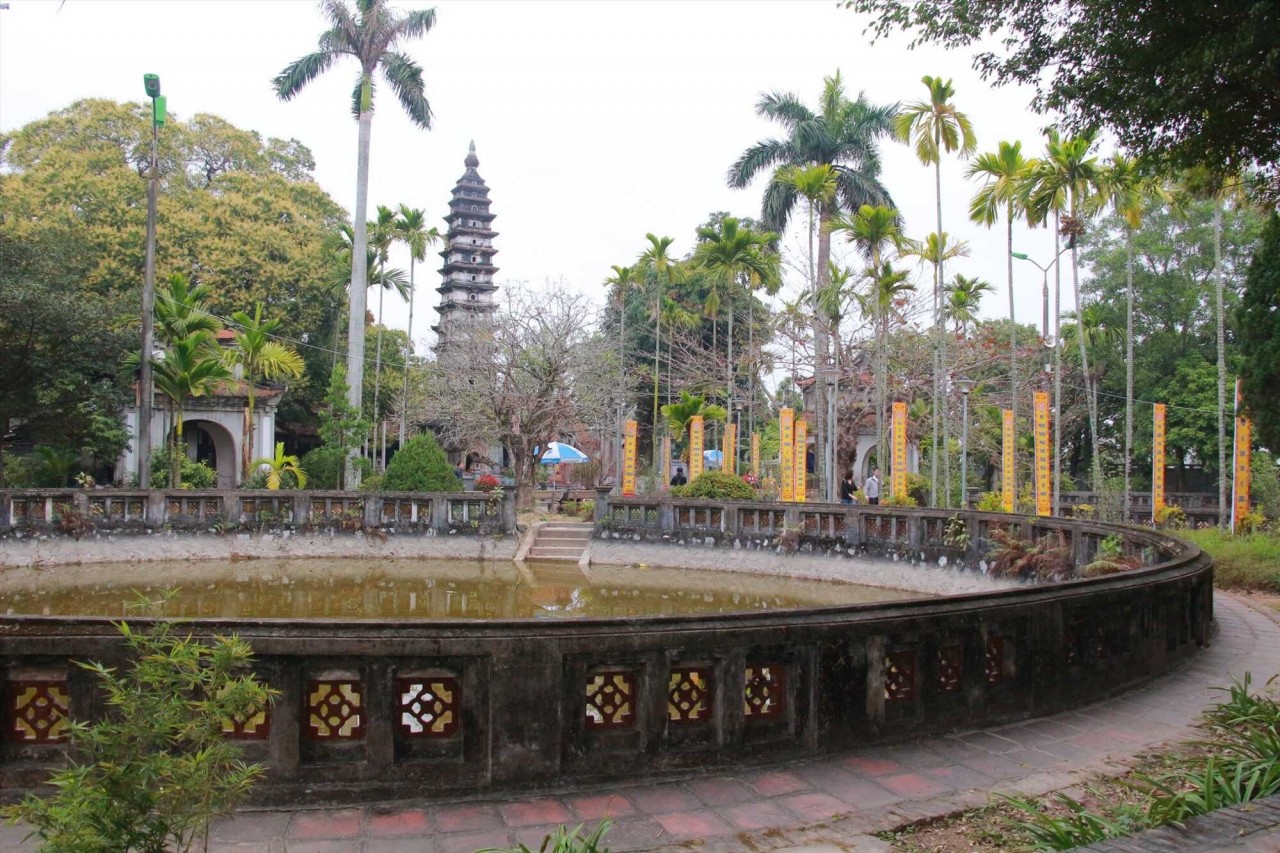 Photo: Bao Lao Dong
The combination of Pho Minh Tower Pagoda, Thien Truong Temple (dedicated to the Tran kings), and Co Trach Temple (dedicated to Hung Dao Dai Vuong Tran Quoc Tuan) constitutes a historically significant and artistically valuable relic site.
Exploring Nam Dinh: Discovering its Other Attractions Beyond Tam Cao Temple
Nam Dinh is a captivating destination that holds a wealth of attractions for visitors. From the historic Tran Temple Complex and Co Le Buddhist temples to the breathtaking beauty of Xuan Thuy National Park, there is something for everyone to enjoy. Known for its delectable cuisine, Nam Dinh is particularly renowned for its flavorful beef noodle soup. For travelers seeking a unique and undiscovered destination to explore during their Vietnam holiday, Nam Dinh is a perfect choice.
Nam Dinh, though not known for its bustling atmosphere, is a peaceful and charming destination that has become a hidden gem for food lovers. Exploring this quaint city on a half-charged electric bicycle allows visitors to indulge in a culinary paradise, with an array of delectable dishes available at incredibly affordable prices.