Ke Ga Lighthouse is located in Ham Thuan Nam district, Binh Thuan province. If you are a backpacker enthusiast, you will feel extremely "adventurous" with a sunny and windy road lying along the coastal line with one side lying to the mountain slope, another is cashew forest, and dragon fruit.
The namesake island is full of scenic, photo-worthy views and it's small enough that you can explore the whole place in an hour. The rocks make nice little ponds that seem ideal for swimming.
When we tried to go up to the lighthouse we were asked for 5k each, which was a surprise since the other reviews didn't mention this but it's cheap so no big deal. However, when we reached the entrance we realized it was locked. A bit disappointing since we wanted to climb to the top. I asked the guard and he said the lighthouse is off-limit to tourists. So that's a bit of a bummer but overall I'd still recommend going here for the views, the nice calm ocean, and the swimming spot.
Built-in February 1897 under the design of Snavat, a French architect, the lighthouse was built of stone 35 meters high. The entire elevation from sea level to the lamp on the lighthouse is 65m. The size of the lighthouse's edges is 3m wide and 2.5m wide of the top. The thickness of the lighthouse from the foot to the height of 6 m is 1.6m.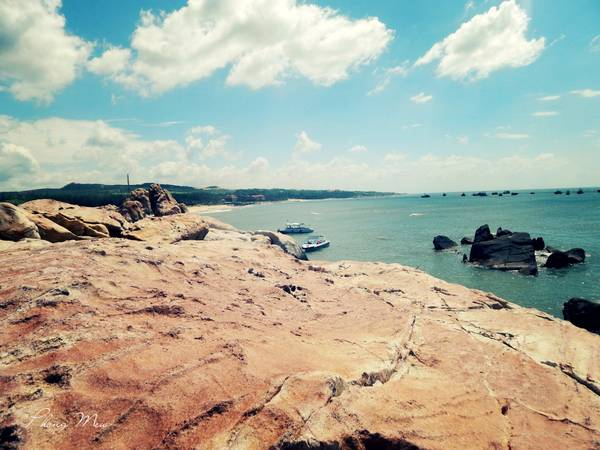 The higher the lighthouse is, the thinner it is with 1.5 m thick and thinnest position of 1m on the top of the construction. There is a large bulb 2.000W on the top of the tower with a radius of 22 nautical meterings, equivalent to 40 km, used as a guide signal passing ships. Not only does it play an important role in ensuring maritime safety for the region, but Ke Ga Lighthouse is also one of the new exciting Phan Thiet attractions.
Under the house is a cistern 3m deep, whereas in front of the house is a well called Tien (Fairy) well. Around the foot of the lighthouse is two rows of frangipani flowers along the path planted by the French from the last century. It has been seemly intact so far shading year-round and contributing to creating the characteristics for this land. Thanks to these explorations, Phan Thiet travel to Ke Ga Lighthouse will be truly memorable.
Some travelers once recommended that "enjoy the little boat ride to the Lighthouse Island, wander around the trees and wonderful big rocks, climb up the little hill to the top of the island and step up the Lighthouse and you will be awarded a stunning 360 panorama view of the Ke Ga Beach."