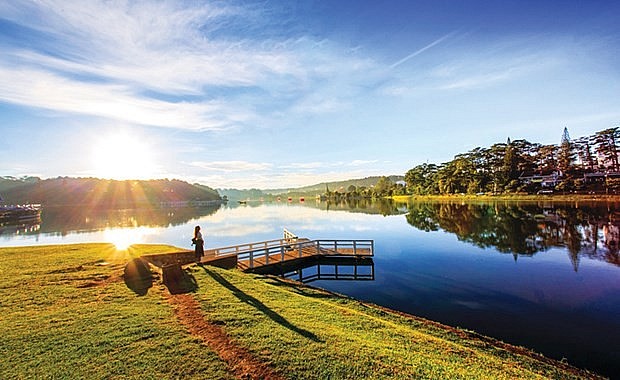 Da Lat is seeking to become a member of the UNESCO Creative Cities Network. Photo: Lam Dong Newspaper
150 Vietnamese and international delegates attended a hybrid event organized by the Da Lat People's Committee, Lam Dong province's Department of Culture, Sports and Tourism, and the Vietnam National Institute of Culture and Arts Studies, according to VietnamPlus.
UNESCO's Creative Cities Network was explored in-depth, with its goal, role, and principles discussed. Information was shared regarding dossier compilation experiences from other countries, and a draft dossier of Da Lat was presented.
Nguyen Phuong Hoa, Director of the International Cooperation Department at the Ministry of Culture, Sports and Tourism, stated that Da Lat should take into account the views of the public when creating a plan for joining the network. Furthermore, she emphasized the need to intensify training and promotion of creative initiatives in the fields of music, dance, and arts among local students and young people.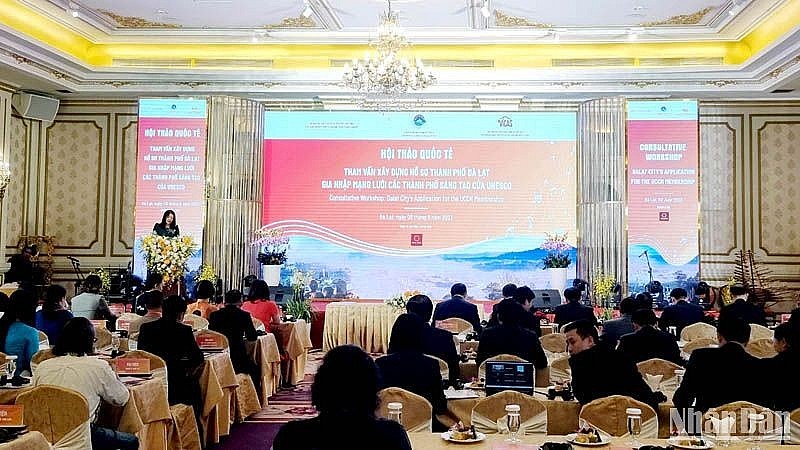 At the international consultation workshop. Photo: Nhan dan (People) Newspaper
Located on the Lam Vien Plateau in the Central Highlands province of Lam Dong, Da Lat is a popular tourist destination that spans an area of 394sq.km and sits 1,500m above sea level. It is home to approximately 260,000 people from many different ethnic groups.
The city of the Central Highlands is home to an iconic cultural space of gongs, which was recognized by UNESCO as a Masterpiece of Oral and Intangible Heritage of Humanity in November 2005. Many famous Vietnamese musicians and singers, such as Trinh Cong Son, Le Uyen Phuong, Khanh Ly, and Pham Duy, are associated with the city.
UNESCO created the network in 2004 to encourage collaboration between and among cities that view creativity as a key element in achieving sustainable urban development.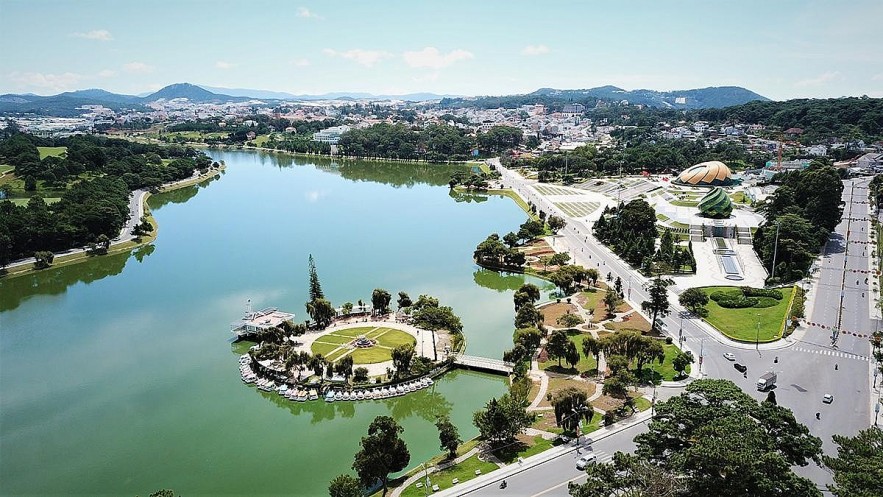 Located on Lam Vien Plateau, Da Lat is a popular tourist attraction. Photo: thanhnien.vn
This news covers seven creative fields: Crafts and Folk Art, Media Arts, Film, Design, Gastronomy, Literature, and Music.
There are currently 301 cities around the world that have become members of this network, 61 of which are in the field of music.
The cities that are part of this network collaborate towards a shared goal: putting creativity and cultural industries at the center of their local development plans and actively cooperating at the international level.
By joining the Network, cities commit to sharing their best practices and developing partnerships between the public and private sectors, as well as civil society, to support the creation, production, distribution and dissemination of cultural activities, goods and services. This collaboration aims to create hubs of creativity and innovation, expand opportunities for creators and professionals in the cultural sector, and improve access to and participation in cultural life, particularly for marginalized or vulnerable groups and individuals. It also seeks to fully integrate culture and creativity into sustainable development plans.
In 2019, Hanoi, Vietnam became the first city in the country to be inducted into the UNESCO Creative Cities Network.