Czech Ambassador Hynek Kmonicek. Photo: TG&VN
Prior to the upcoming visit of Czech Prime Minister Petr Fiala to Vietnam from April 20-22, Czech Ambassador Hynek Kmonicek spoke to Viet Nam News about the significance of the trip.
According to him, the primary objective of Prime Minister Petr Fiala's visit to Vietnam is to bolster the bond between the Czech Republic and Vietnam. This visit is likely to boost trade, investment, cultural, and people-to-people interactions between the two countries.
The Czech Republic has been steadily increasing in significance within the Vietnamese market in recent years. As one of the most promising markets for Czech businesses across Southeast Asia, Vietnam is home to a large population, rapid economic growth, and a welcoming environment for investments. To further bolster the investment climate and attract foreign investment, the Vietnamese Government has implemented several policies. This, according to a diplomat, has made the country even more attractive for Czech businesses.
The most promising sectors for Czech businesses in Vietnam are manufacturing, tourism, and technology. Vietnam boasts a large and young workforce, which is a key advantage for the manufacturing sector, as Hynek emphasized. Furthermore, the country is becoming increasingly popular as a tourist destination, providing Czech businesses with the opportunity to capitalize on this growing market.
In terms of technology, Vietnam boasts a highly proficient labor force in the field of information technology, offering great potential for Czech businesses to collaborate with Vietnamese partners in this sector. With the right resources and expertise, this could lead to a mutually beneficial partnership.
Vietnam has made considerable strides in enhancing its investment climate in recent times, though there is still scope for improvement. To draw in more investment from the Czech Republic, the Czech Ambassador suggested that Vietnam should consider amending its legal and regulatory systems to make them more transparent and understandable.
In order to maximize the opportunities for Czech businesses in Vietnam, the country should prioritize developing its infrastructure and logistics. This would make it simpler and more efficient for Czech companies to conduct business in the nation. Of particular interest are the manufacturing, tourism, and technology sectors, all of which could benefit immensely from the improved infrastructure and logistics.
Vietnam's manufacturing sector boasts a large and youthful workforce, and its tourism industry has experienced tremendous growth in recent years. Additionally, the country's tech sector boasts a highly-skilled labor force and a thriving IT industry, making it a desirable partner for Czech businesses looking to collaborate in this field.
By addressing these issues, he said, Vietnam can continue to attract more investment from the Czech Republic and deepen its economic ties.
The historical cooperation between Vietnam and the Czech Republic in education dates back to 1956, when approximately 100 Vietnamese schoolchildren were sent to Chrastava, a city located in the Liberec region.
Cooperation in education between Vietnam and the Czech Republic has been steadily growing over the past few years. The two countries have established a strong partnership through various educational exchanges, research collaborations, and joint degree programs. Vietnam has become an increasingly popular destination for higher education among Czech students, while more Vietnamese students are choosing to study in the Czech Republic. This mutual exchange of knowledge and ideas has helped foster closer ties between the two nations and has bolstered their economic cooperation.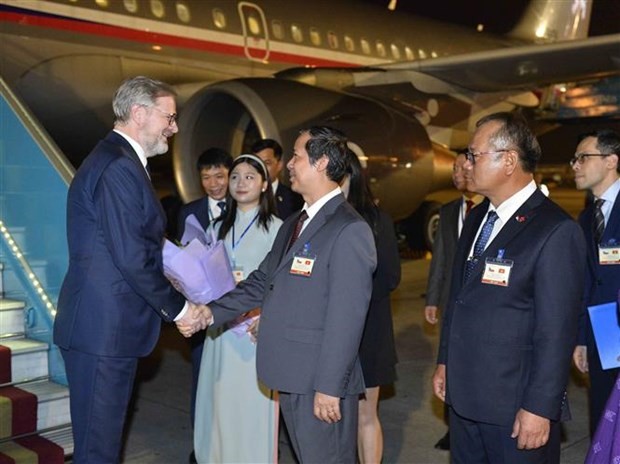 Prime Minister of the Czech Republic Petr Fiala (left) is welcomed at the Noi Bai International Airport by Vietnamese Minister of Education and Training Nguyen Kim Son. Photo: VNA
During the Czech Prime Minister's visit, the Czech Republic and Vietnam will sign a Letter of Intent on educational cooperation, with the goal of further strengthening the collaboration between the two countries in this area in the future.
The Czech Republic has a wealth of experience in the field of vocational education and training that could be beneficial to Vietnam. By fostering increased cooperation between the two countries, Vietnam would have the opportunity to learn from the Czech Republic's successful system and apply it to their own. This collaboration could prove to be mutually beneficial, providing a greater understanding and appreciation of each other's cultures, as well as a deeper knowledge of vocational education and training.
Since becoming the Ambassador to Vietnam in 2022, Czech Ambassador Hynek Kmonicek has been awestruck by the country's stunning natural beauty, its rich and fascinating history, and its vibrant culture. The people of Vietnam are incredibly friendly and hospitable, and the nation has seen remarkable advances in economic growth.
PM of the Czech Republic Petr Fiala arrived in Hanoi on April 20th, beginning an official visit to Vietnam at the invitation of his Vietnamese counterpart Pham Minh Chinh.
The trip to Asia by Czech Prime Minister Fiala, which began at the end of 2021, marks the first visit of a head of the Czech government to Vietnam in 15 years. This journey is a testament to the strong friendship and multifaceted cooperation between the two nations, and shows the leaders' appreciation of and commitment to further strengthening their bilateral relationship.
As planned, the Czech Prime Minister will meet with Prime Minister Chinh, observe the signing of bilateral partnership agreements, pay his respects to President Vo Van Thuong, and attend a Vietnam-Czech Republic business forum.