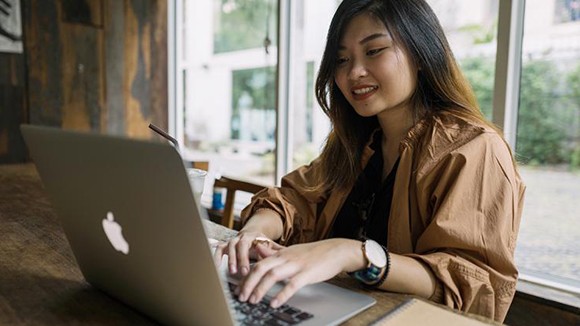 Digital transformation aims to change expectations about gender stereotypes in professions, including enhancing female role models' participation in information technology. Photo: Robert Walters Vietnam
Today, the world is developing with an unprecedented speed of "digitization," especially, the Covid-19 pandemic has become a "catalyst" to accelerate the digital transformation process. In the first two decades of the 21st century alone, the number of people connected to the internet around the world increased from 350 million to more than 4 billion, and the number of mobile phone users also increased from 750 million to more than 5 billion.
Digital transformation is the inevitable trend of the era of technological revolution 4.0 and will be associated with the development of the digital economy, digital society, and digital government. The achievements of digital transformation and technological innovation contribute to improving the quality of life of people in general and women in particular, helping them to expand their opportunities to access information and knowledge of humanity, and improve high capacity, professional qualifications, and career development opportunities.
However, besides the opportunities, there are also many challenges, such as new relationships without precedent, arising, traditional relationships may be interrupted or terminated; organizations or enterprises may go bankrupt or being replaced; shortage of human resources, from managers to experts, engineers, and digital technology workers; not have enough necessary digital skills; the risk of job loss when workers are not retrained in time to catch up with the new requirements; safety, network security, personal data, personal privacy of people on cyberspace are threatened.
In addition, information technology and digital transformation can also create new barriers, increasing the gender gap in some areas due to the different effects of technology on women and men in many aspects of life.
An international study found that an additional 600 million women and girls accessing online services around the world could lead to a global GDP increase of USD 18 billion. However, on average globally, the number of women owning a smartphone is 26% less than men.
In Vietnam, according to the 2021 population living standard survey, the percentage of people having access to the internet and telephone is quite high, but there is still a gap between women and men. The percentage of women using the internet is 70% compared to 78% of men; The percentage of women using the phone is 87% compared to 93% of men.
According to the International Labor Organization (ILO), female workers account for about 37% of the workforce in the technology sector in Vietnam, higher than the world (25%). However, the majority of women working in the technology sector are still primarily in other positions such as testing, marketing, sales, administration, and human resources, rather than technical roles such as development staff. software…
It can be seen that social norms and expectations about the role of women in the family are one of the barriers for women and girls in accessing digital technology, leading to reduced opportunities for their education and employment in the field of information technology. Meanwhile, information technology is changing employment patterns, some jobs will require less labor, in which female workers will be affected more. Women and girls are also vulnerable groups to violence in the online environment such as being stalked or harassed.
Deputy Minister of Labour, Invalids and Social Affairs Nguyen Thi Ha speaks at the meeting. Photo: VNA
At a recent policy dialogue, themed "Innovation and technology for gender equality in Vietnam: opportunities and challenges," co-organized by the Ministry of Labor, Invalids and Social Affairs (MOLISA), the United Nations in Vietnam and the National Committee for the Advancement of Women in Vietnam, MOLISA Vice Minister Nguyen Thi Ha said the explicit awareness of gender issues emerging in the context of digital transformation will enable relevant authorities to improve the policy and legal framework, to facilitate more women and girls partaking in this field.
Therefore, raising awareness of educational opportunities and eliminating gender stereotypes in curricula and career orientation, especially in science, technology, engineering, and mathematics (STEM) training has been seen as the key to fostering women's participation in digital transformation.
Changing expectations about gender stereotypes in professions, including enhancing female role models' participation in information technology, digital transformation will also create a boost in women's confidence in the field of information technology. Equipping women with the necessary skills and supporting their transition to digitally relevant forms of jobs is critical to ensuring that women are not left behind, she noted.
Pauline Tamaris, UN Resident Coordinator in Vietnam said that this year's International Women's Day priority theme provides a unique opportunity to revisit the gendered impacts of innovation and technology and to identify recommendations that will allow for a more inclusive and equitable digital evolution in Vietnam.
Against this background, the UN in Vietnam would offer some thoughts for further discussions including ensuring gender perspectives in national digital policies and allocating resources for full implementation; improving quality education for women and girls; forecasting and anticipating future job and skill needs; and strengthening data collection and addressing gender-based violence online.