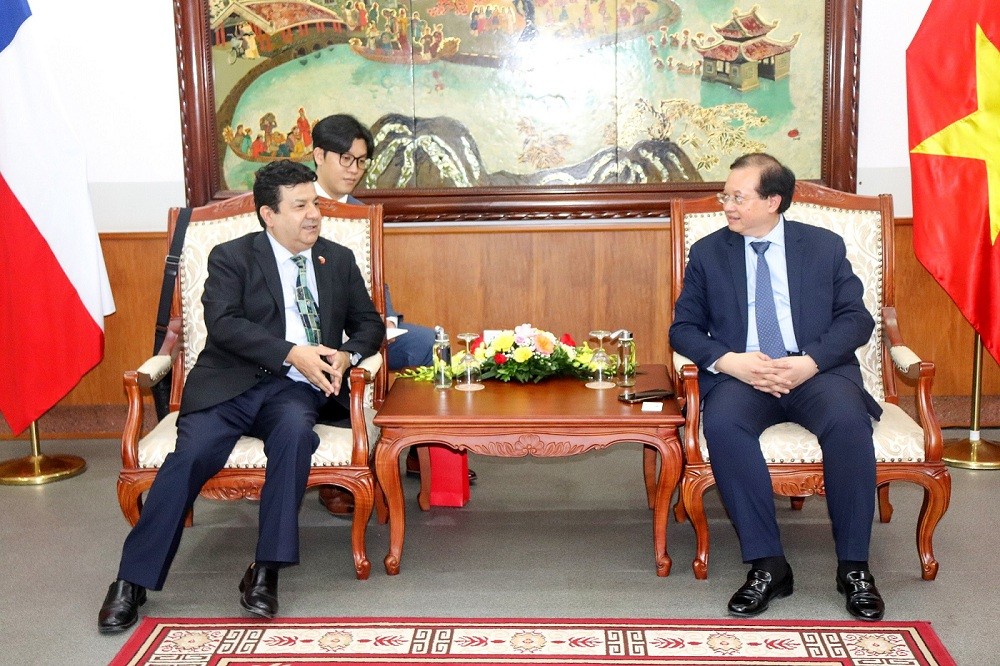 Deputy Minister of Culture, Sports and Tourism Ta Quang Dong receive Chilean Ambassador Sergio Narea Guzman. Source: icd.gov.vn
In 2023, the Chilean Embassy in Vietnam plans to organize a photo exhibition and film screening on the occasion of the 50th anniversary of the Chilean Coup d' Etat.
This is one of the cultural cooperation activities between Chile and Vietnam in the near future, said Chilean Ambassador Sergio Narea Guzman at a meeting with Deputy Minister of Culture, Sports and Tourism Ta Quang Dong on June 13 in Hanoi.
Ambassador Sergio Narea proposed the two sides consider and study the possibility of signing a Memorandum of Understanding (MoU) on cooperation in the cultural field between the two countries within the framework of the high-level visit of the leaders of the two countries in the near future.
The Ambassador said that after a two-year hiatus due to the Covid-19 epidemic, 2024 will be the year Chile focuses on promoting cultural cooperation activities with countries around the world. In particular, Chile will restart the international piano competition held in Chile. The Chilean Embassy in Vietnam sent information about this contest to the Vietnam National Academy of Music.
Agreeing with the proposals of the diplomat, Deputy Minister Ta Quang Dong affirmed that the ministry always accompanies and supports the Chilean Embassy in Vietnam.
The Department of International Cooperation has been assigned to be the focal point to coordinate and support the Chilean Embassy in Vietnam in organizing activities to introduce the country, culture, and people of Chile to Vietnam.
He appreciated the proposal to sign an MoU in the field of cultural cooperation, which is consistent with the wish of the Ministry of Culture, Sports and Tourism in strengthening cultural cooperation with Latin American countries. In fact, the Declaration of Intent on Cultural Cooperation between the two Governments was signed in 2006 and now needs to be reviewed, adjusted, and updated in accordance with the current situation and sign a new one.
The Deputy Minister suggested that the Chilean Embassy in Vietnam, besides photo exhibitions and movie screenings, study more about the possibility of holding activities to introduce Chilean cuisine to the Vietnamese people such as the Chilean Food Festival in Hanoi.
He also recommended the Chilean side participate in annual international travel fairs held in Vietnam such as international tourism fairs in Vietnam such as the Vietnam International Travel Mart in Hanoi and the Ho Chi Minh City International Tourism Expo in Ho Chi Minh City.
Deputy Minister Dong hopes that the ambassador with his experience and affection for Vietnam will be a bridge connecting the two peoples even more.